Beer Canada has released their annual Industry Trends report with updated production numbers, which provide the industry's official measuring stick for beer industry growth.
With natural maturation comes increased competition. Quality beer in today's market is pretty much a given. You only get one shot at a first impression with distributors. Improving the business side, maintaining quality, differentiating your products and keeping up with distributor demand all while controlling costs is the key to staying afloat in the choppier waters ahead.
So how did OrchestratedBeer customers fare compared to the overall craft beer industry growth rates? In last year's report, breweries running OBeer increased production by an average of 66% – 3.7 times the industry of 17.8%
2015 numbers proved even better.
OrchestratedBeer

Customers Grew

5.2 times

the Industry in 2015

While the industry slowed production output from 17.8% in 2014 to 13% in 2015, OrchestratedBeer breweries increased production output from 66.3% to 68% – or 5.2 times the current industry growth rate.
OrchestratedBeer

Customer Growth vs. Industry Average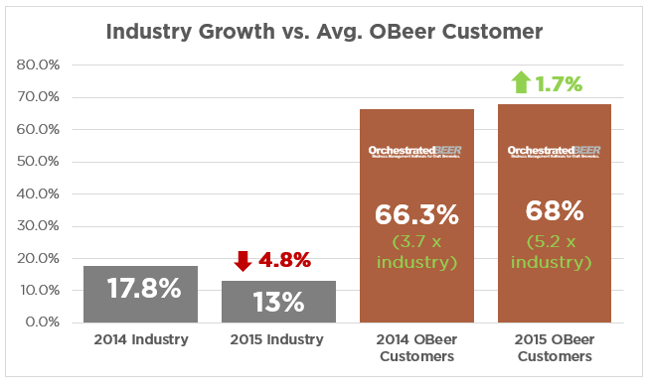 Avg. OrchestratedBeer Customer Grew 5.2 times the Industry
OrchestratedBeer

Community Growth Timeline

The number of OrchestratedBeer customers also continues to grow. We're well on track with projections to surpass 320 OrchestratedBeer customers by the end of 2016.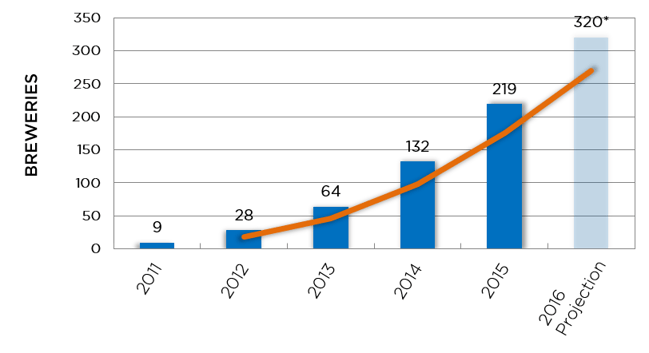 OrchestratedBeer Customer Growth Graph Timeline
*End of year projected customer count
4 Ways
OrchestratedBeer

Customers Surpass Craft Beer Industry Growth Rates

Gaudy growth rates aside, every stat tells a story that poses even more questions.

Do breweries really grow because of OrchestratedBeer? Or are they already successful and need the best brewery management software to maintain the momentum? You can draw your own conclusions, but here are 4 ways OrchestratedBeer customers surpass industry growth rates and stay ahead of the curve:
1. Improve the business, not just the beer
Just like cheap equipment can cost you in the long run, compiling cheap disparate systems to run your business is no different. It's a short-term "tape job" for a long-term problem, not an improvement to your business.
Instead, apply the same commitment to quality to the business side as you do to your beer. Everyone makes great beer these days but not everyone runs a great business. Before you buy anything, ask yourself: "Is this improving my business?"
2. Build on the right foundation
Improving your business starts with the right foundation. You're never too small or too far along in your business life cycle to implement OrchestratedBeer. In fact, 72% of OnDemand customers produce less than 10,000 BBLs/year. Read more on Comparing Brewery Management Software.
3. Make real-time, informed decisions
Streamlining brewery processes requires faster, more accurate decision making. That's why we created tools like the future inventory status report, which looks at starting balances, supply, demands and end of day balances today, tomorrow, or even weeks into the future so you can make better promises.
4. Maintain sustainable growth
So many breweries make the mistake of over expansion without the proper financial projections. Following the steps above allows you to focus on maintaining a sustainable growth rate.
Startup breweries can utilize OrchestratedBeer to help accurately allocate beer to customers, create planning horizons, analyze projections and maximize beer profits.
Want more detailed examples of how OrchestratedBeer customers grow and remain relevant in an increasingly competitive market? Check out our related post: 6 FAQs About Business Management Software for Breweries.
To see how we can help your brewery streamline processes & grow fast, email us: contact@vision33.com for a free consultation. Download the Brewery Financial Reports Pack.