Learn about technology, its role in a customer-centric strategy, and how businesses are responding to customers' changing needs in the current moment.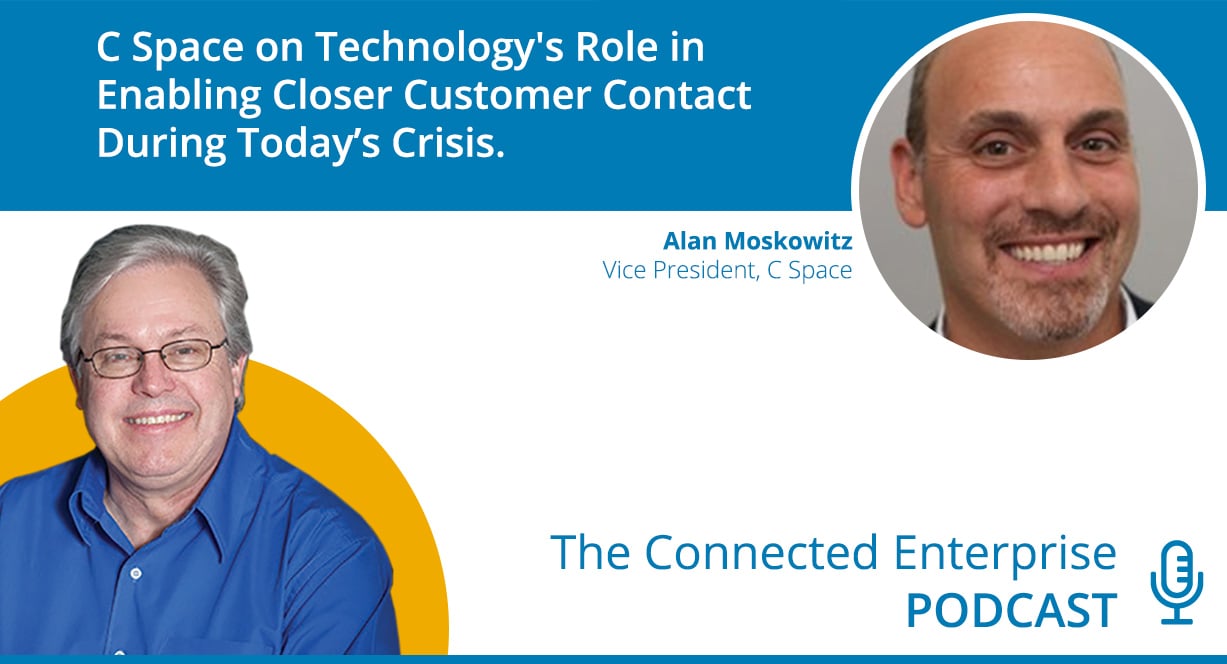 Staying in touch with your customers is key to a customer-centric strategy. But with all of us living through a global pandemic right now, that moving target might feel harder to hit than ever. As we lean on technology to keep connected while social distancing, some companies are looking for ways that technology can help them meet customers' changing needs. In a recent episode of The Connected Enterprise podcast, Vision33's Carl Lewis talked with C-Space's Alex Moskowitz about the role of technology in connecting with customers and how that role is being impacted by the current crisis.

While we are facing unprecedented times, we are also facing them with unprecedented levels of technology. Finding the right technology solution can make all the difference. It can deepen a customer-focused company's ability to do business in a more human way. The possibilities are limitless – but so are the options.

How do you know which choice is right for you?

This post offers three questions you can ask yourself as a starting point when considering how your business might leverage technology to support a customer-centric strategy.

1. What Would Help Me Better Understand My Customers?

It might seem obvious, but a customer-centric strategy relies on having a strong understanding of your customers. It starts with recognizing your customers as real people and putting yourself in their shoes.

When you're thinking about the kind of technology that can help you achieve that, you'll want to consider:
Who your existing and ideal customers are, and how they want to interact with you.
The kind of customer data you currently have and how you store, organize, and access that information.
What kind of customer information you aren't capturing with your current systems, but would like to know.
It makes sense to meet people on the channels where they want to do business with you. Businesses that previously operated from a retail storefront only are suddenly turning to eCommerce for the first time, because it's where customers are going to interact with them right now. Available technology solutions offer different levels of detail for drilling down into the data to learn more about your customers' behaviors. For businesses operating on multiple systems, it can take time to collect and compile data across the company into a single, clear picture. There might also be customer information that's valuable to your business but doesn't have a place within your current system.

Reviewing what you already know about your customers and their preferences and patterns, you'll be able to identify the gaps you want to leverage technology to fill. Going through this process will enable you to have a clearer picture of what you're looking for in a solution.
When you know what you're trying to understand about your customers, you can choose the right technology for the job.

"Many people forget that the reason for digital transformation is to better connect with customers and make business more personal. We got caught up in the technology without realizing it had a purpose."
Vision33's Carl Lewis, Host of The Connected Enterprise

2. How Does This Solution Reflect My Company's Values?
On this episode of TheConnected Enterprise podcast, Alex Maskowitz pointed out that customers today expect strong company values – particularly millennials and gen Z. That means it's not enough to have a bullet list of generic values that sits idle on a webpage and maybe on a few PowerPoint slides. Having company values means living by them. Customers are real people and they want to know that they're doing business with other real people who share common values.
Your company's values should come through, even in your approach to technology.

Losing a customer's trust is easy, but building that trust takes work. The technology you choose and how you use it plays a part in that relationship. When you're considering solution options, you should also be considering how your company values can be incorporated. Are there core business processes than can be automated and standardized to reflect your values at every stage? Are there business areas that could be better linked together? Are there necessary but time-consuming tasks that limit your employees' capacity to do the work that truly matters?

If being customer-centric is an important value to your organization, then it's important to know how technology can help you weave that value into every aspect of your day-to-day operations. Finding the right software solution to support a customer-focused strategy requires knowing what kind of customer experience you're ultimately trying to create. When you understand your customers and what's relevant to them, clearly defined company values can help guide your decision-making in the right direction.

3. Will This Contribute To My Company's Purpose?

Keeping customers at the center of your strategy goes hand-in-hand with understanding why your company exists. What is your purpose? What are the problems your business solves for people?

Technology can help align everything you do with your company's purpose. But, without a strategy for getting there, the wrong technology solutions can pull you in the opposite direction. Once you have a clear understanding of your customers and company values, knowing what your business is trying to achieve is the next key step in developing a technology strategy that will support your efforts to connect better with customers.

Just because it's possible to develop a custom app for your business, does that mean it's a project that will help you work toward your purpose?
These are the questions you should be considering. Try to imagine what it would look like to have every part of your business working in alignment toward a customer-focused purpose – then work backwards from there to develop a list of outcomes that your ideal technology solution would address.

"After this crisis, businesses will be more human, more emotional, and more invested in understanding customers and how to relate to them."
C-Space's Alex Moskowitz, Guest on The Connected Enterprise

If you're trying to do business in a more human and personal way, thinking about the customer experience you want to create needs to come first. From there, you can create a unique roadmap for your company to leverage technology in a way that aligns with your purpose and strategy. And when circumstances change quickly, the information management and reporting capabilities of your system become vital tools. Working in real-time, it's critical to have the most accurate and complete visibility into your business as possible to make decisions aligned with your company's purpose.

Reminding yourself of what your business aims to achieve will help you think critically about the kind of technology solution that will truly bring you closer to that purpose.
Hear the Full Podcast Episode With C-Space's Alan Moskowitz and Vision33's Carl Lewis
As you begin to sketch answers to these three questions, you'll feel more prepared to learn about specific IT solutions and how they might benefit your business.

Listen to the full podcast episode online to keep exploring ideas about technology, its role in a customer-centric strategy, and how businesses are responding to customers' changing needs in the current moment.