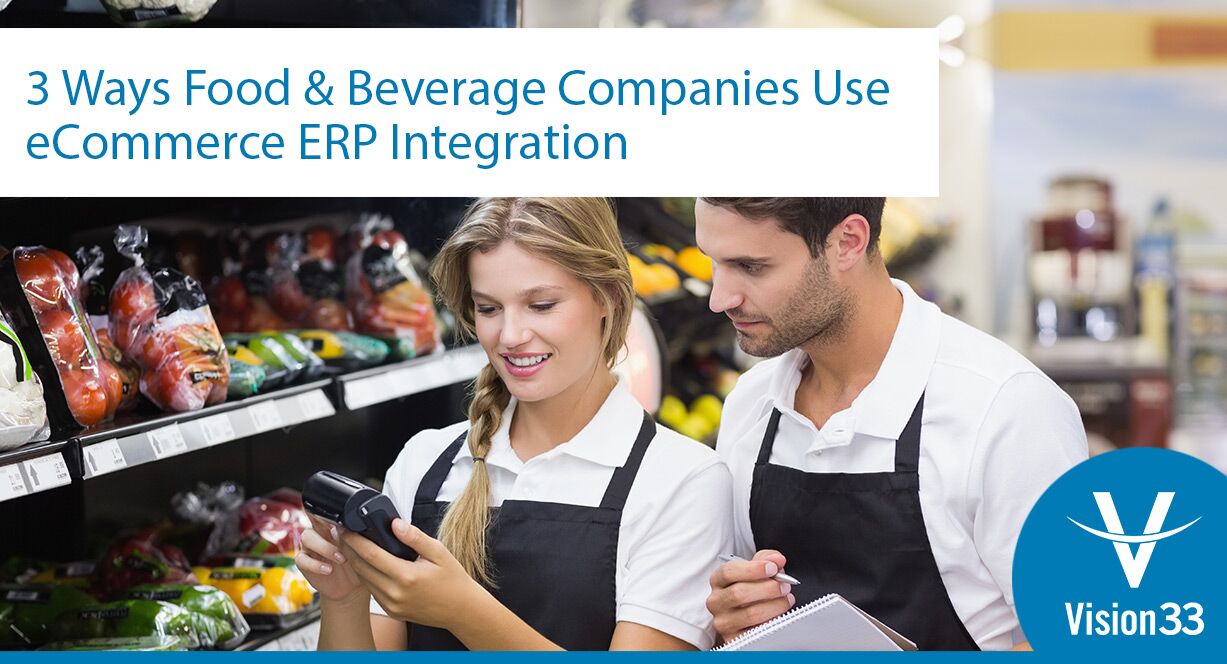 E-Commerce is the future of the food and beverage industry.
Consider today's customer expectations: they assume they can interact with businesses outside the traditional brick-and-mortar model by finding them online.
Therefore, companies without a virtual platform are missing opportunities for both brand awareness and sales.
Major players in the food and beverage industry offer a sense of what's coming. It's a shift PepsiCo's CEO calls "the next great revolution" in the industry. It's realized in how Amazon's acquisition of Whole Foods is revolutionizing grocery services.
And if that's not enough to spur you to e-Commerce, consider the stats.
Of the companies that excel in the food and beverage industry, 64% have an e-Commerce strategy. Why? Because internet sales are forecasted to account for 15-20% of overall sales in food and beverage by 2025.
The signs of change are loud and clear: being too slow to adopt e-Commerce equals losing to the e-Commerce-savvy competition.
Here are three ways e-Commerce benefits food and beverage businesses.
#1: E-Commerce = Easier Sales
Self-service has taken off both on and offline because it puts power in the consumers' hands – they control the experience from shopping cart to receipt.
E-Commerce offers B2B buyer independence. The self-service approach removes the middleman, simplifies the purchasing process, and keeps customers more closely connected to their orders.
Additionally, e-Commerce-inspired sales portals are changing the role of sales reps. Rather than focusing on closing deals, they can become guides, helping customers through preferences and available product and service options. This improves the quality of service and allows sales teams to move prospects through the funnel more quickly.
E-Commerce technology also allows businesses to automate recurring orders. Especially critical for restaurants and supermarkets making frequent bulk purchases, this automation systemizes finances and eliminates busywork.
In the B2C sector, consumers can use restaurant e-Commerce portals to order for delivery, and 'Find a Store' features drive traffic to nearby locations.
Any way you look at it, e-Commerce amplifies flexibility for both providers and users.
#2: E-Commerce Encourages Product Transparency
Consumers increasingly seek product transparency from their preferred food and beverage companies, including nutrition, sourcing, and sustainability information.
With the volume of competition in the food and beverage marketplace, buyers can afford to be picky. They research and choose companies in sync with their lifestyles and the image they want to project.
This also applies to B2B companies as shoppers evaluate supply chains – customers willing to dig into the details can determine your values based on the vendors your business partners with.
An e-Commerce catalog allows you to build product pages with extensive, interactive information. Such product pages not only help customers make informed purchases, they also represent your brand's dedication to transparency.
Furthermore, SEO tools help your pages rank for keywords and phrases. The more quality content you offer on your e-Commerce platform, the easier it is to find customers relevant to your business.
#3: E-Commerce Offers Native Integration with SAP Business One
The success of an online e-Commerce presence (for any product or service) relies heavily on speed and accuracy. You need the right systems to capture customer information, track orders, and deliver on promises. This is even more relevant in the food and beverage industry, where high order volumes make ERP integration essential.
ERP integration enables your online systems to communicate, sharing information back and forth without manual data entry. This is vital for processes that pertain to new purchase orders, inventory, pricing, etc. If you rely on manual updates when discounts are released, or product volumes decrease, you're providing an experience that's out of sync with real-time customer needs.
Operation teams rely on ERP integration for swift order fulfillment and accurate stock management. It's critical for tracking complex inventories, including items with different shelf lives and expiration dates.
Additionally, finance departments depend on ERP integration for price line management.
Consider how complicated pricing structures can become – especially when you factor in sales, free shipping offers, and limited-time discount promotions. With so many triggers operating simultaneously across a variety of products, ERP integration simplifies updates to ensure accuracy and offer a seamless, positive customer experience.
Final Thoughts: Three Ways Food and Beverage Companies Benefit from e-Commerce with ERP Integrations
From sales to operations, finance to fulfillment, e-Commerce platforms provide the means for simplifying processes – if a company understands the full scope of factors involved in implementation. With e-Commerce, you can open the (virtual) door to more customers and create experiences that will keep them coming back.
Just be conscious of the fast-paced rhythm that comes with it. Online systems and processes are only as good as the technology used to manage, automate, and streamline them along the way.
To learn more about ERP-integrated e-Commerce, join k-eCommerce and Vision33 on Thursday, November 7th at 12:00 PM EST. Their in-depth discussion will explain how ERP-integrated solutions allow food and beverage companies to sell and grow online while also benefitting every department in their organizations.