On The Connected Enterprise podcast, Richard Duffy discusses cloud adoption, the cloud's advantages, and why the cloud is here to stay.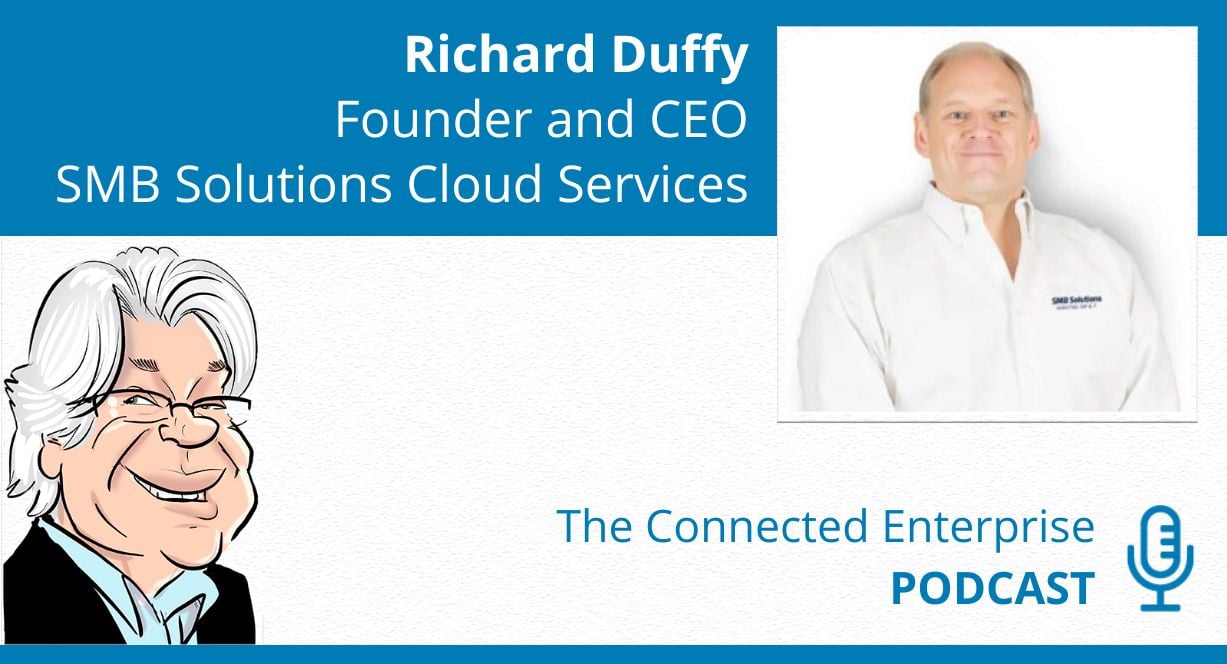 Richard Duffy says, "If you have trouble sleeping, search for my name and SAP Business One. You'll find hours of me talking about the powerful enterprise resource planning (ERP) solution and how it will make your business run better."
Richard is well-known as a product evangelist for Business One. He spent 13 years at SAP and helped launch Business One in Australia.
Richard is now the founder and CEO of SMB Solutions Cloud Services, a family-based, Australian-owned-and-operated business. The company enables small and midsized businesses across Australia, New Zealand, Southeast Asia, and the United States to leverage cloud platforms and related management services to use their Business One solutions delivered through authorized partners.
Richard joined Carl Lewis, host of The Connected Enterprise podcast, to chat about how cloud adoption is progressing, the advantages of the cloud over on-premises solutions, and why the cloud is a technology for the times.
Why the Cloud?
Many assume SAP Business One isn't a cloud solution—but it can be deployed in the cloud, on-premises, or a combination of both.
"Seventy percent of all new Business One deployments are in the cloud, and more customers are moving their deployments to the cloud," Richard says.
To remain on-premises, your hardware and operating systems must be up to date, and your hardware must be powerful enough to drive innovations like Business One's new Web Client.
"Many customers find their hardware isn't cutting it," Richard explains. "It's too old, it's out of warranty, etc."
By moving to the cloud, businesses gain flexibility at an affordable price. Many Business One customers are on subscription models and pay per user per month. They can add users throughout the year and remove them when renewing their contracts.
"People like that flexibility," Richard says. "You also pay for access to the hardware and cloud hosting service on a per-user-per-month basis. Our customers love that."
A Fast and Easy Option
Businesses have two options in the cloud: a single-tenant environment (STE) or a multi-tenant environment (MTE).
The architecture in a single-tenant environment (STE) is dedicated to a single company with its own ERP solution and supporting infrastructure. In a multi-tenant environment (MTE), multiple companies share the same infrastructure for their software and data. The cloud provider partitions information to keep each company's data separate and secure.
"Customers are moving to MTE because of its affordability and deployment speed," Richard notes. He cites one customer migration that took only an hour.
Now Is the Time
Even in challenging economic conditions, Richard believes customers are bullish about their businesses.
"Businesses are investing and growing," he says. "That's why the cloud is a technology for the times. It's flexible."
Richard's advice: If you have the resources for a new technology project, do it now. Cloud technology reduces the need for hardware and storage and provides more scalable and easily automated processes. The cloud also offers anytime, anywhere, any device access to up-to-the-second data.
"You'll get to use the technology not just for its own sake but to drive real business benefits," Richard concludes. "Our customers say, 'We never thought we could do these kinds of things and have these technology projects.' But moving to a cloud MTE made it possible."
Listen to the Podcast
For more insights from Richard Duffy and to learn more about the SAP Business One community, listen to Vision33's The Connected Enterprise podcast. In each episode, host Carl Lewis interviews bright minds and industry thought leaders about enterprise technology and what's coming next.