Listen to Tom McGrath discuss digital transformation, integration, iPaaS, and how Saltbox is a game-changer for small businesses on the Connected Enterprise Podcast.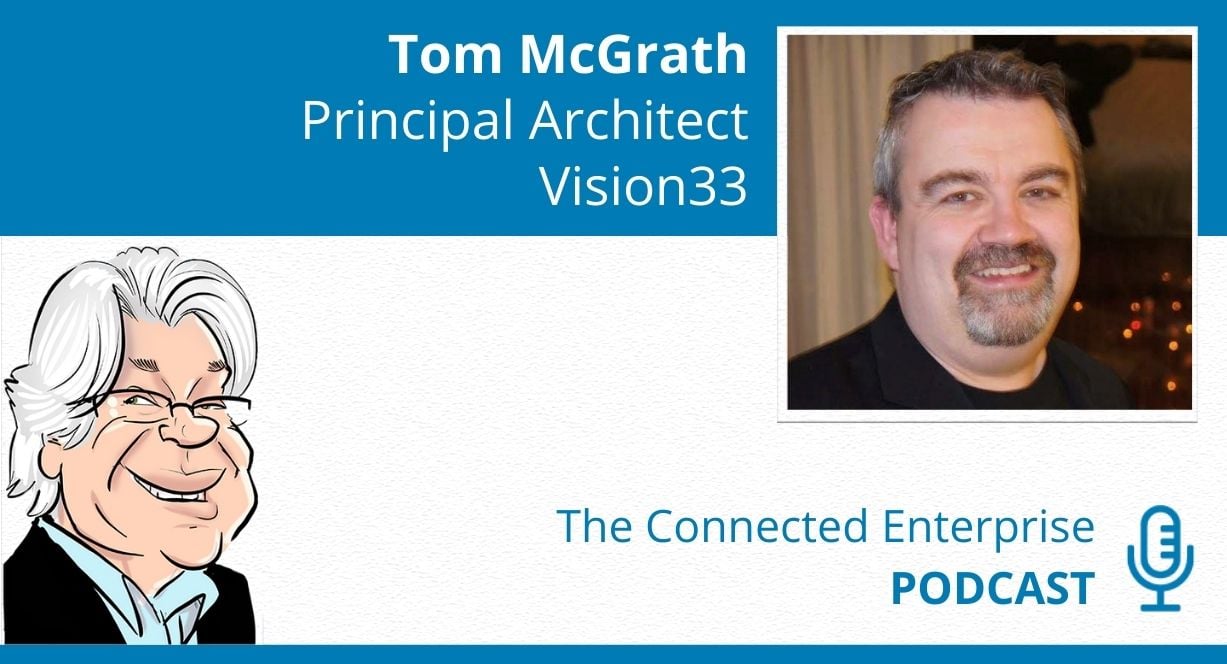 Tom McGrath has a new baby, and its name is The Saltbox Platform. Tom is the principal architect for Vision33's Innovations team, where he oversees the strategic technical direction of the company's exclusive products.
Tom joined Carl Lewis, host of The Connected Enterprise podcast, to discuss digital transformation, integration, and how Saltbox is a game-changer for small businesses.
What Is Saltbox?
Saltbox is a cloud-native, low-code integration platform as a service (iPaaS) solution that integrates business applications. Integration isn't new, but the pandemic exposed the need for businesses of all sizes and industries to become more resilient. Digital transformation has become a necessity, and integration is an ideal place to start.
"The risk of not doing anything is much higher because the ground underneath your feet has moved," Tom explains. "Now you have to do something. The risk equation has shifted to the status quo being dangerous and not changing being risky."
Integration empowers businesses to unify and streamline operations and increase the ROI of existing technology investments. It eliminates time-draining manual processes and enables lightning-quick data transfer between mission-critical business applications.
Along Comes iPaaS
The old way of connecting applications was point-to-point integrations. This method required hours of coding, specialized IT skills, operational downtime, ongoing management and updates, and an expense that many growing businesses couldn't afford.
"iPaaS changes that equation," Tom says. "There are fewer upfront costs and less time getting up to speed. You can focus on what's unique about your business and not worry about becoming a technical expert."
The engine at the heart of Saltbox moves information through the cloud with the power of Amazon Web Services (AWS) scaling and can handle an infinite data load. And because it's cloud-based, updates and new releases automatically run in the background and don't disrupt your operations.
Building Blocks for Success
Think of Saltbox as a solid base everything sticks to, and picture business applications as Lego blocks. "You're building a solution," Tom explains, "But instead of building everything from scratch, you're picking the Lego blocks that make sense." And all those blocks know how to fit together because they're based on application programming interfaces (APIs).
Because Saltbox makes integration so easy (and affordable!), the options for connectivity between applications are virtually limitless. Systems that can quickly be integrated include enterprise resource planning (ERP), customer relationship management (CRM), point of sale (POS), eCommerce, and marketing. "More Legos, more sets, more shapes and colors and sizes than we ever had," Tom laughs.
Leveling the Playing Field
Because Saltbox is a subscription and doesn't require hosting or hardware investments, smaller businesses can create complex, integrated solutions that, previously, only larger organizations could afford. "It's a real competitive advantage," Tom says. "Smaller companies can act like the big guys, without the overhead, the complexity, and the bureaucracy."
Tom gives an example of a small business that uses ERP, runs multiple eCommerce solutions, and handles third-party logistics (3PL). With Saltbox, this 50-person company has fully integrated and automated its systems and processes. "That would have been a multi-million-dollar project for a Fortune 500 company just a few years ago," he says. "Saltbox completely changes things."
Listen to the Podcast
For more insights from Tom McGrath, including what's next for Saltbox, listen to Vision33's The Connected Enterprise podcast. In each episode, host Carl Lewis interviews bright minds and industry thought leaders about enterprise technology and what's coming next.