Kris Reid discusses building websites and attracting visitors, recommended technology, the importance of a plan, the acceleration of eCommerce, and more.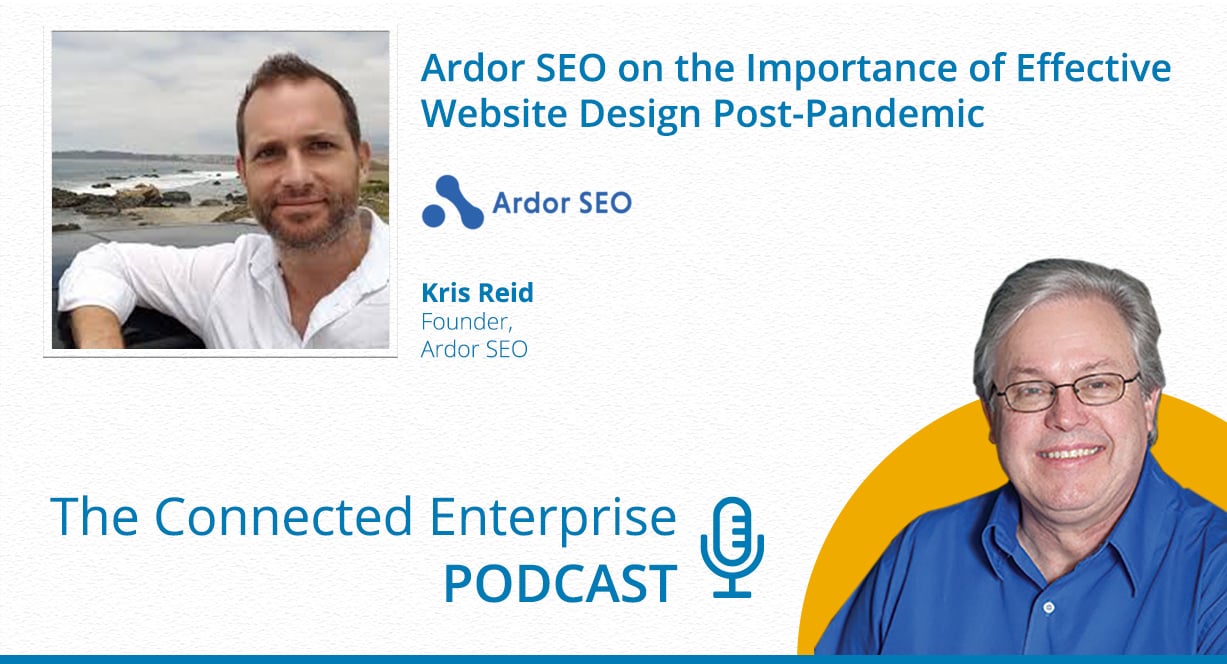 Kris Reid worked in finance when the stock market crashed in 2008. As a jobless computer geek, he built an online game and ranked it on Google. Knowing other businesses would find that valuable, he started Ardor SEO.
Ardor means to do something with a fiery passion, and that's how Kris's company approaches search engine optimization (SEO). Ardor SEO specializes in turning under-performing websites into predictable cash-generating machines.
Vision33's Carl Lewis interviewed Kris on the Connected Enterprise Podcast about building websites and attracting visitors, the technology he recommends, the necessity of having a plan, the acceleration of eCommerce, and more.
The Purpose of a Website
Kris likens a website to a business card. If it's just sitting in your pocket, it's useless – you need to give it to people. The first step is generating website traffic by optimizing for the keywords your target audience is searching for.
A website shouldn't be aggressive and demand that visitors buy immediately, since they don't know or trust you right away. Kris recommends using a "lead magnet" (i.e., content that demonstrates you're an authority in your industry.) Offer the content in exchange for a name and email address, and that visitor becomes a "lead." Next, nurture the lead through a deliberate campaign of additional offers. When a prospective customer realizes you know what you're talking about, you can ask them to buy.
Simple and Affordable Technology
Kris suggests avoiding drag-and-drop websites like Squarespace, as they're difficult to rank from an SEO standpoint. Instead, consider WordPress, which has numerous plug-ins to build anything you want. ActiveCampaign is great for email marketing and customer relationship management (CRM), and Mailchimp is perfect for newsletters. These three tools can get any business started with minimal effort and expense.
Quality Over Quantity
Don't overspend on your website, and don't overdo it. Avoid getting mired in minutiae like your logo, as most people don't care. Instead, get your message front and center by focusing on building the minimum viable product and launching it. When you have a few thousand visitors per month, turn your attention to increasing your conversion rate.
Keep eCommerce In-House
The COVID-19 pandemic dramatically accelerated eCommerce, and Kris noted that many businesses weren't prepared with well-designed websites. For companies getting started in eCommerce, he cautions against selling through online marketplaces (e.g., Amazon) because they will own your customers and take a hefty percentage of your profits. The internet will continue to evolve, so investing in an eCommerce platform will increase your website's security and value.
The Importance of Back Links
Kris and Ardor SEO focus on Google because it's the best search engine. Its army of software engineers "filters out the crap" and rewards well-built websites. Kris says back links are the secret to good ranking – if other websites reference yours and link to it, Google will rank your site because it feels it can be trusted.
To learn more about websites and SEO and to contact Kris Reid, listen to Vision33's Connected Enterprise Podcast. Each week, host Carl Lewis interviews bright minds and industry thought leaders about enterprise technology and what's coming next.