Build upon your SAP Business One ERP foundation with customization that contribute to your companies overall growth.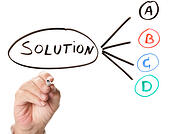 Growing businesses that have unique and differentiating business processes often require ERP solutions that can be customized to support those processes. Take for example Envelopments Inc., a truly unique build-to-order manufacturer of custom mix and match communiqués and paper products who implemented SAP Business One as a foundation to solve their unique business process challenges, support business growth and manage its vendor and customers relationships.
"Our goal was to implement a business management solution that would enable us to better manage data, starting with order entry through manufacturing processes, all the way to shipping. At the same time we needed to provide the company with the ability to customize reporting to obtain business intelligence that would support our specific business processes." recalls Mark Smith, Co-Founder and President. "SAP Business One is a solid solution that supports complete integration of all of our business processes...we have been able to customize the solution and maximize the value we provide to our customers." (Read the case study Building a Foundation for Growth: How Envelopments transformed their future with an integrated ERP system)
Deciding to implement ERP customizations, much like Envelopments did with SAP Business One, provides a number of advantages to consider that enable business owners to achieve operational excellence, provide additional value for their business and maintain a competitive advantage over their competitors. In order to achieve these advantages, business owners must first go through the key decision making steps when it comes to ERP customization:
1) What is the purpose of the ERP customization?
Business owners must first identify key business problems that the customizations should solve. These could be specific to a particular department, function or processes – it is important to isolate issues that have the greatest impact on your businesses operational costs, performance and growth goals, as well as, non-economic factors. Issues such as lack of custom reporting and documentation, workflow customization, and specific departmental processes (manufacturing, inventory, finance, customer service etc.) are areas that many businesses have unique requirements.
2) What is the business value of the customization?
To ensure that ERP customizations result in a positive impact on your fast growing business, you must first identify the benefits gained; from operational efficiencies to the overall impact on stakeholders and your value chain. Beyond economic gains in day to day operations, ERP customizations must contribute to overall satisfaction and buy-in of employees, customers, shareholders, vendors, etc.
3) What are the adverse effects of customization?
Identifying issues that can occur prior to, and after an implementation will save business owners a lot of time, money and stress. Interference with other key functions of the ERP system and upgradability of a customization once a newer version of the ERP system is released are examples of common issues that business owners must be aware of.
4) How will the Customization be Structured and Implemented?
Not all systems are created equally; therefore, business owners should have a general understanding of the development and run-time environment used to create the customization and the people/company behind the development and implementation. Additionally, business owners should develop a schedule that allows time for implementation to minimize the effects it may have on business operations. For businesses implementing a new ERP system, like SAP Business One, it is most advantageous to simultaneously implement any customizations required in order to eliminate the need for multiple ERP configurations.
5) What is required once the customization has been implemented?
Since a customization is unique, businesses will require some form of support, service and training to ensure they can fully utilize their investment. Owners should inquire about such things as: a service contract, support contact, training sessions and a log of the implementation process from start to finish.
It is important to challenge your ERP implementation partner to ensure they have the necessary skills and insight to see where customizations can make sense for your business. A strong implementation partner will develop a detailed understanding of how 'your' business runs and be able to provide meaningful ideas and insights into specific customizations that would support your processes and build on the SAP Business One foundation.
With ERP customizations, businesses with differentiating processes are able to utilize those processes to their full potential and add value to their business and gain a competitive advantage over competitors. But before any customizations are made, owners must first go through the decision making process to ensure they know they are getting the most value from their investment