Vision33's Carl Lewis and BombBomb's Darin Dawson talk about AI, the importance of maintaining a human touch, and unique ways to utilize email and video.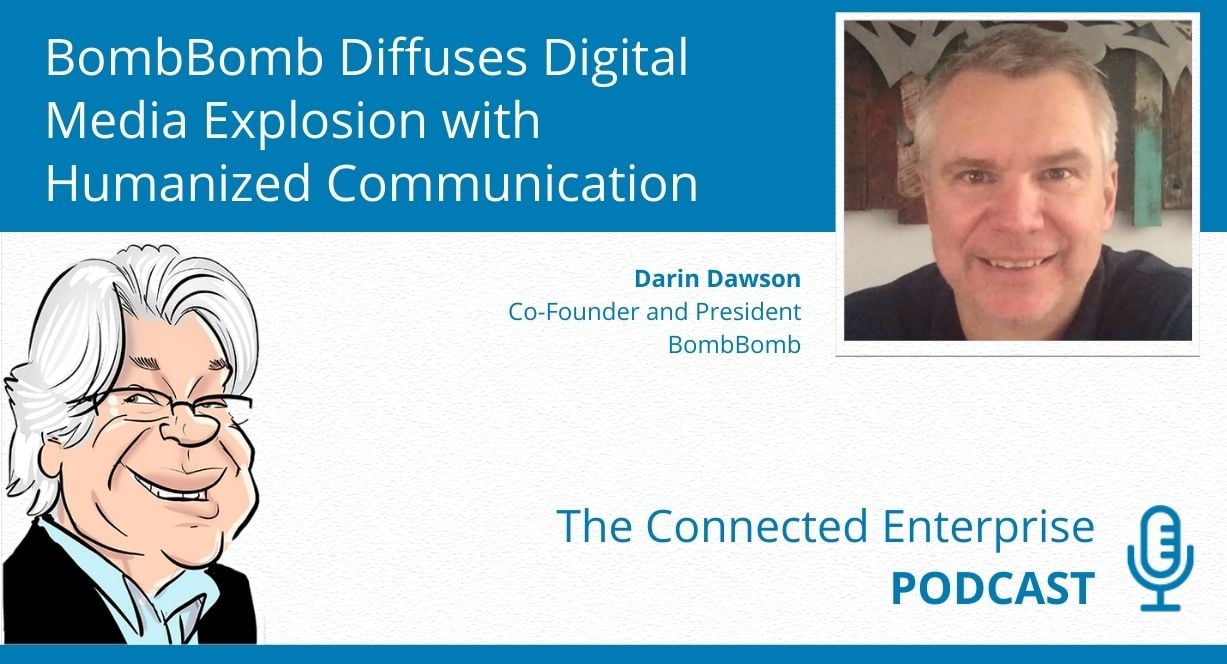 Things get lost in translation in emails and text messages. It's impossible to convey a specific tone, much less warmth or humanity, via black letters on a white screen, so it's easy for recipients to misunderstood the mood. That's why Darin Dawson and his friends started BombBomb in 2006. They believe you're better in person, and they help people build better business relationships with personalized video messaging.
In this episode of the Connected Enterprise podcast, Vision33's Carl Lewis chats with Darin about AI, the importance of maintaining a human touch in business communications, unique ways to utilize email and video, and more.
Is AI the Right Thing to Do?
Today's technology has its benefits, but one of its downfalls is companies bombarding us with automated emails, text messages, and voicemails – a phenomenon Darin calls 'digital pollution.' It's so prevalent that by the time you finish reading this blog, you'll have a full inbox, LinkedIn messages, texts, and a voicemail from someone trying to sell an extended warranty on your car.
Darin believes we should use AI to show we care more about the recipient and their experience than our own objectives. People choose to do business with people they know, like, and trust, so it's critical to communicate with sincerity and transparency.
More Is Not Better according to the CEO of BombBomb
Before thinking about a business transaction, focus on building a relationship. Darin believes your customers are more than a revenue stream; instead, you become business partners who help each other out.
Avoid falling prey to the 'more is better' mentality. A constant stream of ill-timed and irrelevant messages will repel a potential customer. Try to understand each customer's needs and only reach out when you have a product or service to fill that need.
Examples of Unique and Effective Video Communication
Never underestimate the power of gratitude, and express it to your customers and staff frequently. Darin sends video messages thanking BombBomb customers for signing on, offering his assistance, and introducing them to their customer service team. In his video messages, Darin's number one concern is conveying his appreciation for the relationship.
Video messaging is great for internal staff, too – especially with more people working remotely. Darin shares weekly company updates, virtually pats goal-crushing employees on the back, and welcomes new team members.
Don't Worry About How You Look On Camera
BombBomb offers an app and other easy ways for businesses to get started with video messaging. The biggest obstacle, Darin says, is people worrying about how they look on camera.
The first time you create a video message, don't overthink how you look – just send it. Your authenticity will shine through, and once you're over that hump, it will be easy to add video messaging to your routine business activities.
For more insights from Darin Dawson, listen to Vision33's Connected Enterprise podcast. Each week, host Carl Lewis interviews bright minds and industry thought leaders about enterprise technology and what's coming next.