Vision33's Carl Lewis chats with Chad Knight about his skateboarding and 3D careers and the need for businesses to remain resilient and creative.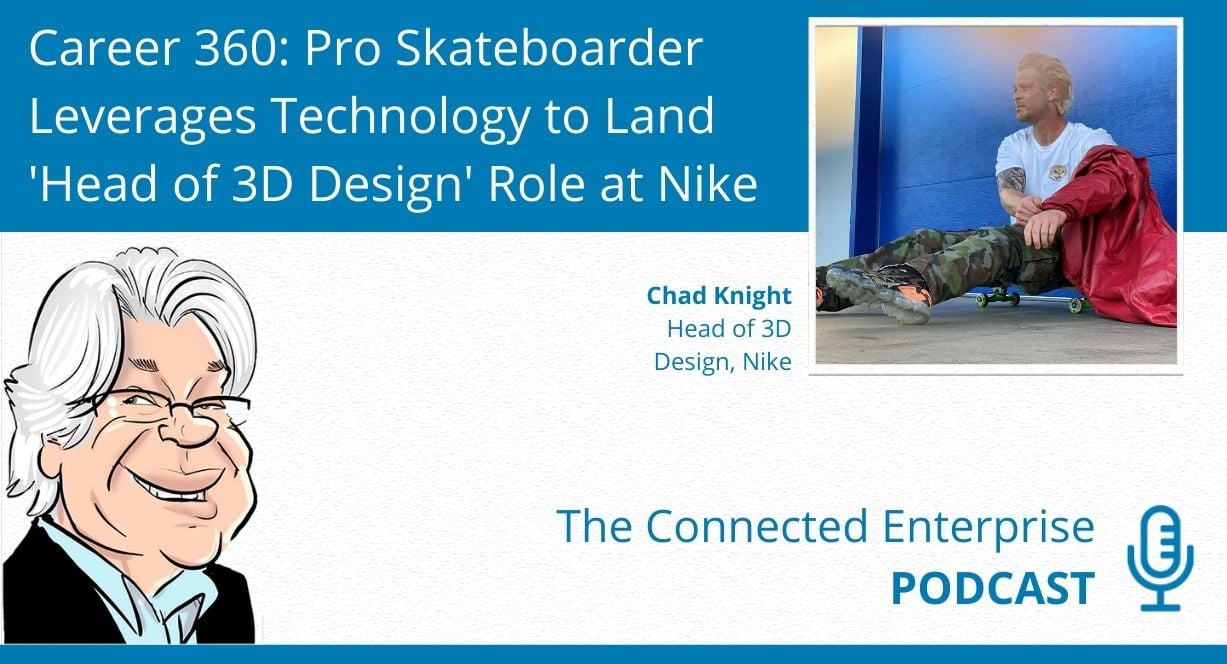 During the last year and a half, Vision33's Connected Enterprise podcast host Carl Lewis has discussed the need for businesses to be resilient, flexible, and creative. This episode's guest, Chad Knight, is a shining example of these traits, both personally and professionally.
Chad's fascinating life journey led him from childhood to professional skateboarding to his current professional role as Head of 3D Design at Nike. Carl and Chad discussed Chad's entry into the skateboarding world, his introduction to 3D technology, why he left skateboarding, and how businesses can adapt to ever-changing circumstances.
Seeking an Adrenaline Rush
Chad tells a childhood story of his mom being at a red light and wondering why other cars were honking. When she saw his empty car seat, she realized Chad had climbed onto the roof. As Chad explains it, he started seeking adrenaline rushes from an early age.
Chad's overactive mind and fear of complacency led him to explore skateboarding, which wasn't yet a popular pastime in his Ohio hometown. The freedom and lack of rules led him to quickly become passionate about the sport. That passion led to a sponsorship for 13-year-old Chad and a move to California to go pro when he graduated high school.
Being a professional skateboarder came with a meager salary, but it taught Chad valuable life lessons he continues to rely on – including the magic of self-teaching.
Learning 3D Technology
Chad developed a keen interest in 3D technology after a skate park design gig. Realizing he wouldn't be young enough to skateboard forever, he dove headfirst into learning everything he could about 3D design. Much like skateboarding, Chad was his own teacher; he learned by locking himself in a room for months and absorbing everything he could about 3D from bootleg software and YouTube videos.
Because of Chad's skateboarding career and sponsorships, he knew about shoes – so when he developed sufficient 3D skills to create a shoe, he approached companies he had already worked with. 3D printers were just coming out, and Chad's career in the shoe industry took off.
Transitioning Out of Skateboarding
Chad was on top of the world in his early 20s. He had a signature shoe, was pulling in six figures, and was a household name in the skateboarding industry. He had also welcomed a son, however, and decided a career transition was necessary.
Chad's first job in 3D design was with DC Shoes, where he learned more about visualization and animation. Next came Vans, where he gained experience managing a team but had little opportunity to show his creative side. That's when he started consistently posting his artwork on Instagram – he wanted to create something every day. Then Nike contacted him.
Chad joined Nike to help them benefit from 3D tools. He now oversees a team of 3D footwear designers, and they act as creative partners with product designers to bring their visions to life with 3D tools.
Advice for Businesses to Remain Flexible
In today's ever-changing business environment, organizations must pivot on a dime and adapt to new ways of doing things. For example, they had to adjust to the upsurge in eCommerce that resulted from the COVID-19 pandemic.
When asked how businesses can remain flexible – like Chad has done in his own life – he recommends finding a team of trusted experts. He has seen many companies make the mistake of overestimating software and underestimating experts.
And speaking from personal experience, Chad stresses that change is the only constant, and businesses must be willing to reinvent themselves constantly.
For more insights from Chad Knight, including where you can see his artwork, listen to Vision33's Connected Enterprise podcast. Each week, host Carl Lewis interviews bright minds and industry thought leaders about enterprise technology and what's coming next.