iDocuments's automation solutions help businesses streamline processes, manage accounting transactions, and stay on track despite a remote workforce.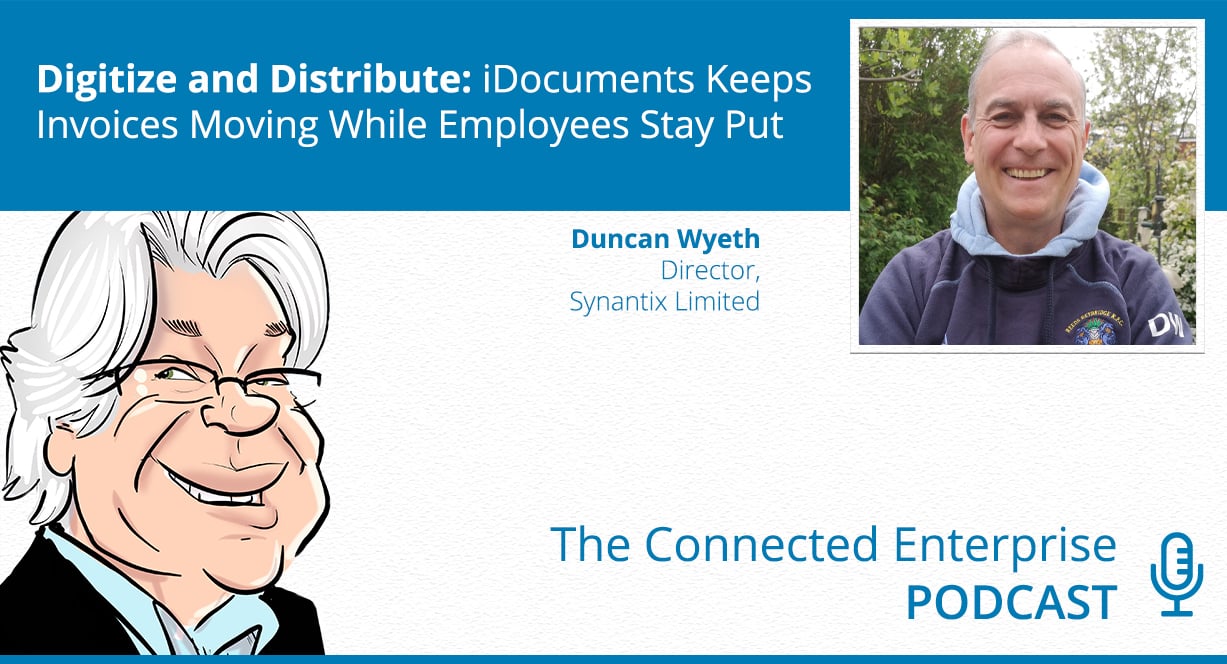 Duncan Wyeth, director of Synantix, spoke with Carl Lewis, Vision33's Connected Enterprise podcast host, about how iDocuments' automation solutions help businesses streamline crucial business processes, manage increasing accounting transactions, and stay on track despite a remote workforce.
What's Driving Digital Transformation?
Successful businesses continuously strive to increase efficiency, but the pandemic has created a need to do more with less. With technology like automation, companies can regain productivity by automating accounts payable and offering employees convenient ways to do their jobs.
For example, mobile devices that keep employees connected to the business regardless of location are instrumental in maintaining remote workers' productivity. iDocuments' automation solutions are available on mobile devices to keep things business-as-usual when transacting with customers.
Beyond Hype Cycle: AI and Machine Learning
By leveraging AI and machine learning technologies, iDocuments automates critical processes to eliminate manual labor like data entry. This reduces human error and saves time and money.
Equipping your workforce with technology solutions like iDocuments and automating processes gives your employees more time for value-generating activities like providing excellent customer service.
Consumer Expectations Are Driving Demand in the B2B World
Having done business with online giants like Amazon, consumers in the B2C sector are accustomed to user-friendly eCommerce technologies. The B2B sector's eCommerce technology never quite measured up – until now. Today, businesses undergoing digital transformations can integrate their business systems with sophisticated software like consumer-grade eCommerce solutions.
iDocuments helps businesses streamline the purchase-to-pay process, resulting in smoother transactions and happier customers.
Hear More About Automation Solutions to Streamline Your Business Processes
Listen to the Connected Enterprise podcast from Vision33 to learn more about how you can eliminate repetitive and often unnecessary tasks, improve accuracy, and save time.