Bob's SAP Business One course immerses students in the ERP ecosystem and opens doors to technology careers.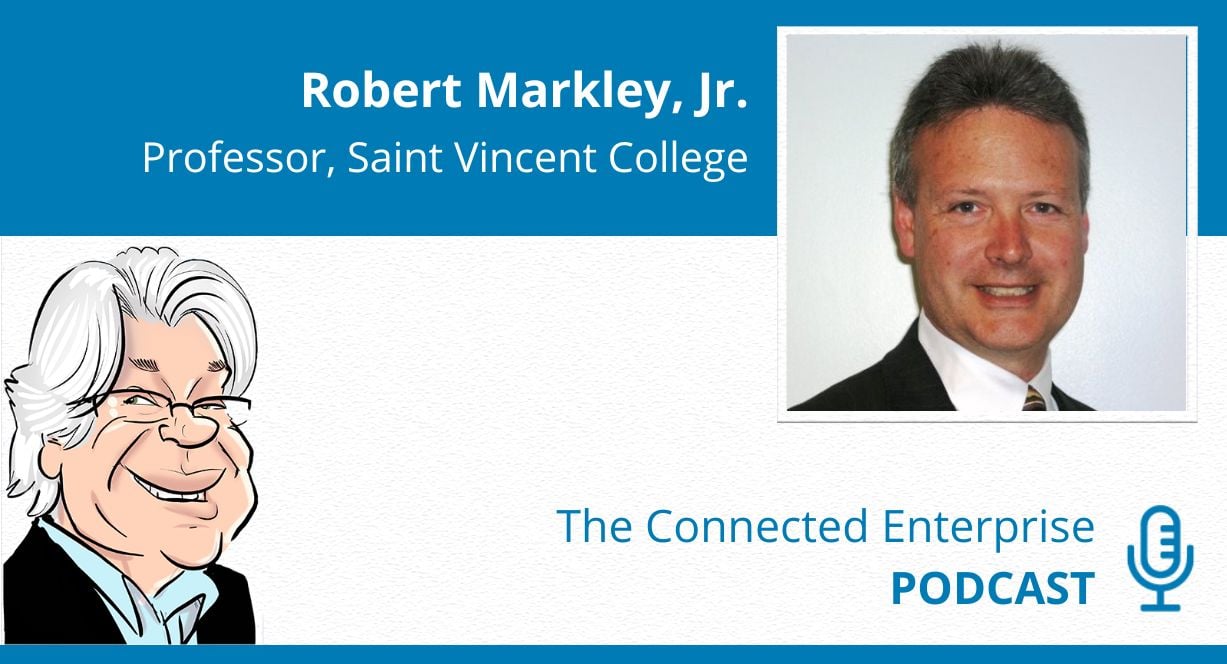 Robert Markley, Jr. teaches management information systems and accounting information systems at Saint Vincent College in Latrobe, Pennsylvania.
Bob has been a professor since 2004. His desire to include enterprise resource planning (ERP) in the curriculum came to fruition in 2007 when the college joined the SAP University Alliances Program.
Bob's SAP Business One course immerses students in the ERP ecosystem and prepares them for technology careers.
Bob joined Carl Lewis, host of The Connected Enterprise podcast, to chat about the course and how education is evolving.
By the Numbers
The college recruits students for the SAP Business One course as they enter their third undergraduate year. "They start the training in July, right before their junior year," Bob explains. "We work together for six months."
The course takes no more than eight hours a week, as the full-time students have four to six other classes on their schedules.
170 students have completed the course, with 120 landing full-time summer internships with SAP Business One partners and 80 of those 120 beginning SAP careers.
Let's Go on a Field Trip
Bob's course isn't confined to the classroom. In addition to the SAP Business One software, students learn about business processes.
"Seeing the processes is helpful," Bob says. "We visit a light manufacturing business that shows students how they get orders, turn them into production orders, issue purchase orders, deliver, and bill the customer." Bob's students also visit other businesses that run SAP Business One and attend meetings at SAP offices.
And while passing the certification exam isn't a program requirement, students are trained like every other implementation consultant. "Our final exam mimics the certification exam," Bob says.
Those who take the exam typically do so during their senior year or shortly after they start working for an SAP Business One partner.
No Fetching Coffee Here
Students who score summer internships spend 10-12 weeks with SAP Business One partners. Many of those partners invite students to stay part-time in project support, marketing, and sales roles during their senior years. The work is hands-on and often leads to full-time jobs after graduation.
"At one student's internship, the company needed screenshots for marketing materials," Bob says. "They had no idea how to navigate to the sales order and purchase order screens. She did it all for them. Her coworkers were amazed by how well she knew the system."
Opening Doors
According to Bob, colleges are becoming more competitive with recruiting. "They're finding innovative ways to attract and retain students," he says. "Nothing helps more than knowing you'll likely get a good career after graduation."
"Programs like mine that are academic and career-focused will keep growing in schools," Bob concludes.
Listen to the Podcast
For more insights from Bob Markley, listen to Vision33's The Connected Enterprise podcast. In each episode, host Carl Lewis interviews bright minds and industry thought leaders about enterprise technology and what's coming next.