Chrissy Mathison of SPS Commerce chats with Carl Lewis about what EDI is, its benefits, and what to know about engaging an EDI partner.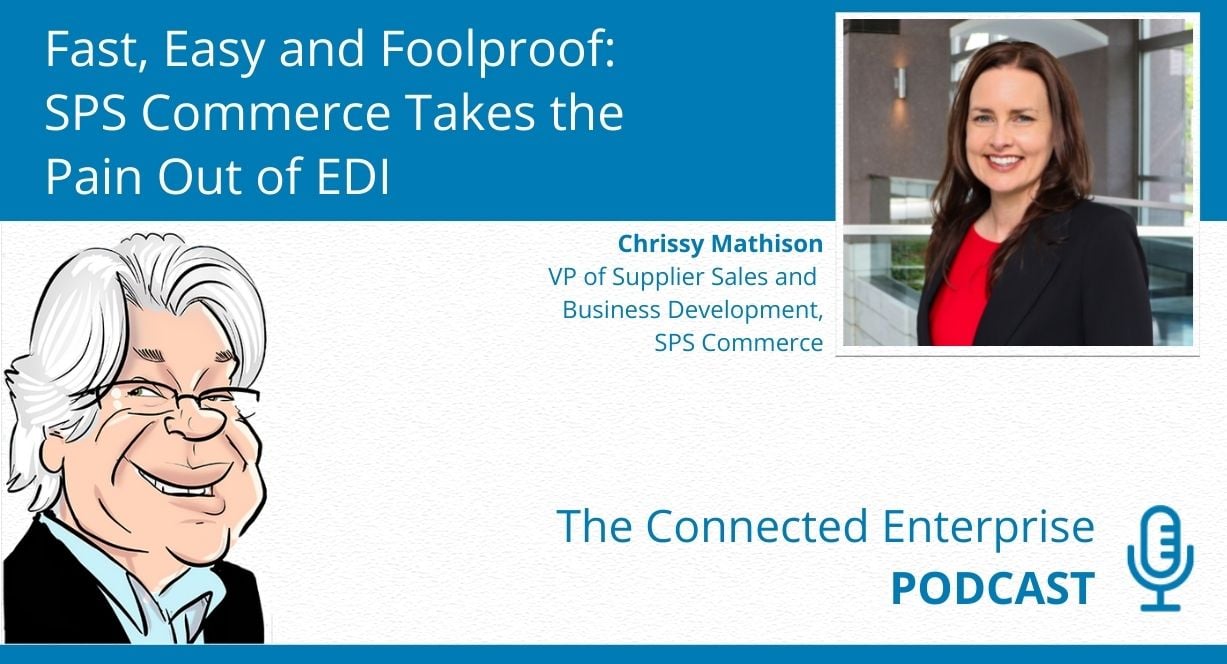 Chrissy Mathison has focused on suppliers, goods manufacturers, and technology that helps companies automate business processes for 15 years at SPS Commerce, where she's the vice president of supplier sales and business development. Recently, Chrissy won the 2021 Women in Sales Award, which was created to bring a greater awareness of the need for gender diversity in sales and executive leadership teams.
Chrissy joined Connected Enterprise podcast host Carl Lewis to chat about electronic data interchange (EDI), including what it is, its benefits, and what to know about engaging an EDI partner.
What Is EDI?
Organizations use EDI to transmit information digitally from one business system to another using a standardized format. Things you used to send on paper—purchase orders, invoices, advanced ship notices, etc.—can be sent via EDI.
If your organization wanted to do business with a big-box retailer like Target or Walmart, you would be asked to perform EDI. Each retailer would then specify the procedures you would follow to conduct business and become EDI compliant.
Why Is EDI So Difficult?
Because each retailer has its own EDI requirements, things can get complicated. For example, Walmart mandates its suppliers use a specific EDI configuration to exchange transaction data. New Walmart suppliers must pass several tests to prove they have the required software to ensure a seamless EDI exchange. Smaller businesses can use Walmart's web-based system to exchange transactions and become EDI compliant, but that system only works with Walmart.
It's not just challenging to get started with EDI—retailers can change their requirements at any time. And the more stores you sell to, the more EDI requirements you must meet and the more complicated the process becomes.
How Can EDI Be Easier?
As Chrissy explains, EDI "is not a technology solution you plug and play." When businesses choose an EDI solution that fits at implementation time, they often end up technically and financially overwhelmed.
Luckily, EDI experts can help businesses automate the time-intensive process. SPS Commerce's industry-leading, full-service solution offers EDI technologies, tools, people, and expertise. They work with the world's largest retail network, and their EDI solutions are built for reuse, driving down complexity for their customers.
Should I Work With an EDI Partner?
Being an EDI technical expert won't get your products on retailers' shelves, so let EDI experts determine how to optimize your engagement with buying organizations. That way, you can focus your energy on the things you're good at.
If your business uses an enterprise resource planning (ERP) solution—or plans to—make sure your ERP and EDI providers collaborate and connect your systems. Have joint meetings at the outset to avoid missing things as you're designing your processes.
Listen to the Podcast
For more insights from Chrissy Mathison, including how EDI will continue to evolve, listen to Vision33's Connected Enterprise podcast. In each episode, host Carl Lewis interviews bright minds and industry thought leaders about enterprise technology and what's coming next.