Vision33's Carl Lewis chats with Appenate CEO Paul Du Bois about custom apps, how businesses can eliminate the paper pileup, new technology, and more.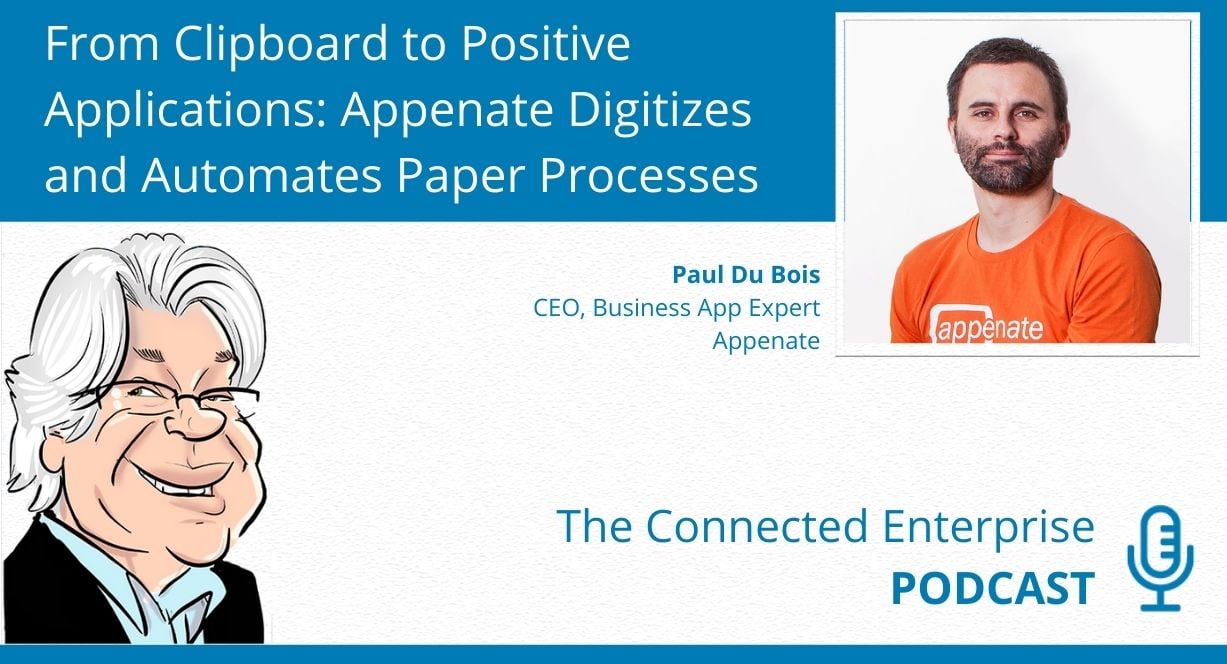 During the early days of the mobile device revolution – the iPhone was out, but Android was still up and coming – Paul Du Bois had an idea: Eliminate the heaps of paper cluttering up offices everywhere and let people do their documentation from mobile devices. Paul founded Appenate in 2011, and now he does that by helping companies create custom, no-code apps for mobile devices.
In this episode of the Connected Enterprise podcast, Vision33's Carl Lewis chats with Paul about custom apps, how businesses can eliminate the paper pileup, up-and-coming technology, and more.
Add Value With Technology, But Don't Forget the People
Paul writes code for two reasons: he likes solving technical problems, and he wants to add value. Appenate's apps, which fill the gaps where companies need to plug into the bigger system that's running the whole business, are easy to use but also give users a ton of power.
However, even if a technology checks off all the requirements on the must-have list, it won't add value if users don't adopt it.
Paul warns his customers not to get lost in the tech and forget the users. Adopting new technology, no matter how easy it is to use, is daunting. And it's worse when the users become an afterthought – who wants to have a training manual handed to them and be told they're using new technology tomorrow?
It's best if businesses start a new technology initiative by bringing the right people to the table from the beginning – even before they've chosen a technology solution. Paul also stresses that a new technology rollout should occur in phases with a well-planned migration strategy (i.e., no "big bang" rollouts). Companies should ask, "What's our migration strategy? How will we help people move from where they are to this new thing?"
Listen to the Podcast
For more insights from Paul Du Bois, listen to Vision33's Connected Enterprise podcast. Each week, host Carl Lewis interviews bright minds and industry thought leaders about enterprise technology and what's coming next.