Connect Enterprise Podcast host Carl Lewis and Vision33 VP Alex Rooney chatted about what's driven the company's growth and the diversity of its portfolio.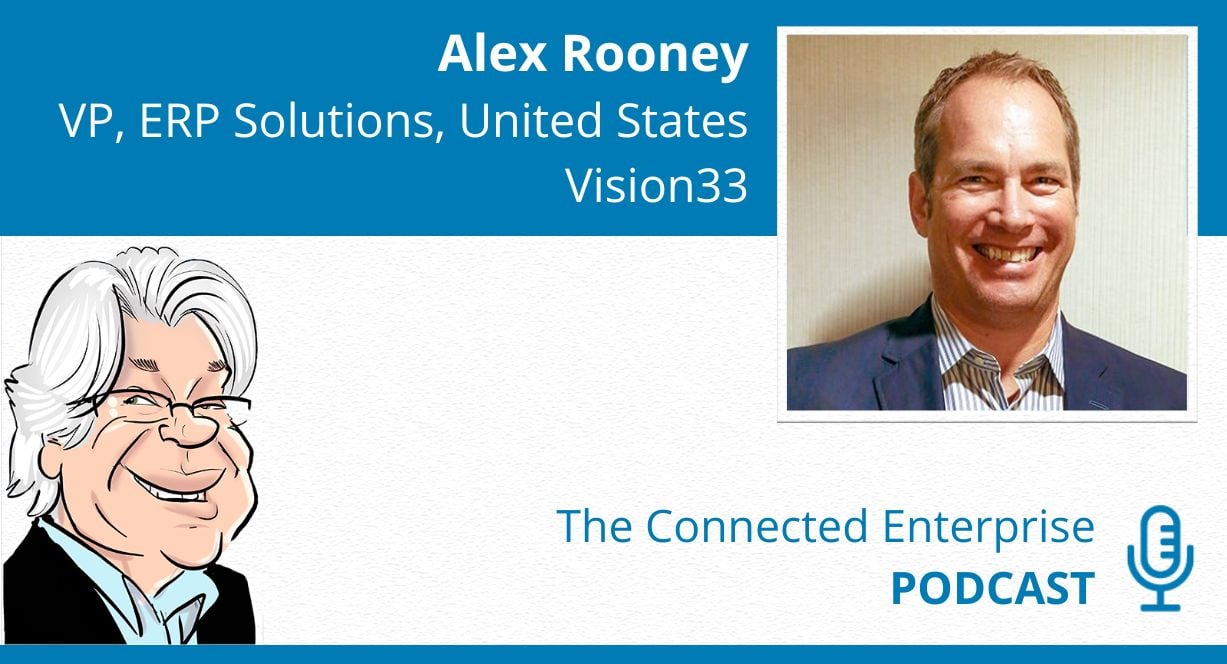 Carl Lewis, host of The Connected Enterprise podcast, first heard about Vision33 in 2003 when the company joined the SAP Business One channel.
He joined the company in 2009, and today—in addition to his podcast duties—he's Vision33's chief SAP Business One ambassador.
Carl invited his colleague and friend, Alex Rooney, to join the podcast and commemorate Vision33's 20-year journey.
Alex is Vision33's co-founder and vice president of SAP Solutions in the United States. He optimizes the customer experience, drives sales and results, and develops strategic global partnerships.
Carl and Alex chatted about what's driven Vision33's growth, the diversity of its technology portfolio, and where the company is headed.
Timing Is Everything
When Carl came on board in 2009, Vision33 had about 140 customers. In 2022, the company invoiced ten times that amount.
When asked what contributed to that impressive growth, Alex listed five things: Timing, focus, never being afraid to invest, leadership, and creating a great company that counts fun as one of its core values.
In the early days, when Vision33 had 17 employees, it had a big client.
"I suddenly found myself with Microsoft as a customer," Alex says. "That was a big deal for a small company."
Alex's contact at Microsoft told him SAP was introducing a new enterprise resource planning (ERP) solution called SAP Business One.
"He basically steered me to a competitor," Alex says. "But the timing was key. If I hadn't been in that place and time with that relationship, Vision33 may not have become an SAP Business One partner."
The company seized the opportunity with a determination to become not just a meaningful and relevant SAP Business One partner but one of the best in the world—and it succeeded.
"To do that, we had to be very sales-driven and accountable, measure metrics, and never take our eyes off the prize," Alex explains.
Adding More Tools to the Toolbox
For about 15 years, Vision33 and SAP Business One were synonymous in the ERP world. But in 2022, the company began reselling SAP Business ByDesign, a cloud-native ERP solution for small and midsized businesses (SMBs). And plans are underway to sell SAP S/4HANA, a cloud ERP solution for large enterprises.
"Having all three products in our bag will be significant," Alex notes.
Human capital management is another recent endeavor. Vision33 offers BambooHR, all-in-one HR software for SMBs, and the SAP SuccessFactors Human Experience Management (HXM) Suite, a collection of cloud-based solutions for core HR, payroll, talent management, and more.
Vision33's portfolio also includes Sage Intacct, a modern cloud financial management solution ideal for non-profit organizations and software-as-a-service (SaaS) companies.
The company also partners with government agencies wishing to modernize their operations and citizen-service offerings with solutions like Accela and Amanda.
Additionally, Vision33 develops exclusive products like The Saltbox Platform, a low-code integration platform as a service (iPaaS) solution.
"That's our flagship product," Alex says. "Saltbox is a nice complement to the SAP ecosystem, but it also exists on its own."
Looking Forward
A company's culture is a significant factor in its success, and Carl mentioned the fun and friendships he's experienced during his 14 years at Vision33.
Carl asked Alex how Alex and the executive team will continue fostering the company's family-oriented culture for its almost 500 employees.
"I'm a big proponent of regularly touching base with the team through face-to-face calls," Alex says. "We always have our cameras on. We get up from behind our email and leverage our technology."
Alex stresses the importance of treating others how you'd like to be treated, adhering to a culture of respect and professionalism, and aiming to be better every day.
"We're on the cusp of our greatest years ever," Alex concludes. "It's exciting. Let's check back in 10 years, shall we?"
Listen to the Podcast
For more insights from Alex Rooney, including Vision33's global reach and industry-leading support program, listen to The Connected Enterprise podcast. In each episode, host Carl Lewis interviews bright minds and industry thought leaders about enterprise technology and what's coming next.