Vision33's Carl Lewis and Handwrytten's David Wachs discuss the innovative ways technology can cut through electronic noise and help with the human touch.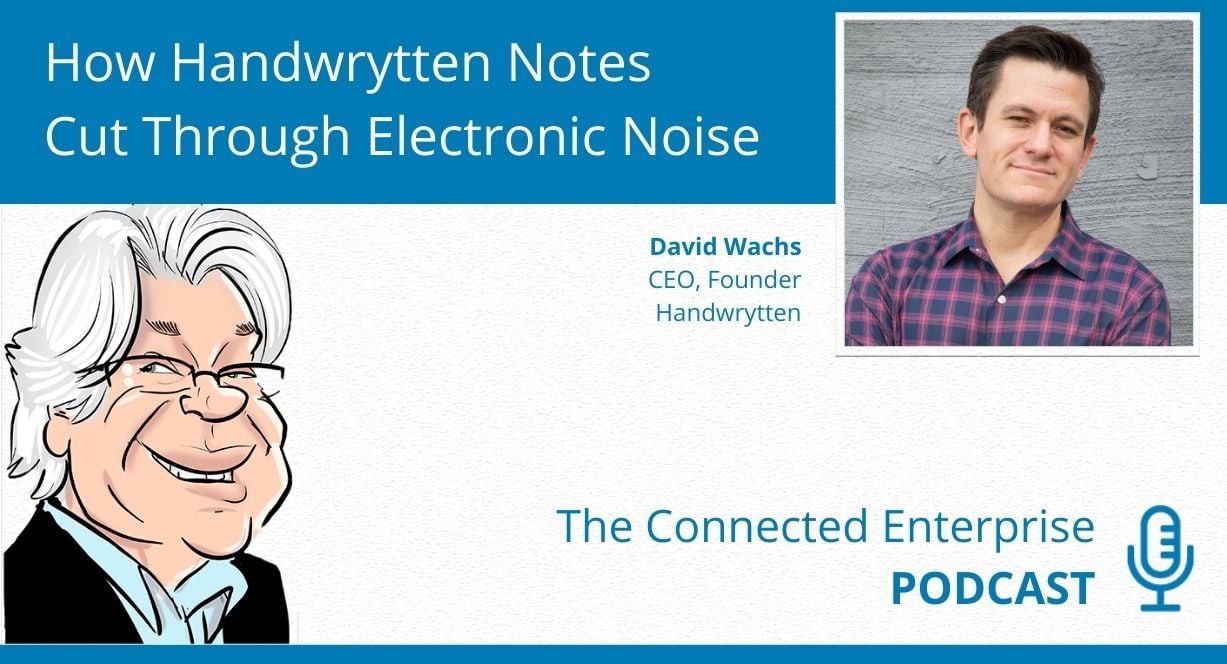 When David Wachs sold his company in 2012, he wanted to thank the people who had supported him. However, he wasn't sure how to be noticed amid the electronic noise. Eventually, he realized people not only read but keep handwritten notes – so he sent handwritten thank yous. Then he established Handwrytten, the leading online handwritten notes service for businesses.
Handwrytten partners with organizations to help them build lasting bonds with their customers through personal, handwritten notes. After someone composes their message (on Handwrytten's website or via an app), chooses a stationery and handwriting style, Handwrytten's custom-designed robots hold real pens to write the notes. The finished products are placed into envelopes, addressed, stamped, and mailed.
Vision33's Carl Lewis interviewed David on the Connected Enterprise Podcast. They talked about the innovative ways technology can cut through electronic noise, help with the human touch, and keep businesses connected to their audiences.
The Power of the Handwritten Note
David provided several examples of how businesses of different sizes and industries use Handwrytten's notes. On the smaller side, a piano tuner in Pennsylvania sends a thank you note expressing gratitude for the opportunity to tune a client's piano. He often sees that note standing on the piano when he returns for its annual tune-up.
On the larger side, many automotive dealers send handwritten letters inviting clients to look at new models or remind them their car is due for service. People who receive those letters are twenty-three times more likely to go to the dealership than those who receive printed letters. And although handwritten letters are pricier, the result is a seven times greater return on investment.
Electronic Noise and Automated Everything
Today's technology has many benefits, but one of its downfalls is the slew of automated messages that invade our phones and inboxes. Most of them go straight to the trash.
Another problem is marketers sending a series of emails expecting a response, with the messages getting ruder and more aggressive. The messages have no value – especially when recipients are rapidly scrolling to the bottom to click the unsubscribe link. David says this laziness and sense of entitlement are a scourge on capitalism.
Skills Our Grandmothers Taught Us
David stresses the importance of showing gratitude for customers. They can easily take their business elsewhere or find a similar product on Amazon. Old-school social skills and politeness – values our grandmothers believed in – go a long way to keep your business at the top of your customers' minds.
David compares sending a handwritten note to turning your cell phone off in a meeting – it proves you're 100% focused. And by sending something as simple as a handwritten note, you're showing the recipient that you were 100% focused on them. Because it's not common anymore, it's a delightful surprise for the recipient.
For more insights from David Wachs, including what's on the horizon for Handwrytten, listen to Vision33's Connected Enterprise podcast. Each week, host Carl Lewis interviews bright minds and industry thought leaders about enterprise technology and what's coming next.