Bill Flynn of Catalyst Growth Advisors discusses how businesses can thrive, how to recruit stronger teams, common mistakes business owners make, and more.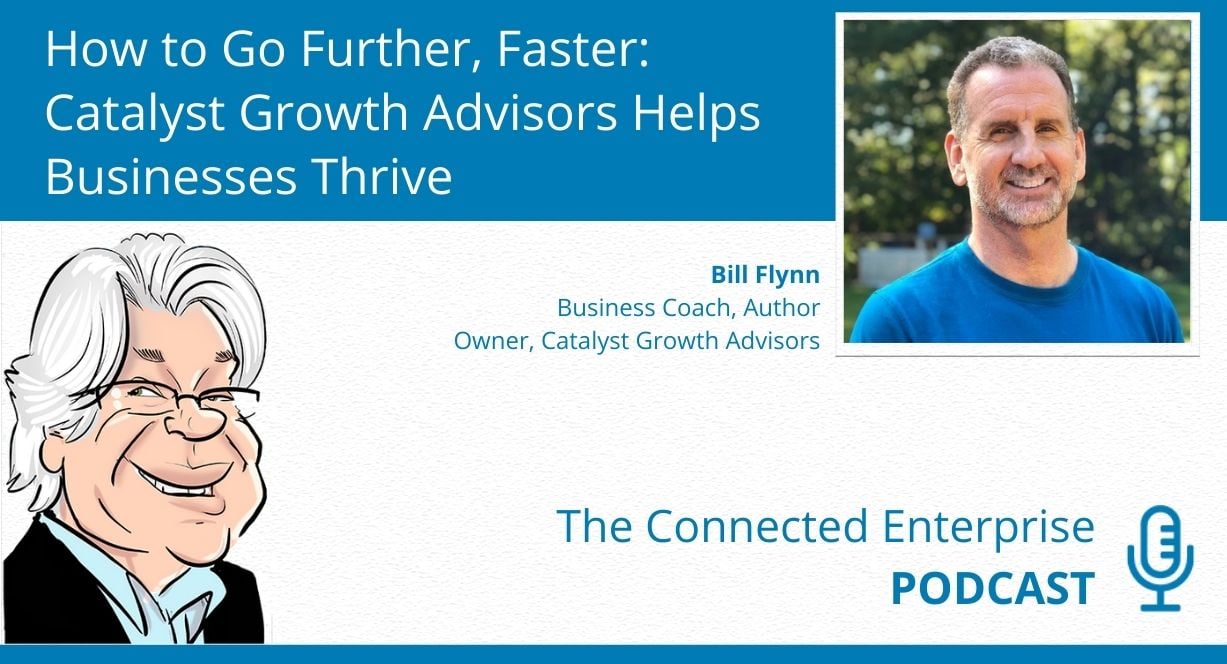 Bill Flynn was a self-proclaimed 'startup guy' in the Boston area for 25 years, with two IPOs and seven acquisitions. He decided not to initiate another startup when he couldn't find a CEO who didn't suffer from "founderitis," which is falling in love with an idea but not the problem or customers.
Since then, Bill discovered his true calling: business coaching. As the owner of Catalyst Growth Advisors, he strives to help create a compassionately productive society by enabling enlightened leaders to focus on the things that truly matter to their teams and key stakeholders. His best-selling book, Further, Faster: The Vital Few Steps That Take the Guesswork out of Growth, generates demand for virtual and in-person national and international speaking opportunities.
Bill joined Connected Enterprise podcast host Carl Lewis to chat about how businesses can survive, how to recruit talent to make a stronger team, common mistakes business owners make, and more.
The Three Cs
When asked what a young business needs to do to be successful, Bill says the person who starts it needs three traits: courage, compassion, and curiosity.
Launching a business is hard. You must strongly believe in what you're doing because you'll run into many obstacles and naysayers, and your customers will only care about how what you do serves them.
Bill defines compassion as empathy with action. Your customers want more than for you to understand what they feel—they want you to help them.
And always be curious—ask deeper questions to get to the root of your customers' issues and constantly explore ways to improve your business.
Leadership vs. Followship
According to Bill, there's only one thing all leaders have: followers. And because he believes leadership is subjective but followership isn't, we should study that instead. You can't just say what people want to hear to get them to follow you—you have to tell them where you're going, what you're about, and your vision. Give them something to follow.
Failure = Indigestion, Not Starvation
When asked the most common mistake failing business owners make, Bill says, "I find most businesses die or suffer from indigestion, not starvation." That is, they try to do too many things, but they're not good enough at them to delight their customers. Businesses that endure are super simple—they find a niche and, instead of focusing on revenue, try to make as much profit per client as possible.
Listen to the Podcast
For more insights from Bill Flynn—including why revenue is vanity, profit is sanity, and cash is king—listen to Vision33's Connected Enterprise podcast. Each episode, host Carl Lewis interviews bright minds and industry thought leaders about enterprise technology and what's coming next.