Geoff Scott from Americas' SAP Users' Group discusses how organizations use technology to adapt to new economic conditions and what they should prioritize.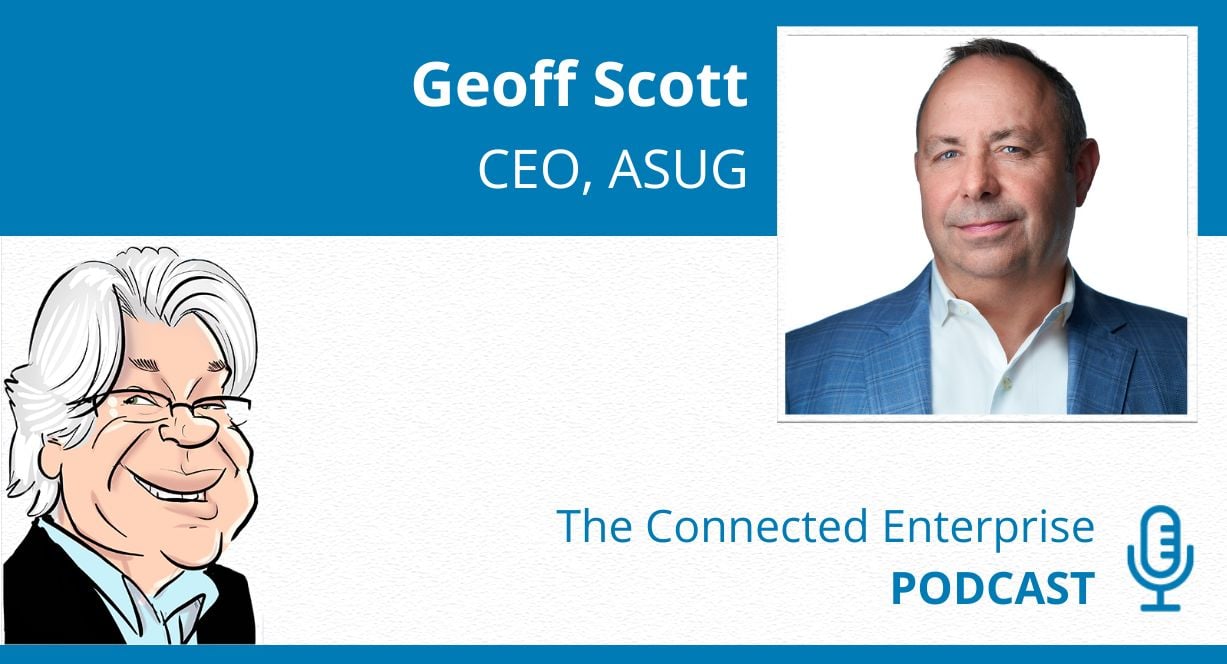 Geoff Scott thrives on helping organizations make the most of their enterprise technology investments. As the CEO of the Americas' SAP Users' Group (ASUG), he's at the helm of an ecosystem of technology, customers, and partners like Vision33.
"The strength of this community is our ability to inspire people to join us," Geoff says. "Together, we do amazing things, have great careers, and solve business problems."
Geoff joined Carl Lewis, host of The Connected Enterprise podcast, to discuss how organizations use technology to adapt to new economic conditions, skillset challenges, and what organizations should prioritize.
Going Digital
As we emerge from the upheaval of the past two years, we hope we won't face another pandemic—but we've learned economic disruptions, supply chain chaos, and other issues can come out of nowhere.
"I think what we're learning is that we get over one hurdle and come face to face with another," Geoff notes.
The pandemic also taught us that buzzwords like 'automation' and 'digital transformation' actually mean something. People have adapted to remote engagement and, in many cases, expect to communicate, conduct business, and purchase through digital platforms.
Consider the Cloud
Many organizations are moving to cloud infrastructure and computing to save money, digitally transform, and enjoy anytime, anywhere access to their data.
"There's a shift away from individuals wanting data centers or data closets filled with servers that need to be managed and maintained by an internal team," Geoff says.
When considering the cloud (or any new technology), Geoff advises focusing not just on the how, but also the why behind the change.
Value Your Team
Geoff believes organizations should focus on skills, people, and teams. "The skills we need today are radically different than what we needed a few years ago," he explains.
Today's technology is more sophisticated than its predecessors, and the right technology will help organizations succeed well into the future. But not everyone likes change, so organizations should encourage highly animated and collaborative learning environments.
Then, when you have an amazing team to drive your organization forward, keep them engaged.
"We have to be better at giving our people who work with technology a place to call home and make them feel like they're value-added contributors and not just cogs in a wheel," Geoff says. "As leaders, we should think about inclusive workplaces and inspiring people to stay versus encouraging them to go."
Listen to the Podcast
For more insights from Geoff Scott, including what's next for SAP users, listen to Vision33's The Connected Enterprise podcast. In each episode, host Carl Lewis interviews bright minds and industry thought leaders about enterprise technology and what's coming next.