Juice Beauty's Karen Behnke discusses business during the pandemic, how recruiting has changed, and what business will look like moving forward.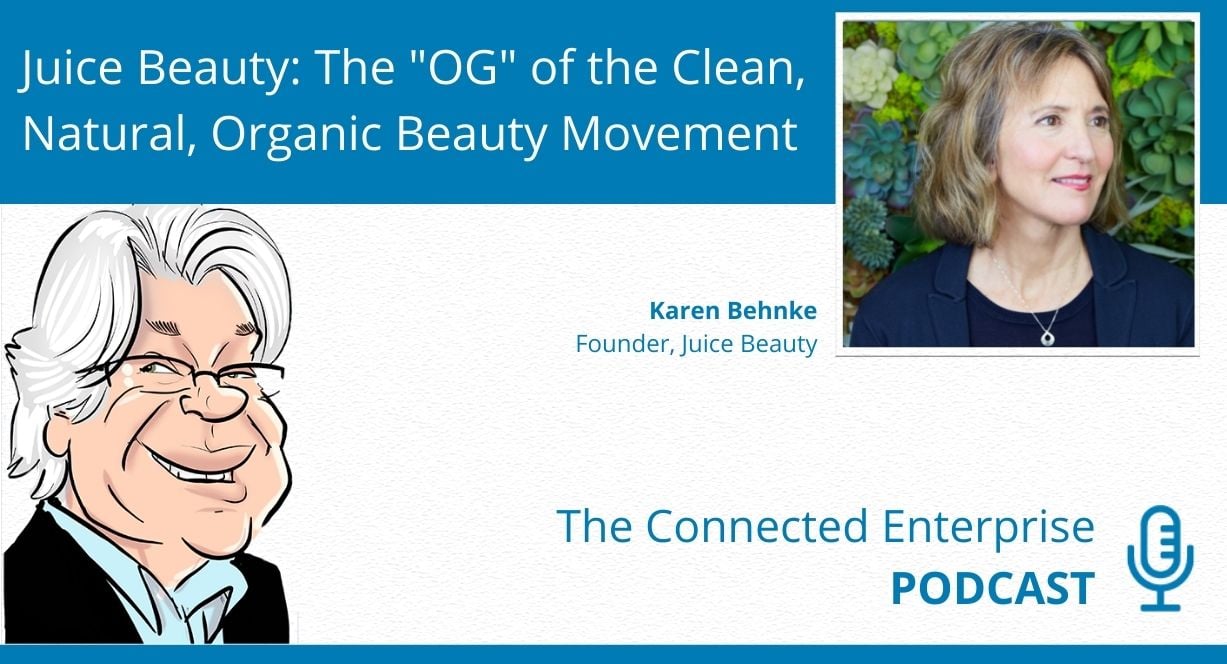 When Karen Behnke was pregnant with her first child, she couldn't find the healthy skincare products she wanted: organic, natural products made from botanical juices that deliver healthy, glowing results. And that's what Juice Beauty has been doing since Karen built the company from scratch in 2005. Now offering award-winning skincare, haircare, and makeup, Juice Beauty is one of the few authentically organic beauty product companies in the world.
Juice Beauty is unique in its industry. Its luxurious products are never tested on animals and are packaged in eco-friendly containers printed with soy ink. The company farms its grape and olive ingredients on a 20-acre vineyard and olive grove in California's Dry Creek Valley and conducts business in a solar-powered warehouse and studio in southern Sonoma County.
Karen joined Connected Enterprise podcast host Carl Lewis to discuss how the pandemic affected Juice Beauty's business operations, how recruiting has changed, and what business will look like moving forward.
Consolidation Has Its Benefits
Juice Beauty had to pivot quickly at the onset of the pandemic. Considered an essential business, Juice Beauty kept its distribution center open with strict safety protocols, and finance personnel socially distanced at the office. However, most of the salesforce worked remotely.
The timing was fortunate: Juice Beauty's corporate headquarters and warehouse leases were up, and Karen realized her midsized business didn't need three locations. She gave up the leases and moved operations into the Sonoma County warehouse and adjoining office spaces. Now, Juice Beauty is enjoying benefits like one insurance policy, one cleaning crew, cost savings, and improved communications.
Experience Matters
While most departments were stable, Juice Beauty had turnover in its digital department and needed to recruit. Attracting candidates was easy, but it was a challenge to weed through the résumés and find passionate, mission-driven, career-oriented people. Karen notes many candidates had only 12-18 months at their previous positions—a cultural change Carl believes has become more prevalent in younger generations. In this age of hiring people you've never met in person and trusting a job to someone who may never have to work in the office, Karen prefers to hire folks with at least three years of experience at their previous company.
Face Time Is Important
Although some Juice Beauty employees are happy to be back in the office, others prefer working from home. Karen plans to maintain a hybrid environment. She believes office interaction is critical and stresses the importance of younger, up-and-coming people starting in the workforce getting face time with executives. And while they may not have one-on-one meetings, a lot can be gained from water cooler chats.
"I would give that advice to anyone," Karen says. "If you're career-oriented and want to make an impression and get ahead, don't underestimate the power of face time with the top executives."
Listen to the Podcast
For more insights from Karen Behnke, listen to Vision33's Connected Enterprise podcast. In each episode, host Carl Lewis interviews bright minds and industry thought leaders about enterprise technology and what's coming next.