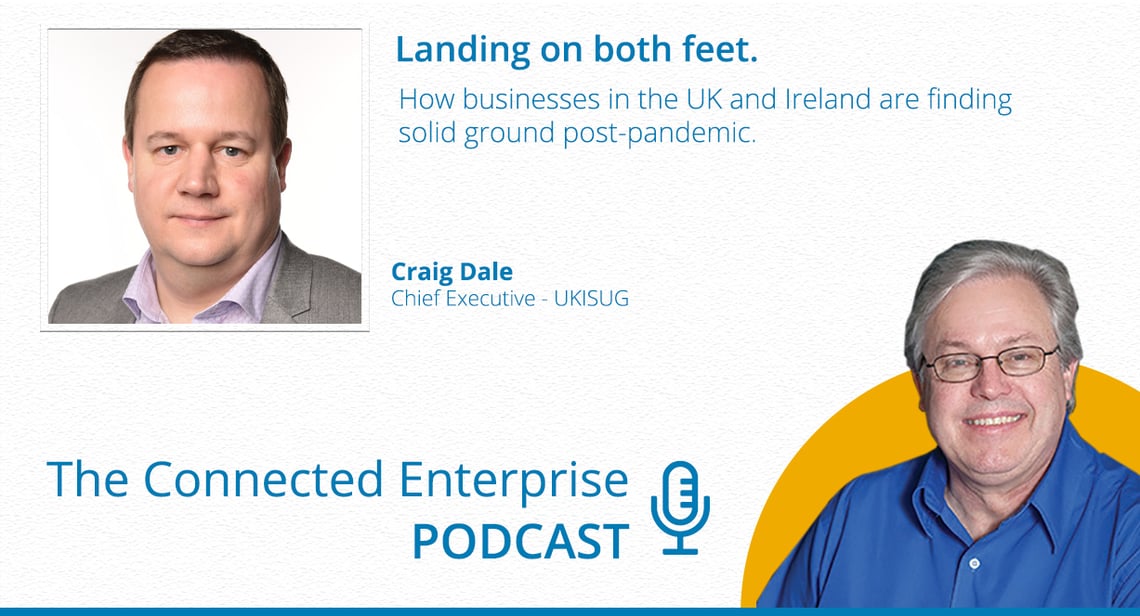 Host Carl Lewis is joined by Craig Dale – chief executive officer of UKISUG (the UK and Ireland SAP User Group) in this episode of the Connected Enterprise. Craig offers insights on how businesses in the UK and Ireland are weathering the storm and investing in technology to prepare for the road ahead.

If you are an SAP user in the UK or Ireland, you're probably familiar with not-for-profit organization called UKISUG. For those unfamiliar with the group, UKISUG is an independent, membership organization completely funded and operated by members, for members. Their goal is to bring together SAP users and SAP partners in a strong community to learn, network, collaborate, and influence future developments with SAP.

Craig has seen a lot of businesses face the same challenges across every industry. In this episode, he explains that many are looking to do more with less based on cut-backs in spending, production, and employees. They're investing in analytics, cloud, and robotic process automation (RPA) as a way to enhance their operations and find solid ground in a post-pandemic world.

Work practices have experienced a major shift as well. With more people reporting in from their home office than the company's physical location, businesses have expedited the process of embracing a digital transformation. For some, these plans may have already been in the books, with implementation dates within the next five or ten years. For others, the plans have come together quite quickly since March of this year.

Is there a risk in rushing? That brings us to the next biggest trend identified by Craig – cyber-attacks, phishing, and malware. Cyber security has become a major challenge for businesses as hackers take advantage of the COVID-19 scramble to maintain operations from remote working environments.

Catch all of Craig's insights, including:
How businesses in the UK and Ireland are overcoming the pandemic
The shift to working remotely
Why cyber security needs to be top-of-mind for businesses
Don't miss this episode of the Connected Enterprise podcast. Click the button below to access the recording. Catch all of the episodes by following the Connected Enterprise on your favorite podcast platform.