OrchestratedBEER is used by hundres of brewery owners and staff across North America, including several of the top 50 craft breweries. Of these top 50 craft breweries, OBeer customers had an average growth rate of 27.6% compared to their non OBeer competitors' average growth of only 13.3%.
Here is a closer look at the stats...
OrchestratedBeer

Customer Growth vs. Industry Average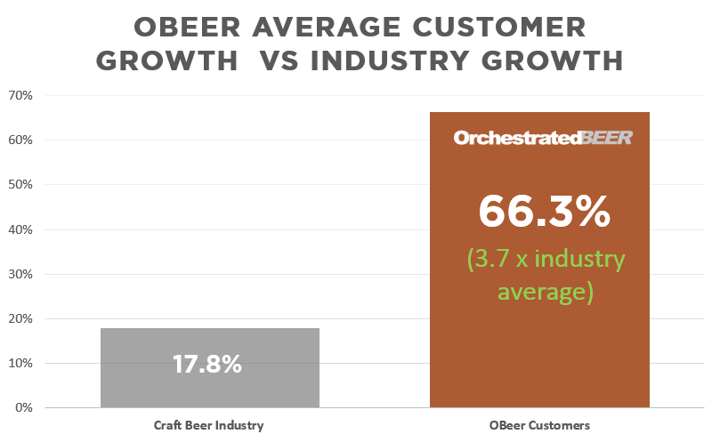 The BA's 2014 production numbers listed that the craft beer industry as a whole increased production by 17.8%. Breweries running OrchestratedBeer increased production by an average of 66%. That's nearly 4 times the industry average!
Breweries across Canada are using OrchestratedBeer too!
Driftwood Brewery
Victoria, British Columbia
Big Rock Brewery
Calgary, Alberta

King Brewery
Nobleton, Ontario
OrchestratedBeer

Customer Growth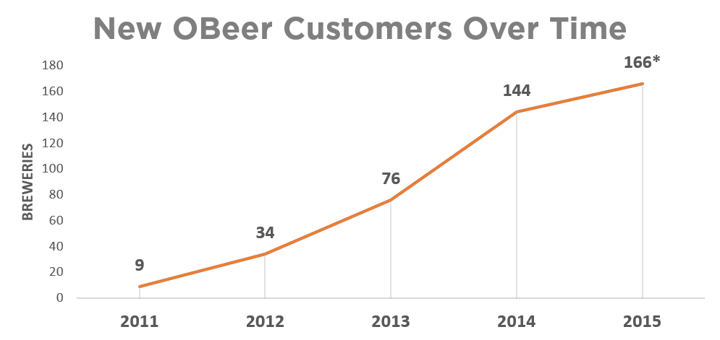 The number of craft beer companies that run OrchestratedBeer is growing exponentially! Craft breweries of all sizes are performing better than the industry average and continue to outperform their competitors. The numbers listed on this chart only reflect the numbers for halfway through 2015.
What does this mean for you?
Breweries can easily add new tanks and double production output overnight. But, OrchestratedBeer customers, as a whole, averaged production increases of 3.7 times the 2014 industry average.
Even if some growth was indicated before the adoption of brewery software, these results still prove that growth requires an all-in-one solution to maintain sustainable growth and make better decisions based on accurate, real-time business data.
No matter how big or small your craft beer company is, OrchestratedBeer brewery management software will help your company streamline processes to achieve maximum growth and efficiency. Building your brewery with multiple systems often causes problems down the road. Building on the right foundation is critical for managing scalable future growth. It's why the best run breweries run OrchestratedBEER.
To see how we can help your brewery streamline processes & grow fast, email us: contact@vision33.com for a free consultation. Download the Brewery Financial Reports Pack.