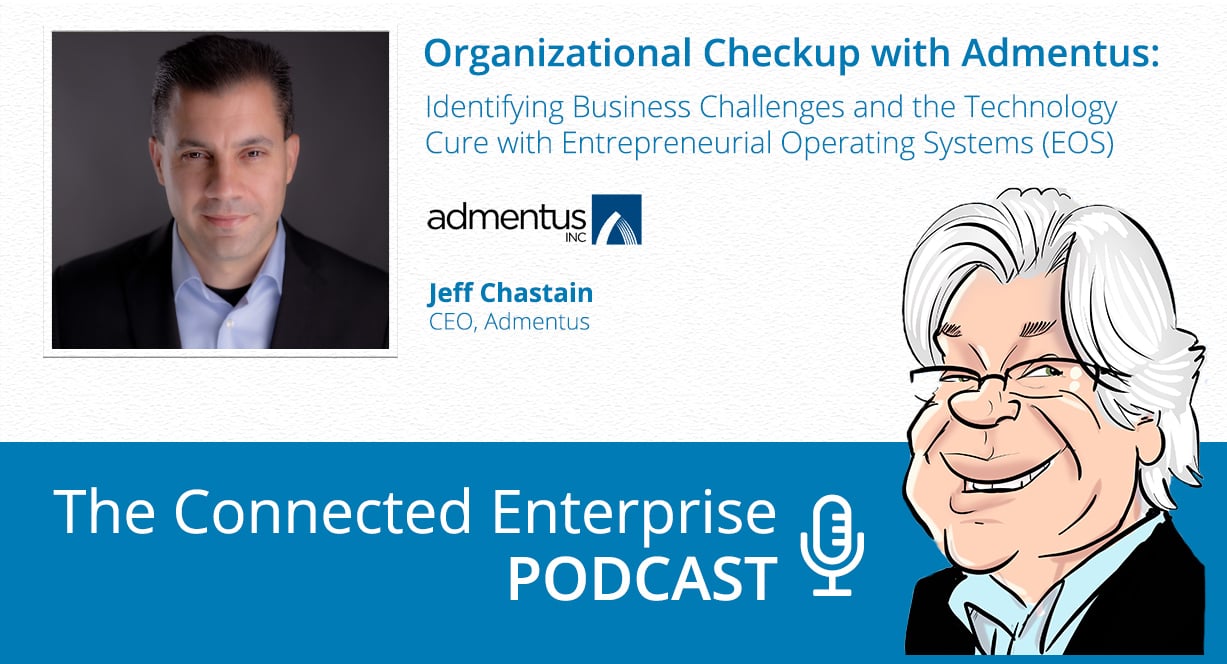 In a recent Vision33 Connected Enterprise podcast, Vision33's Carl Lewis interviewed Jeff Chastain, founder of Admentus, and a practitioner of EOS, the Entrepreneurial Operating System. Among the topics, Chastain brought to the table, including growth, scaling, and strategic planning, he spoke about the challenge facing organizations today. His diagnosis? To successfully navigate business challenges through technology first requires identifying the root problem rather than a symptom; that's where EOS methodology comes in.
What is EOS?
As Chastain puts it, "EOS is a set of real-world, practical tools and timeless business concepts designed and aligned to synchronize all business pieces. It's a simplistic, lightweight approach that uses the 80/20 rule that resonates with companies. It lays in the foundation, so when you add technology or other tools, they have a better impact."
One of the reasons the methodology has been so successful is because it helps businesses identify the root cause of their challenges rather than relieving their symptoms. This approach ensures that the technology solution selected is a smart investment that helps companies achieve their goals for growth.
Aligning Enterprise Technology with the Business' Goals
Too often, businesses dive headfirst into technology acquisition and apply technology symptomatically. For example, there could be an issue of sales not hitting its targets. The short-term solution might be to buy customer relationship management (CRM) software for a sales department to deliver better service. But it might not address an underlying communication issue with sales and other departments that an enterprise resource planning (ERP) solution could. Where a business is heading next, and its strategic moves need first to be considered more broadly before technology adoption can be effective. EOS helps align the company first.
Lewis points out that during the pandemic, some companies that are doing well now have four times the volume of orders they had before but don't have the structure or supply chain readiness to succeed – to leverage these opportunities.
Chastain says. "It starts with, 'what's your business vision?' 'Where are you going?' 'How are you getting there?' and 'What's your long-term goal?'"
Listen to More Insight from Vision33's Conversation with Admentus
Vision33's high rates of project success follow a formal methodology leveraging industry best practices and our long-standing experience to minimize risk and ensure project success. Like Admentus, Vision33, too, believes in the value of identifying the customer's goals first and then aligning technology where it makes sense.
Listen to the podcast for more great insight into technology adoption in the Connected Enterprise podcast.