Samantha Stone joined the Connected Enterprise to explain how COVID-19 has been a catalyst for change in B2B Marketing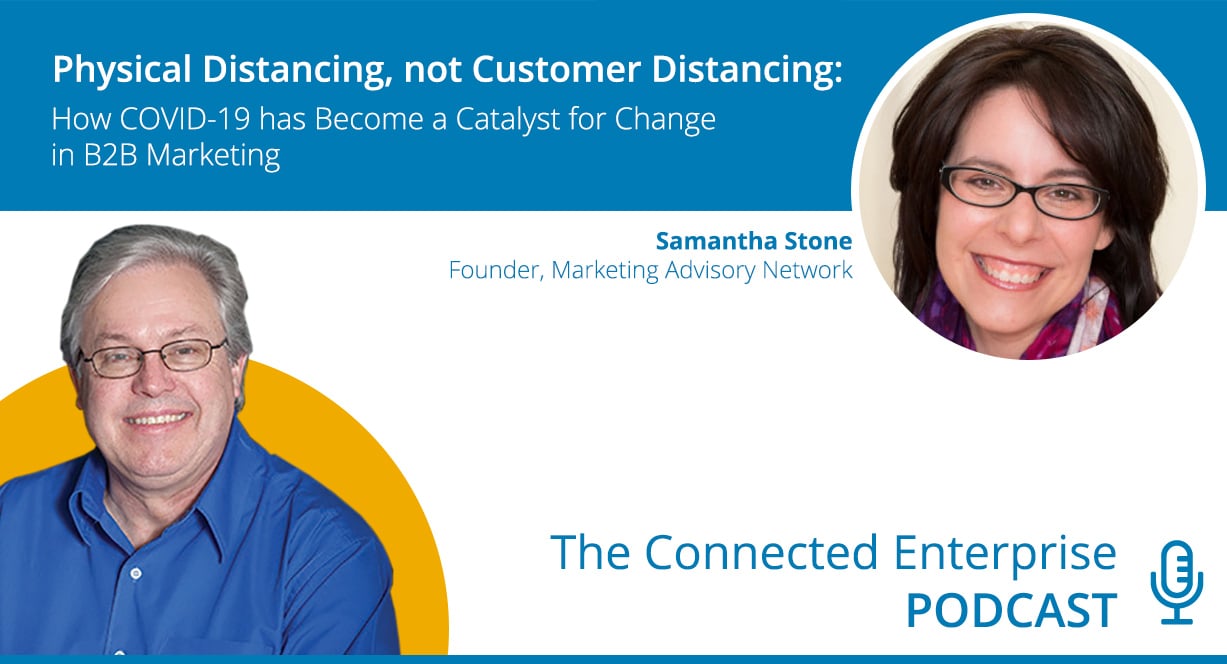 How COVID-19 has Become a Catalyst for Human Connection in B2B Marketing.
In the past few years, marketers have been excitedly leaning on automated technology to maintain consistent communications and remain top-of-mind with customers and prospects alike. But in recent months, rather than helping you build a closer connection with your customers, automated tools have had the opposite effect.

In this episode of the Connected Enterprise podcast, host Carl Lewis is joined by B2B marketing expert, Samantha Stone, who explains how a strategic shift in your communications can keep your customers close while also physically distant.

Does her name sound familiar? You probably remember her from our Growth Show webinar series where she spoke about common B2B marketing challenges and how you can overcome them. Click here to re-watch the Growth Show series, or here to access Samantha's episode 'Unleash Possible: Get More Opportunities and Close More Leads'.

Samantha is a fast-growth, B2B marketing junkie, author, speaker, consultant, and persona coach. She also owns a strategic marketing consulting practice – the Marketing Advisory Network, where she helps clients build strategically sound marketing plans to help them achieve success. In recent months, she's been helping those clients adjust their strategies to prepare for the new normal that has come with the global pandemic.

How have things changed? Customers are experiencing the same uncertainty as we are. Whether it's for personal, financial, professional – or reasons from all three buckets. And as many are physically distancing from their friends and family, your customers are searching for a human connection. Samantha explains that B2B companies need to be empathetic to these needs and offer support in ways that foster physical distancing – not customer distancing.

Will things always be this way? Probably not, but Samantha hopes that the lessons marketers learn during this time will be carried through to the post-pandemic world. She has seen marketers become better communicators and become more in-tune with their customer's needs. Forward-thinking companies are stepping away from automated platforms with generic mass communications. They are learning how to develop meaningful human connections with customers in a digital space.

I think, right now, we're all very much tuned into buyers in our messaging, and being very thoughtful about what we say where, and when, and how. I hope that continues, because it's such an important piece of living our ideals.
By making small shifts to your strategy, you can build confident and loyal relationships with customers. For more great tips from Samantha Stone, click the button below and listen to the full episode of the Connected Enterprise.