On The Connected Enterprise podcast, SAP discusses future-proofing customers by using ERP systems as a foundation for growth and innovation.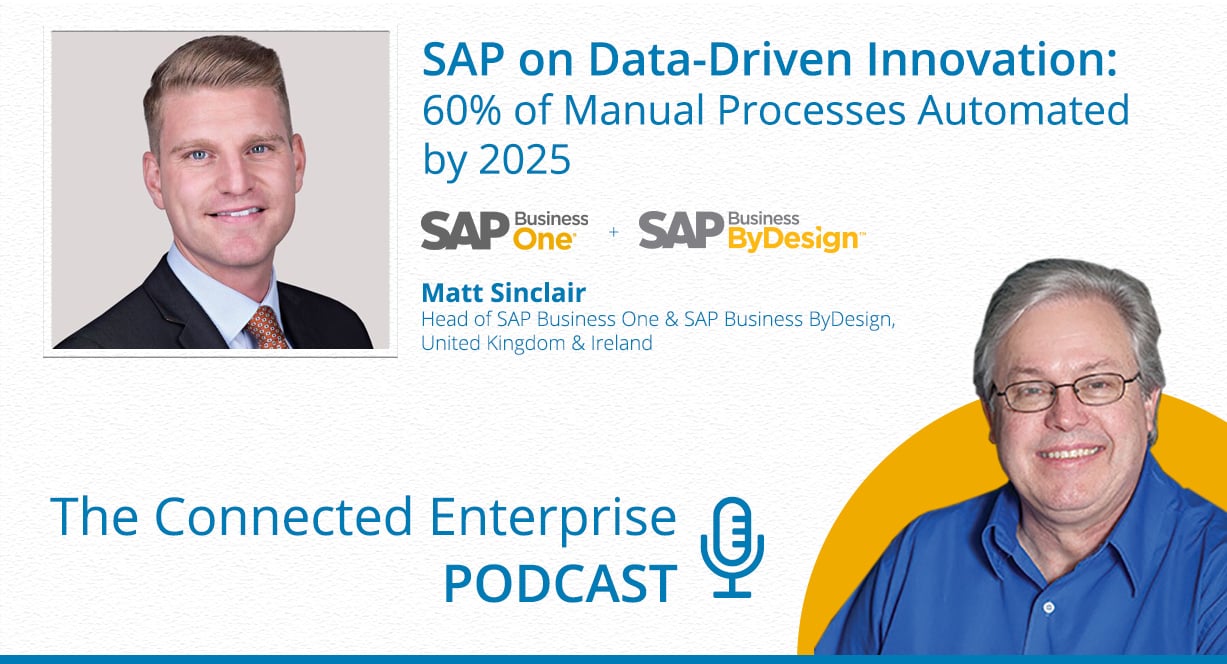 SAP strives to continuously evolve. Its recent innovations include moving to a client-server architecture, revolutionizing data management with SAP HANA, and continually improving its products according to users' needs. SAP aims to future-proof customers by building ERP systems like SAP Business One that provide a foundation for growth and innovation.
Matthew Sinclair, head of the SAP Business One and SAP Business ByDesign team in the UK, connected with Vision33's Carl Lewis on the Connected Enterprise podcast. They discussed data-driven innovation, digital transformation, customer service, and where SAP is headed next.
Driven by Innovation
They say the only constant is change, but the current rate of change is exhausting. However, SAP is rising to the challenge and helping businesses chart a course for success. During the pandemic, Sinclair explained that SAP saw agile businesses weathering the storm, whereas other companies were floundering. The most significant difference? The struggling companies haven't undergone digital transformations. Data-driven innovation is the solution businesses need.
Business Process Automation
Automating business processes, a critical part of digital transformation, enables businesses to do more with less. SAP considers automation a form of future-proofing and works with users to implement it wherever possible.
SAP isn't the only company to recognize automation's role in the future business world: Gartner, the world's leading research and advisory company, predicts that "60% of today's manual processes will be automated by 2025."
By leveraging technology like SAP Business One, businesses can automate manual, labor-intensive processes and redeploy those resources to more profitable endeavors. Automating turns companies into intelligent enterprises with greater insight into their customers' needs.
"Experienced management provides insights on customer and product experiences as part of a connected customer-centric process," explains Sinclair.
Doing Things Differently and Getting Results
Continuing to use a failing process or system and hoping for different results is a flawed – but too common – strategy. Only implementing the right technology and embracing innovation will offer the results companies are seeking.
By learning about digital transformation and its core technologies, companies can take their first steps toward adopting approaches that will make them more resilient and keep them in business through challenging times – like a pandemic.
Unfortunately, the fear of change is real. "Phrases like digital transformation, automation, and the intelligent enterprise can be very daunting to businesses," explains Sinclair. "But to compete and evolve in today's environment, it's crucially important that we do things differently and get creative."
New Technologies and New Solutions
For more insights from SAP's Matt Sinclair, listen to the latest episode of Vision33's Connected Enterprise podcast. Each week, host Carl Lewis interviews bright minds and industry thought leaders about enterprise technology and what's coming next.