On the podcast: Jonathan Rosenfeld joined Carl Lewis to discuss unconventional work schedules and balancing the office and life. Listen now.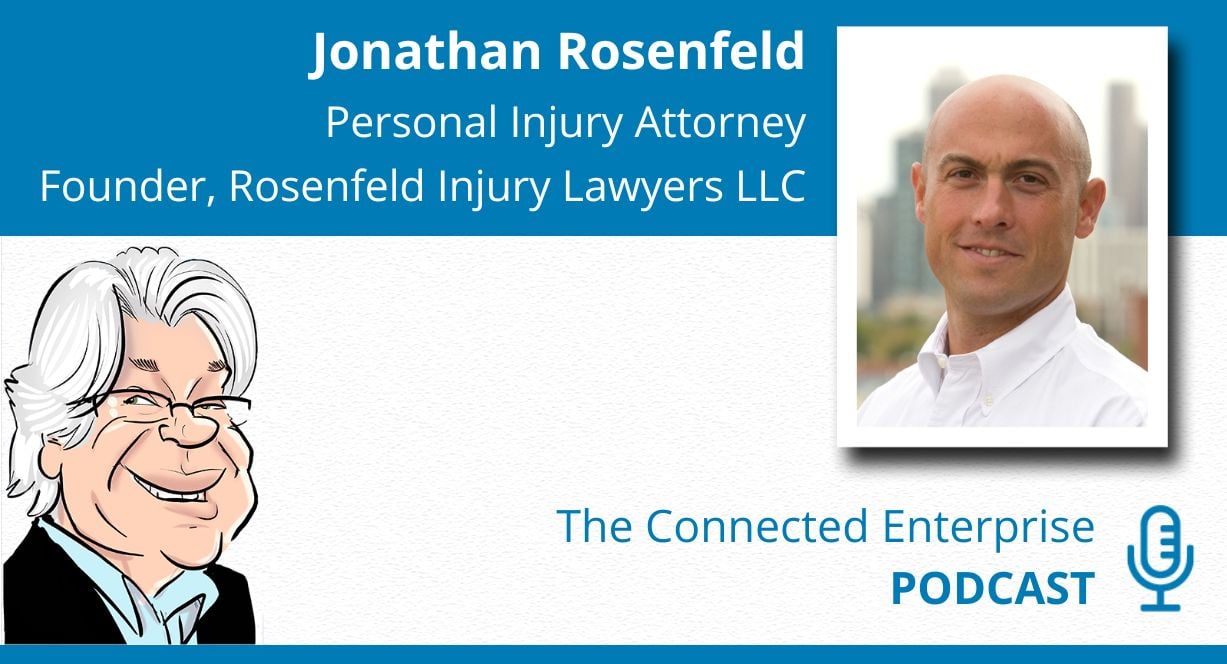 Jonathan Rosenfeld is a Chicago attorney concentrating on serious injury and wrongful death cases. He founded Rosenfeld Injury Lawyers LLC to handle car and motorcycle accidents, nursing home negligence, medical malpractice, drug recalls, and everything in between.
Jonathan doesn't consider himself a traditional attorney. He believes in 'early to bed, early to rise,' and rises extremely early: 4:00-4:30 am. But he doesn't spend the whole day in the office. Even pre-pandemic, Jonathan only stayed for a few hours before heading home before 5:00 pm to beat traffic.
Jonathan joined Carl Lewis, host of The Connected Enterprise podcast, to chat about unconventional work schedules, finding balance between the office and life, and working with inspiring people.
Finding Balance
Make no mistake, Jonathan is fixated on his cases until they're closed. He's just good at balancing his career with his family and self-care.
Jonathan needs physical activity to settle down and focus, so his days start with an early-morning workout. "It gets my ducks in a row and sets the pace for the day," he says.
The rest of his day is unpredictable. His calendar could be empty, and he'll answer emails or make calls. He might meet with colleagues and clients, or he could be in court. "So, I feel like a better person when I get that 'me' time in the morning," Jonathan explains. "Whatever happens after that, I've still accomplished something."
And because he doesn't like to sit at a desk all day, Jonathan sometimes goes for a noontime run to burn off energy. "My wife might say I'm nuts," he laughs. Some see that midday break as a luxury, but Jonathan emphasizes he uses the alone time to ponder cases and family obligations.
The Old-School Office Setup Isn't for Everyone
Jonathan has never strived for a traditional office environment. Early in his career, he worked at firms that demanded long days at a desk and weekend hours—and he was miserable.
While he's never believed in forcing people to do certain things at certain times, Jonathan cites the pandemic as a catalyst for people accomplishing things on their own schedules.
"We learned that productive people are productive, and unproductive people are unproductive—no matter where they are," he notes. "When I hire someone, I care about attitude and work ethic. I don't enjoy micromanaging, so I prefer working with independent people."
A Smile Goes a Long Way
Jonathan likes to surround himself with happy people, and that extends to his hiring practices. "I can teach anyone how to do a process, but toxic personalities will bring everyone down," he says.
Jonathan also enjoys learning from and being inspired by others. Their experiences teach him how to deal with professional and personal situations. "And if someone has a smile on their face, it goes a long way," he says. "It just makes me happier."
Listen to the Podcast
For more insights from Jonathan Rosenfeld, listen to Vision33's The Connected Enterprise podcast. In each episode, host Carl Lewis interviews bright minds and industry thought leaders about enterprise technology and what's coming next.