Steve Strout joined The Connected Enterprise podcast to discuss hybrid work, business-to-government selling, and Miovision and its technology's future.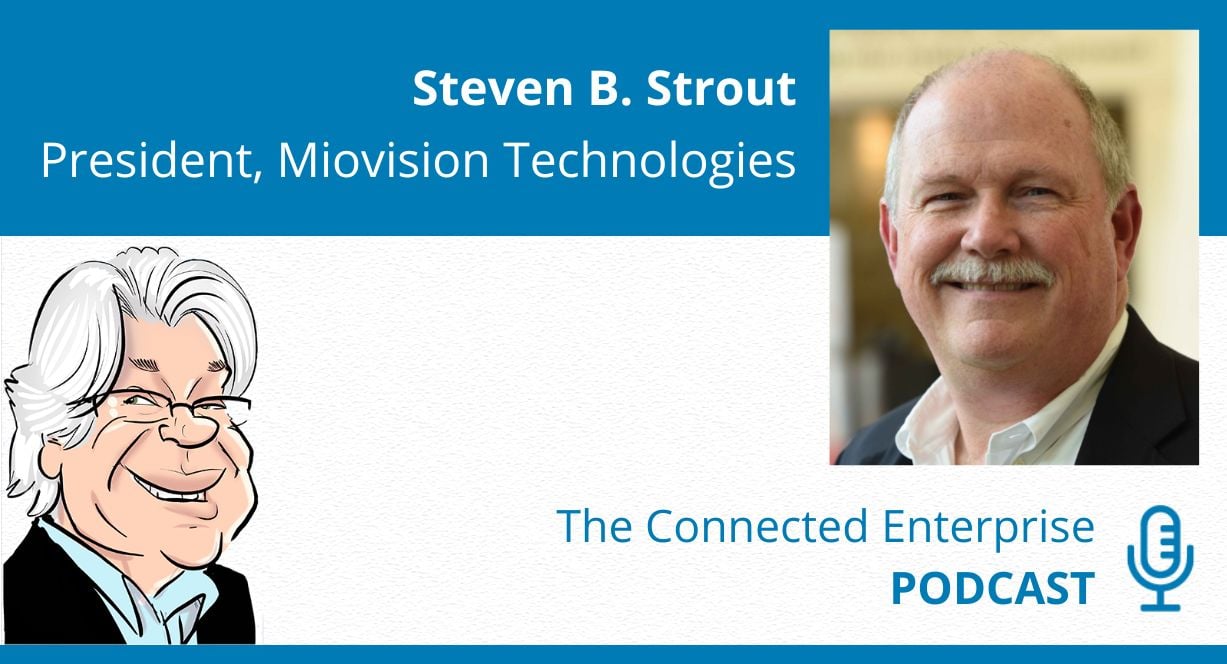 Steve Strout is a recognized technology leader with extensive experience delivering value. He's led dozens of successful business and technology transformations.
Steve is the president of Ontario, Canada-based Miovision, a company that builds hardware and software for the traffic industry, does traffic studies, and helps traffic engineers with planning. Miovision's technology ensures traffic lights work correctly, detects drivers' speeds, reduces emissions, improves road safety, and decreases congestion.
"I joined about a year ago, and we've had a bunch of fun since then," Steve says. "We're growing. We acquired several companies."
Steve joined Carl Lewis, host of The Connected Enterprise podcast, to chat about hybrid work, business-to-government selling, and the future of Miovision and its technology.
Culture and Technology Shifts
While some Miovision staff occasionally work from the office, most work from home. The company has embraced this cultural shift, including changing its business applications to adapt.
Many of Miovision's applications ran from a server closet in the office—until the pandemic motivated the company to quickly move to Amazon Web Services (AWS) for improved security and access management.
"The technologies need to reflect how we work," Steve explains. "We're assuming we'll always be hybrid, and we want everybody to be able to access everything from everywhere."
Miovision uses several tools to keep employees connected and productive regardless of their location. "Collaboration has actually increased because it's real-time versus scheduled, like in meetings," Steve says.
A Longer Sales Cycle
Miovision's business-to-government (B2G) sales cycle is longer than business-to-business (B2B) and business-to-consumer (B2C) sales cycles.
Governments often struggle with political red tape, funding issues, and high employee turnover, which can drag a B2G sales cycle out by 12-18 months.
In addition, selling traffic hardware and software involves a lot of education, which gets built into the overall costs. "It's often a tough time before somebody says, 'We can afford to do this now,'" Steve says.
Still, some governments can only afford to implement traffic solutions 10% at a time, sometimes taking 10 years to roll the technology out 100%.
"In technology, 10 years is a lifetime," Steve notes. "By the time they finish, the stuff they started with is obsolete."
This is particularly true in the United States and Canada, where governments are mired in bureaucracy. Other countries move their traffic projects along faster.
"In the Nordic countries, it's about a three-year turnaround," Steve says. "They see it as an investment in quality of life."
The Future Looks Safer
Steve says the automobile industry is driving the future of Miovision's technology. He believes there will be significant investments in "connected vehicles" over the next 5-10 years.
"There's an opportunity to improve how we do multi-modal transportation and connect things to make them safer," Steve says. "If my car can talk to your car in the next lane, we can make sure they don't collide."
He also notes, "These technologies aren't to replace us or do all the driving for us—they're to assist us so decisions are faster and more accurate."
Listen to the Podcast
For more insights from Steve Strout, listen to Vision33's The Connected Enterprise podcast. In each episode, host Carl Lewis interviews bright minds and industry thought leaders about enterprise technology and what's coming next.