MK Getler and Carl Lewis chat about lasting connections formed during the pandemic and unique ways to use Loop & Tie's gifting platform. Listen now.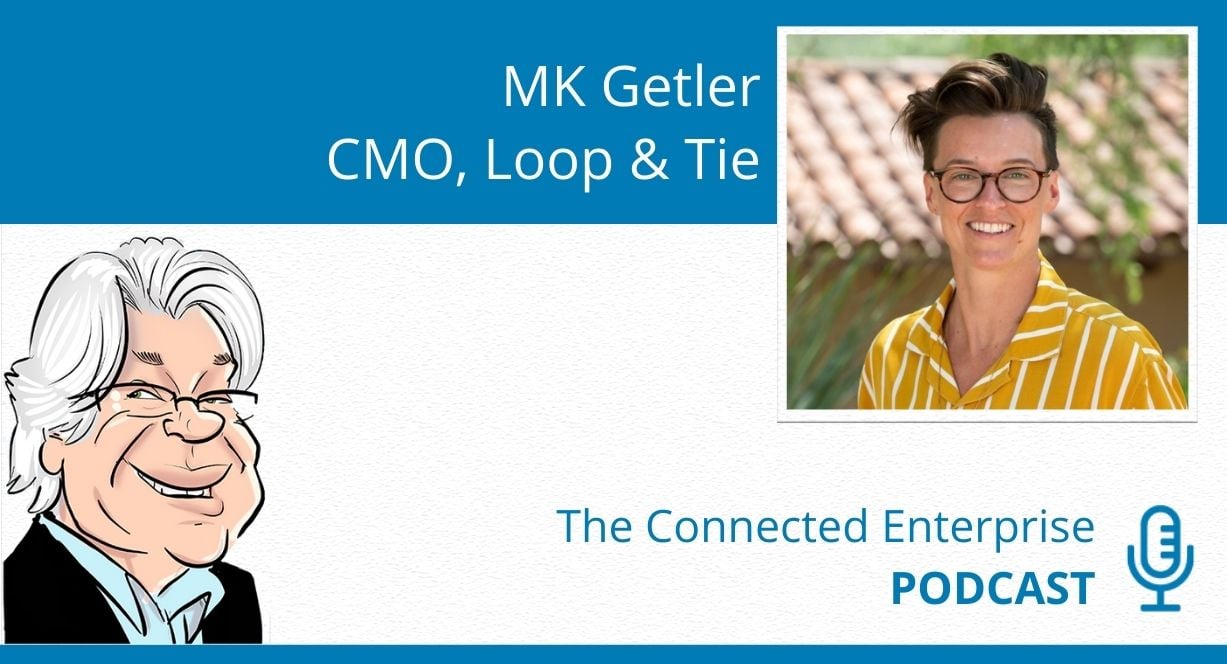 Have you ever received a gift from your employer or a business partner and never used it? Or collected an overflowing bag of tchotchkes from a conference and threw most of them away? Corporate gifting is traditionally wasteful—but Loop & Tie is changing that.
"We're a sustainability company with a gifting problem," jokes MK Getler, Loop & Tie's CMO. Loop & Tie is a digital platform many businesses use to send their customers and employees stylish and environmentally friendly gift options. That way, recipients can choose what they want, eliminating waste and increasing delight.
Loop & Tie mindfully chooses vendors that use eco-friendly packaging and strive for carbon neutrality or regeneration. The company also seeks vendors from underrepresented communities, including women-owned and queer-owned businesses.
MK joined Carl Lewis, host of The Connected Enterprise podcast, to chat about lasting connections formed during the pandemic and unique ways to use the gifting platform.
The Right Place at the Right Time
When the pandemic forced a global lockdown in 2020, businesses had to pivot to remote work and find new ways to maintain employee and customer relationships. Because Loop & Tie has always operated in a digital space, the company was able to help others strengthen connectivity during an uncertain, sometimes scary time.
"We helped people be meaningful and thoughtful when many of us felt helpless, unsure, and unclear of where to go," MK explains. "We're excited because that lasting impact in building connections has stuck with folks, and we're positioned to continue fostering that."
Thoughtful Gifts to Delight
MK believes these connections will lead to new, authentic ways to engage with each other. Because of the pandemic, we've glimpsed each other's personal lives—like children popping in to say hello and family pets begging for belly rubs during online meetings.
"That will stick for people," MK says. "We can find new and exciting gifts to offer folks that complement their lifestyles."
Whether it's children's toys or dog treats, we can use our newfound knowledge of customers' and colleagues' lives to delight them with thoughtful gifts.
Gifting Approaches
MK appreciates how Loop & Tie clients use the platform for customer and employee gifting. One favorite is service recovery, which is when a business sends a gift if they provided subpar service.
"It's wonderful for customer loyalty," MK says. "Businesses can say, 'I'm sorry we fell short of your expectations. We fell short of our own.' More folks are coming to us to be part of that customer experience and solutioning."
The employee gifting experience is another of MK's favorites. Allowing team members to choose a gift is a great way to show appreciation or acknowledge a job well done. But you don't have to wait for a specific time or situation to send a gift—as MK says, "Any time there's a place within the customer or employee experience where you feel you can foster a tighter connection or bond with someone is a perfect time to send a gift."
Listen to the Podcast
For more insights from MK Getler, listen to Vision33's The Connected Enterprise podcast. In each episode, host Carl Lewis interviews bright minds and industry thought leaders about enterprise technology and what's coming next.