22-year old CEO Chase Linsenbigler of Tabono LLC has a fresh perspective on enterprise technology. Read the article to learn more.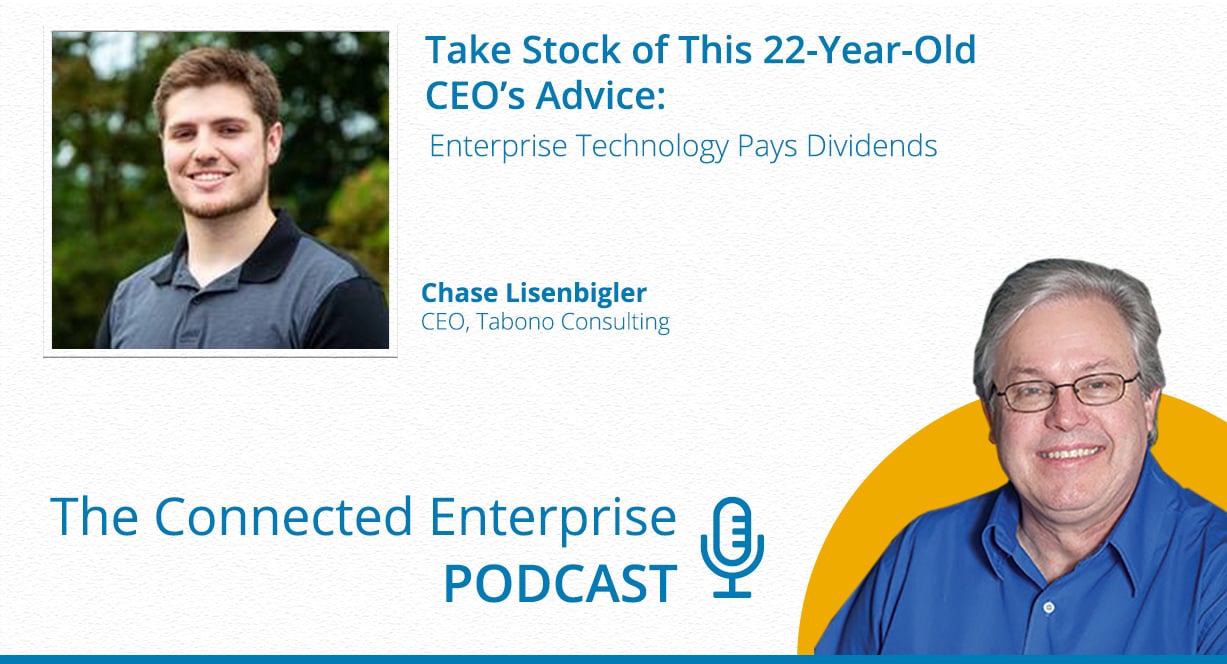 Looking for a fresh take on the value of enterprise technology today? Look no further than 22-year old CEO Chase Linsenbigler of Tabono LLC. He joined Vision33's Carl Lewis for a recent Vision33 Connected Enterprise podcast, where the two discussed everything enterprise technology from artificial intelligence to automation of business processes. Here's are a few of the highlights from the episode. Skip to the end for a link to listen to the entire podcast.
About Tabono's CEO
This week's guest on the Connected Enterprise podcast has an interesting background. During college, Linsenbigler attended St. Vincent College in Latrobe, Pennsylvania, taking part in an SAP Business One training program. At a young age, the training enabled him to learn about enterprise technology's benefits while getting a head-start on making connections in the industry.

"We [were] trained on the software, learned everything we could about it in a year," says Linsenbigler. "And we were also able to have the opportunity to go to several conferences and make a lot of connections in the [SAP] Business One world [where you] meet a lot of people..."
Technology and Opportunities Abound
Already acquainted with the possibilities and opportunities that technology offers business through his formal education, Linsenbigler took it upon himself to start a company during the pandemic. Linsenbigler possesses a firm belief in enterprise technologies' potential to overcome even the most challenging hurdles facing businesses today. During the interview, he cites electronic data interchange (EDI) and eCommerce software as examples of enterprise technology that offer companies the ability to respond to consumer purchasing habits amidst the pandemic quickly. The adoption of technology inspires the want for even greater efficiencies in the warehouse and supply chain. Enterprise technology delivers.
This is Going to Change Everything
The pandemic has opened people's eyes to how to leverage enterprise technology. Indeed, if businesses are under pressure to cut costs, technology can help. Despite the benefits, employees on the front-line may have a differing view on technology and may be apprehensive about change. New technology adoption can present hurdles that need to be overcome; training, adding new processes and learning new skills. But while Linsenbigler may be young, he already possesses the wisdom about technology's purpose in transforming business.
With great optimism, he reminds businesses that technology is ultimately "here to make [our] lives easier and optimize processes, and that's the whole point."
Fresh New Take
For a fresh new take on enterprise technology, listen to the podcast to hear about responding to change and how technology might be used today and in the future by businesses to significant effect.