Podcast guest Scott Christianson shares how universities are using technology, artificial intelligence, and pattern recognition to help students succeed.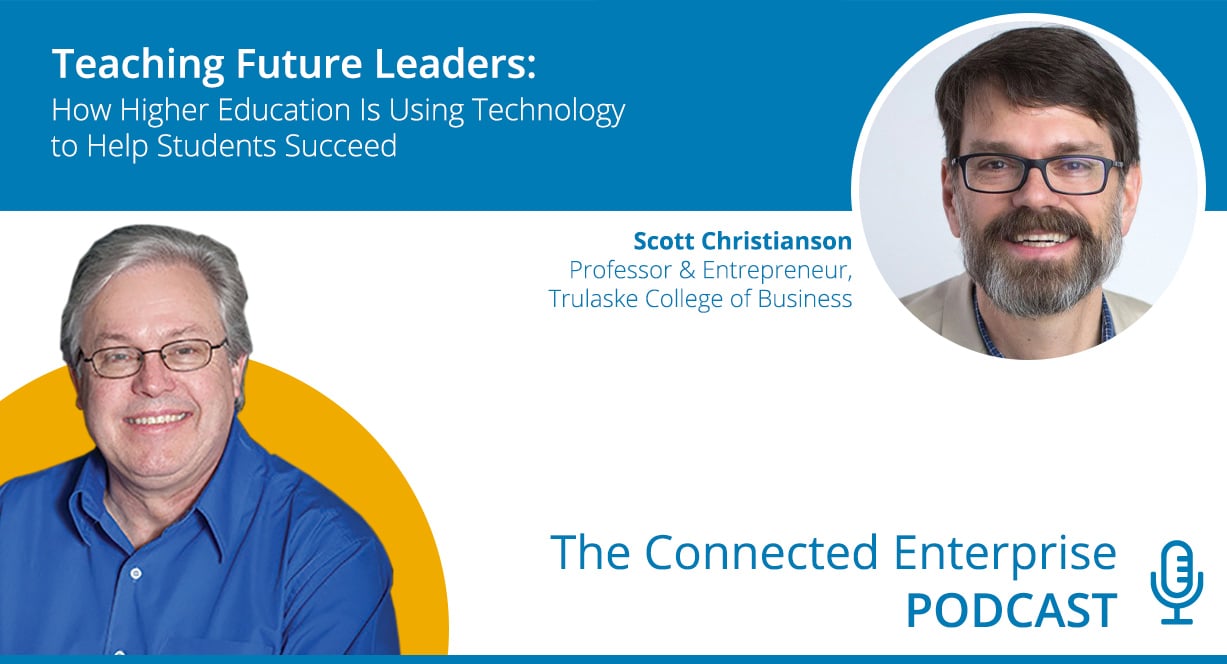 We're all looking for ways to connect with technology these days. Whether it be for the purpose of staying in touch with friends and family, keeping pace with work, or staying ahead of your studies. Throughout his career, Scott Christianson has helped people across multiple industries lean on technology to overcome common challenges. This week, he joined host Carl Lewis on the Connected Enterprise podcast to share his experience and offer tips for a successful implementation.
Scott Christianson is an associate professor of management at Trulaske College of Business, which is part of the University of Missouri. In this role, he teaches students about the technology they will encounter in their career after graduation. He also prepares them for advancements on the horizon, and as of late – how to rely on technology in a pandemic.
When Scott entered the workforce, he joined the 'email generation'. When emails weren't the quick, concise messages we exchange today, but a replacement for letters. Over the course of his career, communication through technology has change dramatically and so has the university experience. Students today rely on messaging apps and collaboration platforms, defaulting to texting their professor with questions rather then grabbing a few minutes to chat in-person after class.
Before joining the University, he owned and operated a consulting firm – helping clients evaluate, adopt, and succeed with technology. He continues to provide consulting services at a part time capacity for a few select, long-time clients.
In this episode of The Connected Enterprise, Scott offers insight into the ways students, professors, and universities are using online tools, artificial intelligence (AI), and pattern recognition to help students succeed. Drawing on his experience as a consultant, Scott also shares the three biggest challenges he has seen companies face when working with a third party partner to implement a new technology and how you can avoid them.
Click here to catch this episode of the Connected Enterprise.