Joey Havens is a sought-after presenter and teacher who facilitates effective leadership strategies and creating a culture of belonging. Learn more now.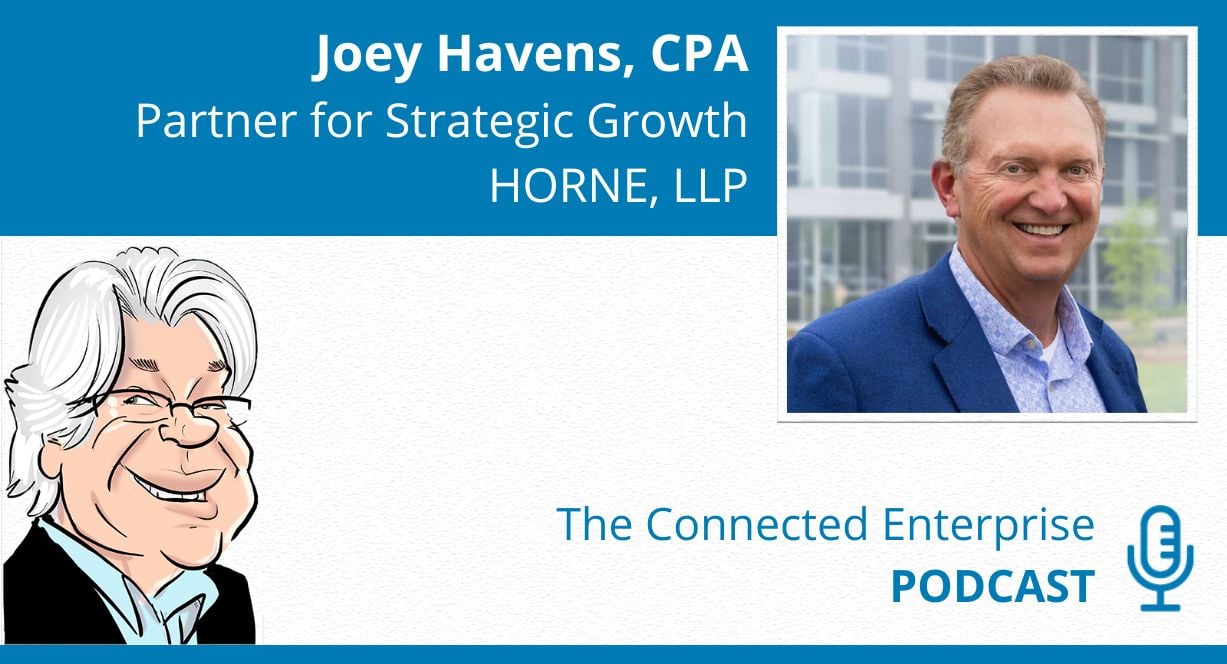 Joey Havens, CPA, is a partner at HORNE, LLP, a top 25 accounting firm. He's always felt a calling to help others understand and realize their full potential.
That calling led Joey to challenge leaders to embrace bold transparency. He encourages them to show their heart while connecting everyone to the "why" of an organization.
Joey is a sought-after presenter and teacher who facilitates strategic planning, leadership development, and creating a culture of belonging. His soon-to-be-released book, Leading With Significance, aims to inspire leaders to trust the good in people and intentionally serve and care for them in ways that lead to stellar performance.
Joey joined Carl Lewis, host of The Connected Enterprise podcast, to discuss his leadership style and his 'ABCs to outstanding.'
The Back Story
Joey's Christian faith has always inspired him to help others. However, his leadership approach came to light when he was a young professional.
"I was too competitive," Joey says. "I was getting feedback like 'Joey is out for Joey.' That truth helped me reflect on my leadership style and what my journey should be about."
Joey believes a spirit of generosity and serving others leads to good things.
"Some of the greatest joy I've had in life is when I was giving back, whether it was through money, time, or wisdom," Joey explains.
The ABCs to Outstanding
Joey loves teaching young professionals his ABCs to outstanding—three things that separate outstanding performers from average performers.
The A stands for attitude. "It's one of the greatest indicators of our success," Joey says.
B is better focus. "Focus is powerful in everything we do," Joey notes. "When we're focused, we're at our best."
Joey recommends identifying your high-energy times and scheduling your highest priorities during those times. He says the difference between average and outstanding performance is the discipline of dedicated focus in small intervals.
"You can reduce the time it takes to do something in half and have a better-quality product," Joey says.
The C is constant learning—something Joey didn't realize would be so critical when he developed his ABCs 20 years ago.
"Today, we have to learn, unlearn, and relearn because of all the change around us. So, to be outstanding and progress in their careers, people must be lifelong learners," Joey explains.
A Sense of Belonging
Today's job market is volatile, with phrases like "quiet quitting" and "rage applying" making the rounds. Employers want to retain the talent they've spent time and money training, but it seems like their new employees frequently leave.
Carl assumes it's because people are looking for the perfect workplace, but Joey says there's no such thing as a perfect place to work.
"When we hold ourselves to that standard, we're always going to be disappointed," Joey says. "Every company's culture is made up of humans, and humans make mistakes."
Business leaders should demonstrate that people are their top priority. They should be transparent about where the organization is and how they're constantly striving to improve.
"That transparency builds trust," Joey says. "People want a strong sense of belonging and are looking for a community or team where people are working to build something bigger than themselves."
Leaders should let their employees have input into how, when, and where they work. Roles and responsibilities should be clearly defined, and conflicts should be worked through in a balanced way.
"Any leader that expects to be successful and influence people has to prioritize people over growth and profitability," Joey concludes.
Listen to the Podcast
For more insights from Joey Havens, listen to Vision33's The Connected Enterprise podcast. In each episode, host Carl Lewis interviews bright minds and industry thought leaders about enterprise technology and what's coming next.