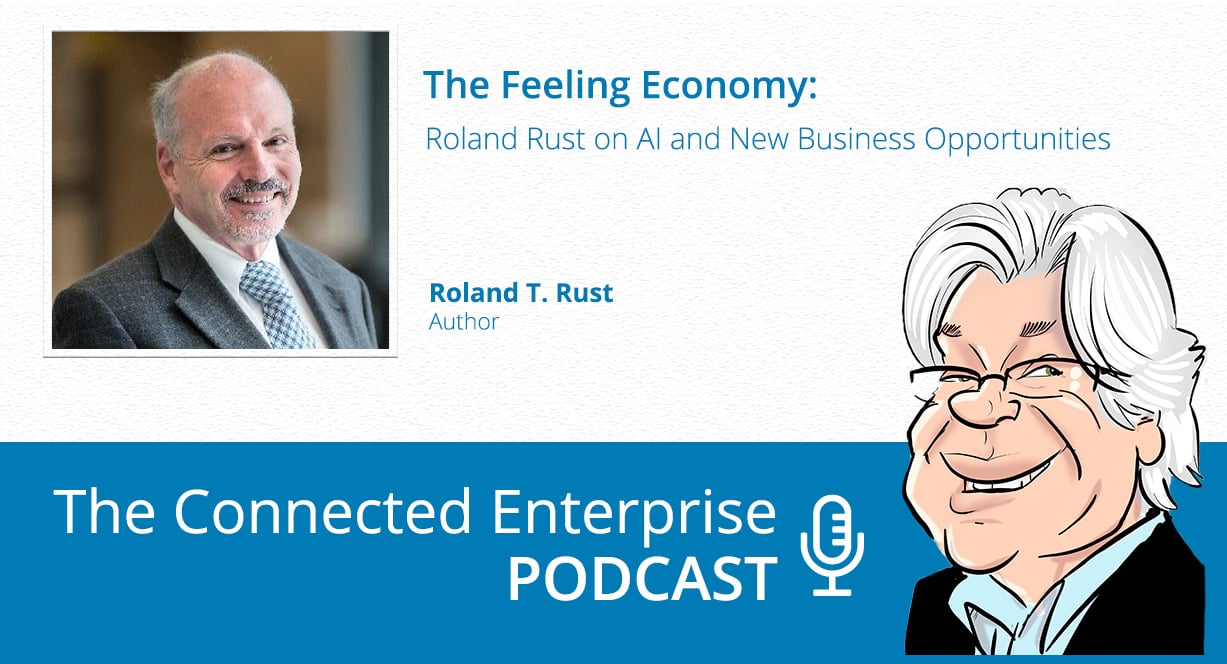 Roland Rust started as a mathematics student but transferred into business, where he thought he could use his math training. Ironically, his book talks about how people won't be using their math training in the upcoming economy.
Instead, Roland became a professor and taught at the University of Texas at Austin and Vanderbilt University; currently, he's a distinguished university professor at the University of Maryland.
Vision33's Carl Lewis recently interviewed Roland on the Connected Enterprise Podcast about how artificial intelligence (AI) is affecting the business world and society.
The Feeling Economy
Roland's book, The Feeling Economy: How Artificial Intelligence Is Creating the Era of Empathy, explains that AI will take over 'thinking tasks,' leaving people to concentrate on feelings, emotional intelligence, and interpersonal relationships.
As Roland says, we must consider the 'phase' we're in for context. The first phase was the physical economy (i.e., farming, mining, and other manual labor activities). The Industrial Revolution brought about the second phase, which is the thinking economy. The assembly line and automation in factories were rudimentary artificial intelligence.
The third phase will be the feeling economy, which involves artificial intelligence taking over thinking tasks and pushing people toward nurturing tasks. In fact, although we're still in the thinking economy, the importance of feeling tasks is already increasing faster than the importance of thinking tasks everywhere in society.
What Does It Mean?
A person with highly technical training does well in the thinking economy but will struggle in the feeling economy if they aren't a "people person." The successful people will be those who can get along with others and deal with their emotional needs effectively.
Carl and Roland both agreed that women may have an advantage in the feeling economy because their brains are hard-wired for nurturing.
Some Retraining May Be Required
The technology industry especially may require some retraining in "soft skills" to accommodate the feeling economy. Much of it will be executive education because many people who are already in high positions or have been working for a while will need to change their skills.
Jobs will change. Humans handle the thinking tasks now, but as artificial intelligence improves, job descriptions will describe more creative, feeling-oriented tasks. This can lead to bigger and better business opportunities, with people being repurposed and upgraded to higher-level jobs.
For more insights from Roland Rust, listen to Vision33's Connected Enterprise Podcast. Each week, host Carl Lewis interviews bright minds and industry thought leaders about enterprise technology and what's coming next.