On The Connected Enterprise podcast, Enrique Alvarez discussed the supply chain and the importance of relationships in distribution and logistics.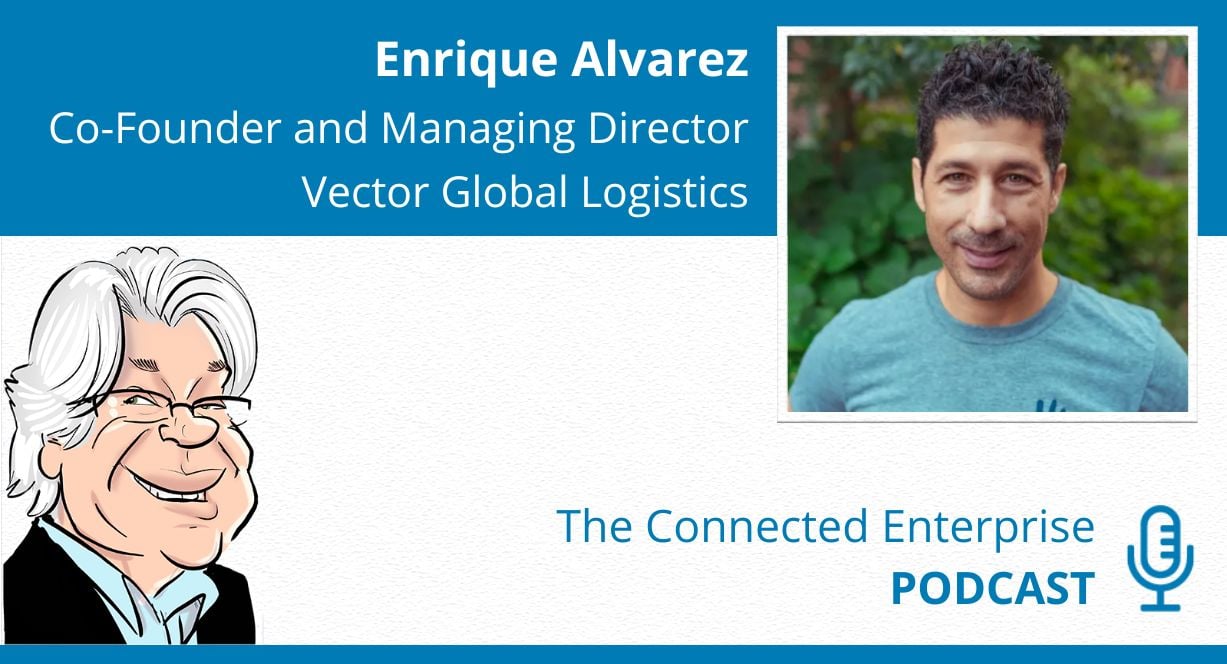 Enrique Alvarez is an old friend of The Connected Enterprise podcast. The co-founder and managing director of Vector Global Logistics joined host Carl Lewis four months before this episode to explain what caused global supply chain disruptions.
This time, Enrique updated us on the state of the distribution industry, explained how the supply chain is faring, and discussed the importance of relationships in distribution and logistics.
Vector Global Logistics is a certified minority-owned supply chain and logistics company dedicated to world-class service, a results-only mindset, and social impact.
The company is up to big things. Since Enrique's last interview, Vector Global Logistics has received an award from the American Logistics Aid Network and made the Inc. 5000 list.
"We've been working incredibly hard," Enrique says. "We have a passion to give back. We've been very involved in relief efforts for Ukraine and other initiatives."
The State of Distribution
When we last heard from Enrique, shipping container prices were astronomical. But with the economy slowing down and demand decreasing, steamship lines are rapidly dropping prices.
"That's helping people trying to ship and import," Enrique notes. "But it's still not a worldwide phenomenon. It's basically Asia to the U.S."
As the holidays approach, many big retailers are well-stocked—unlike before and during the pandemic, when many had low inventory levels.
"Companies have been replenishing inventory to where they might have more than they need," Enrique explains.
Unlike large companies that can quickly move stock through their systems and fill their shelves, small and midsized companies may be in a bind. If they ordered too much stock on behalf of their customers, they struggle to move it or get paid for it.
"The mid-market companies are squeezed between the huge retailers and smaller outfits," Enrique says. "That struggle will probably continue for a couple more months."
Relationships Matter
Supply chain chaos taught us a lesson; now, many companies are diversifying their risks and seeking additional suppliers.
"Having two, three, four strategic partners as opposed to one makes your supply chain more robust," Enrique says.
But in a technology-driven world where we can experience data paralysis, Enrique stresses the importance of focusing on relationships with the people in our supply chains.
The same principle applies to companies' employees. Enrique believes there's a strong correlation between a happy and empowered workforce and a company's success. "People are a key aspect of Vector's success," Enrique says.
"Welcoming employees and having a diverse workforce is important," he concludes. "Understanding their goals and mindsets and working as a team makes a good culture. That's going to be critical for companies."
Listen to the Podcast
For more distribution and logistics insights from Enrique Alvarez, listen to Vision33's The Connected Enterprise podcast. In each episode, host Carl Lewis interviews bright minds and industry thought leaders about enterprise technology and what's coming next.