The CEO of Artifact, Nate Sanders, joined Carl Lewis to chat about how the customer experience has evolved and why focusing on it keeps businesses competitive.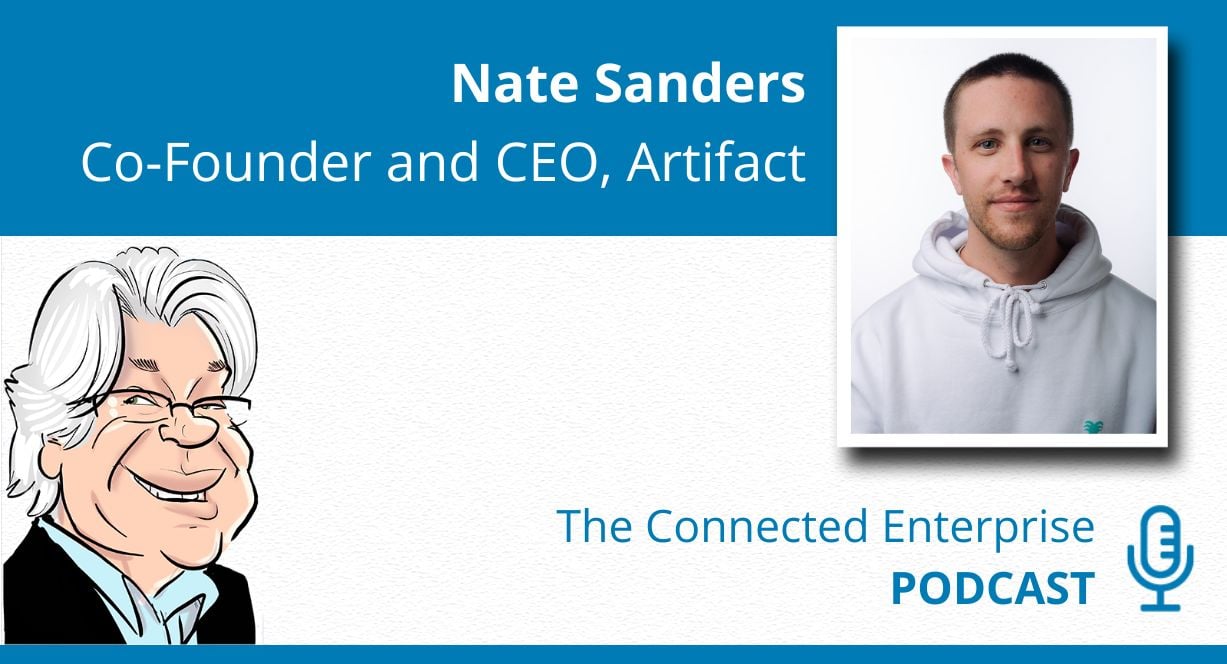 Nate Sanders is passionate about leveraging human-centered design to make artificial intelligence products that are useful and accessible to everyone.
That passion led him to co-found Artifact, a customer experience (CX) forecasting company.
Artifact stores qualitative data from every stage of the customer journey, then uses machine intelligence to build analyst-grade reports. Artifact's clients use this data to identify meaningful patterns and uncover customer needs.
Nate joined Carl Lewis, host of The Connected Enterprise podcast, to chat about how the customer experience has evolved and why focusing on it keeps businesses competitive.
The CX Has Become a Journey
The term 'customer experience' isn't new, but what it involves has changed—it's no longer just phone trees, chat logs, and customer support.
"Enterprises are awakening to the fact that the CX is much more than that," Nate says.
Nate describes the CX as the customer's perception of the entire experience they have with a company. It starts with the pre-purchase experience—how a customer discovers a company, how they research it, and what they see from current or past customers. Then the customer learns what it's like to purchase a product from the company, use it, and be supported post-purchase.
"That's the biggest eye-opener for organizations," Nate continues. "They realize, 'Hey, if we deliberately focus on this, we have a strategic advantage.'"
And according to Nate, a differentiated CX helps companies capture and keep more customers.
It's Broken. Can You Fix it?
Traditionally, customer happiness depended on how well companies fixed problems—and that experience was mostly limited to one department in a company.
But thanks to today's technology and how it connects teams, every department cares about the CX.
"I remember working for companies where the only departments that cared about retention were product and finance," Nate notes. "They were the only ones tracking metrics around it."
Now, every department thinks about retention and implements tools that capture qualitative customer data, then use that data to optimize their practices.
"There's a new sub-department of a sales or revenue team growing in popularity called pre-sales," Nate explains. "They look at how potential customers will use a product during a free trial and use lead scoring to determine whether there are opportunities for cross-selling."
One Step Ahead
If companies are looking for new opportunities, detecting customers' wants and needs as early as possible—and acting on them faster—makes them incredibly differentiated.
"You're going to get to market faster, build products more accurately, and have more of a 'measure twice, cut once' capability on the product development side," Nate explains.
"To the customer, you'll look like you're always ahead. I don't know how you keep up with a business with that strength."
Listen to the Podcast
For more insights from Nate Sanders, including where your business can access customer experience data, listen to Vision33's The Connected Enterprise podcast. In each episode, host Carl Lewis interviews bright minds and industry thought leaders about enterprise technology and what's coming next.