PR firm owner Lara Miller discusses advice on running a business remotely, the 35,000 miles she covered, and what traveling was like during a pandemic.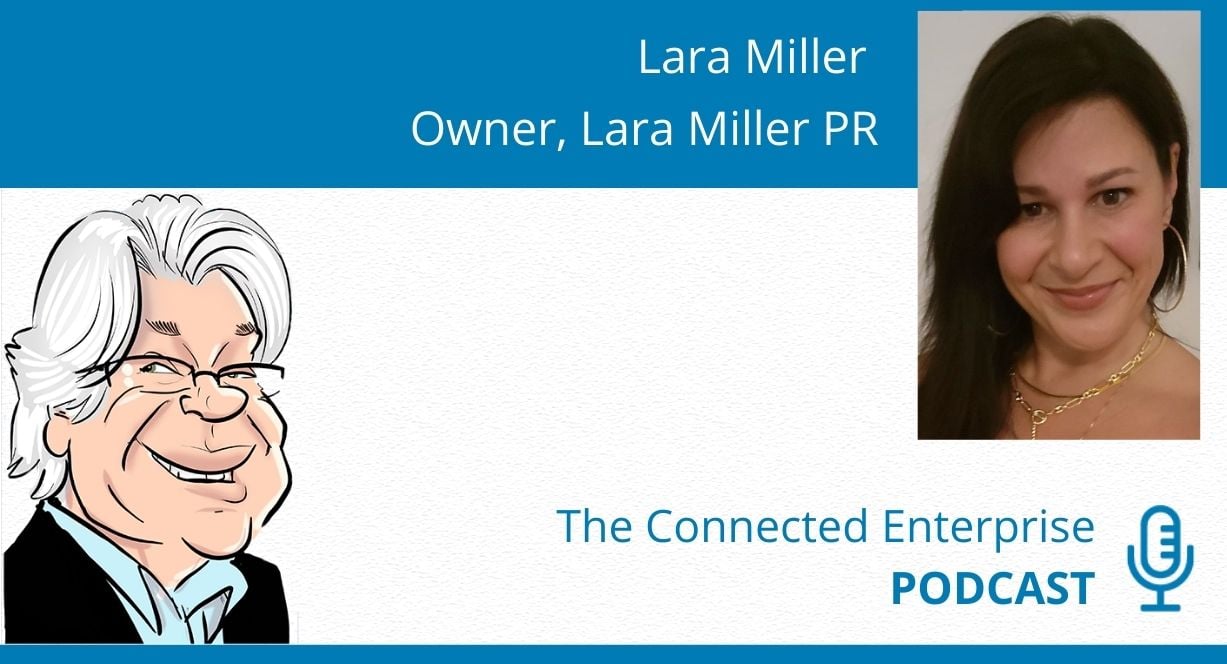 Lara Miller likes to move. She's always on the go as the owner of a public relations firm specializing in media relations for enterprise technology, fintech, software as a service (SaaS), virtual reality, and artificial intelligence (AI) startups. She travels two to three months a year and frequently relocates.
Lara succumbed to an overwhelming bout of wanderlust at the beginning of the pandemic while enduring a brutal winter in Burlington, VT. She sold everything she owned, bought a 2020 Winnebago Travato, grabbed her cat, and took her business on the road.
Lara joined Connected Enterprise podcast host Carl Lewis to chat about the 35,000 miles she and Kitty Rogers covered in a year, what traveling was like during a pandemic, and advice she'd give to anyone who wants a similar adventure.
Finding a Routine
Lara purchased three Wi-Fi hotspots and a national gym membership. She tried to keep her daily routine the same on the road as at home: rise early, drink coffee, answer emails, hit the gym, and get back to work. She also had to decide where to park her camper and spend her nights. And while the planning was exhausting, Lara thrived when she stuck to her routine.
Patience Is a Virtue
When asked about lessons she learned during her travels, Lara said she had to teach herself patience. "I look at it as throw your life up in the air, and it breaks, and jagged pieces are everywhere, and you have to figure out how to put it back together when things go wrong," she explains.
Lara patiently dealt with issues like losing Wi-Fi coverage, waiting a week to have the Winnebago's plumbing fixed, and misplacing her bank card. While in Yellowstone watching a family of wolves, she realized she had left the card in a restaurant in a different state. Instead of panicking and driving even farther to her bank for a new card, she waited patiently until the restaurant reopened several days later.
Practical Advice
Lara has some tips for hitting the open road. Since she discovered Winnebagos aren't designed for full-time living, Laura recommends researching and buying a reliable vehicle. She also advises downloading apps that tell you about Wi-Fi coverage in different areas. Make backup plans and give people your itinerary.
And don't forget to slow down and enjoy your surroundings. "It's hard for me to express the joy of spending the night overlooking the ocean or watching the sun come up in Yellowstone," Lara says. "Or being woken up by an elk bugling right outside your door and being able to work at the same time."
Listen to the Podcast
For more insights from Lara Miller, including the places she traveled, listen to Vision33's Connected Enterprise podcast. In each episode, host Carl Lewis interviews bright minds and industry thought leaders about enterprise technology and what's coming next.