Tiffany joined Vision33's Carl Lewis to chat about the importance of a new way of working to achieve successful work life balance while staying connected.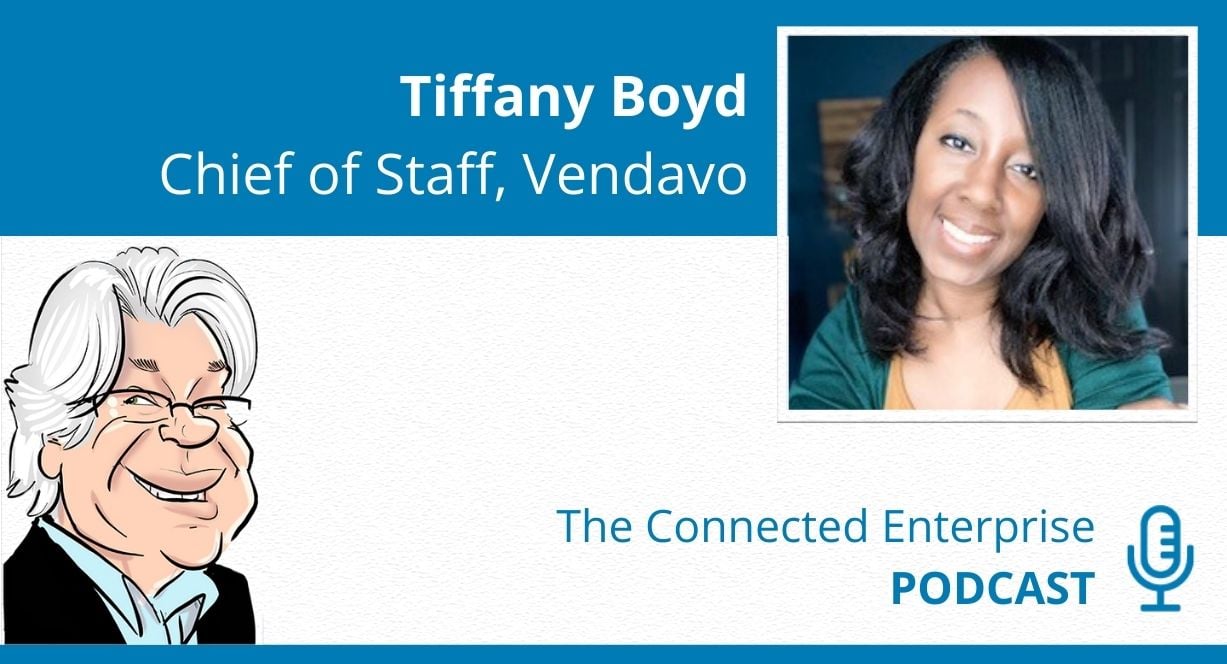 Tiffany Boyd was born and raised in project management and technology. She began her career in a network operation center and joined Vendavo in 2019 as the business process manager. Today, she's the chief of staff and specializes in making time, information, and decision-making more effective for the 500-person software company.
Tiffany joined Carl Lewis, host of The Connected Enterprise podcast, to chat about staying connected in a changed work environment and the importance of a work-life balance.
Coffee Talks
Unlike many businesses, Vendavo was well prepared to shift to remote work when the pandemic forced a global lockdown. But like every business, Vendavo initially struggled with losing in-person connections.
Tiffany's career is about building relationships, sitting across from people, and experiencing verbal and non-verbal communication. "The things you can't really pick up on camera," she explains.
Vendavo went the extra mile in its remote interactions by holding "coffee talks." Chatting about what was happening in folks' lives, including which books they were enjoying, allowed the team to connect on a personal level.
"Everyone met my son and two dogs," Tiffany says. "We saw people's humanistic sides, their day-to-day, what they do with their families. And Vendavo holds that as one of their true values."
Getting Back to the Office
Vendavo's comfortable, homey corporate headquarters is a welcoming place for those ready to return to the office. Cozy seating areas feel like living rooms, and there's a full kitchen and dining area with family-style seating. In addition to typical conference rooms, there are "talk boxes" for smaller, more private meetings. Employees work at desks that go up and down, so they can alternate between standing and sitting.
Vendavo no longer requires a 9:00-5:00 workday. The company trusts its team to, for example, dedicate a short burst of work energy at the beginning of the day, then tend to personal affairs. "We don't want to scan badges and monitor when people come in and out," Tiffany says. "We want to be fluid. We want people to have a work-life balance and feel comfortable."
Valuing Employees
The pandemic caused businesses to look at their employees and appreciate their value and uniqueness—something Tiffany believes Vendavo has done well.
And now that many have experienced a successful work-life balance, people want to choose the work environment that fits their lifestyles. Some desire flexible vacation time or smaller workspaces; others want to write their own hours.
"It's becoming crucial to people to say, 'I don't want to work 60-hour weeks anymore,'" she says. "They want to drop their kids off. They want to go to the soccer game. It's the idea that we only live once, and we're going to do it well." While some see this as selfish, Tiffany considers it "self-full" behavior.
Listen to the Podcast
For more insights from Tiffany Boyd, including Vendavo's plans, listen to Vision33's The Connected Enterprise podcast. In each episode, host Carl Lewis interviews bright minds and industry thought leaders about enterprise technology and what's coming next.