Read this article to learn more about our 2017 Visionary Award recipient, Grober Nutrition.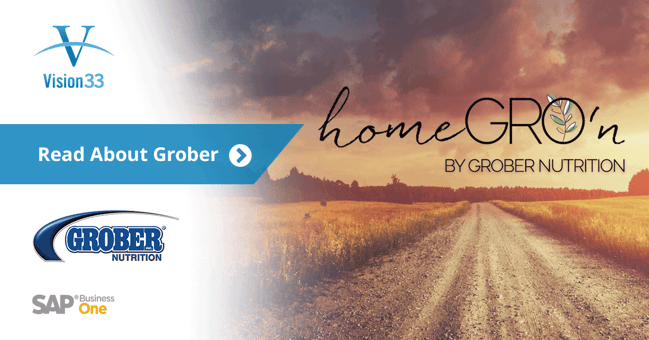 Each year, Vision33 presents the Visionary Awards to its customers that demonstrate innovative ways to leverage SAP Business One to grow their business. Selected from over 800 customers worldwide, our Visionary Award recipients highlight fast-growing companies committed to delivering the best experience possible to their customers through transformative business technology.
In this article, we will focus on one of our award recipients, Grober Nutrition.
About Grober, Visionary Award Recipient
Based in Cambridge, Ontario, Grober Nutrition is a Canadian family-owned business that has grown from a singular animal nutrition company to a dynamic agribusiness company. The company produces milk replacement feeds for calves, lambs, foals, piglets and many other young animals. The company also runs a sister company, NutraBlend Foods, that produces sports nutrition products.
Improving their Warehouse Management with SAP BUsiness One
With a multiple business lines and warehouses to manage, Grober Nutrition needed an ERP solution that could help them address their lack of visibility into multiple warehouses.
With the adoption of SAP Business One, they could track their information flow between different divisions. SAP Business One has also helped the business to better meet strict industry compliance standards with the ERP system's built-in lot traceability feature.
Working with Vision33, Grober Nutrition has been able to streamline their business processes, gain visibility across multiple warehouses and provide optimal delivery times through better-managed manufacturing process.
Once again, we congratulate Grober Nutrition on their Visionary Award win and wish them all the best as they continue to leverage SAP Business One to innovate their business.
To learn more about how SAP Business One, access Vision33's SAP Business One information kit. If you are considering moving to a new business management solution, read our selection of resources to help you better understand the benefits.