Find out what challenges food and beverage companies can overcome with SAP food and beverage solution. Read the article.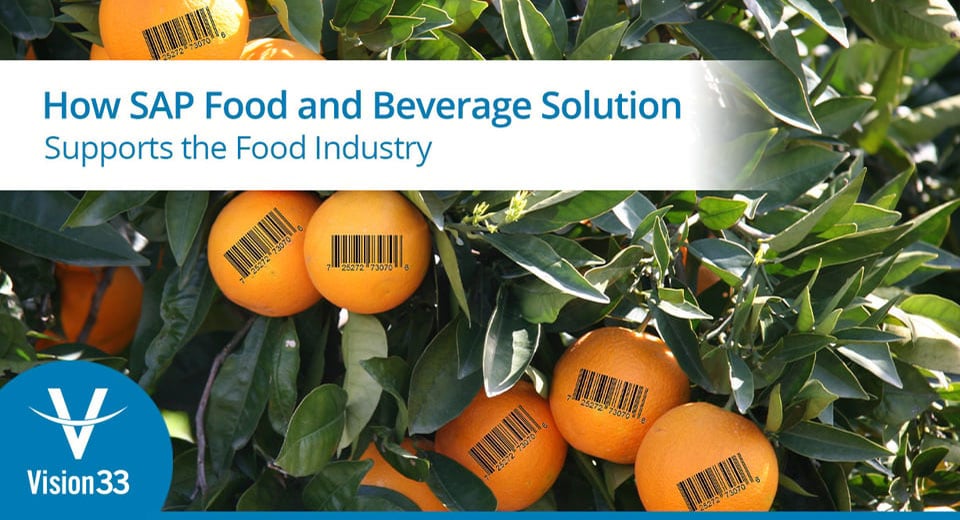 According to the USDA, US consumers, businesses, and government entities spent $1.71 billion on groceries and other food and beverage services in 2018. Those in the food sector can attest that thin margins, continued innovation in manufacturing processes, and stricter regulations present challenges in our global economy. No matter their size, food and beverage manufacturing companies must always operate at full capacity and seek to improve their businesses – and with the help of enterprise resource planning (ERP) solutions such as the SAP food and beverage solution, many are succeeding.
What is SAP Food and Beverage Solution?
The SAP Food and Beverage solution manages complexity, achieves compliance, simplifies processes, and provides a platform for growth.
SAP's ERP solution for the midmarket, SAP Business One for Food and Beverage, is for recipe-driven companies and delivers a platform to address your business challenges. Its powerful processes enable:
Extensive product and batch traceability for complete "field-to-fork" functionality.
Support for recipe-driven companies that need more than a standard bill of materials. This includes formula management, yield and scrap, byproduct, and co-product capabilities.
Integral quality control, so you can define quality checkpoints throughout your entire process.
Powerful scheduling tools that deliver an intuitive, graphical scheduling board to optimize your production process.
Automated "smart" forecasting that accounts for your market's seasonal influences.
Full control over ingredient declarations, nutritional contents, ingredient properties, and classifications not commonly found in traditional, generic business systems.
Accelerate Your Business Growth with Food Manufacturing Software Powered by SAP Business One
With ambitions for growth and success, spreadsheets are no longer a viable option for managing food and beverage manufacturing. SAP Business One for Food and Beverage brings all aspects of a food business under one platform and specifically addresses the daily challenges the food and beverage sector faces.
Maximized Quality
From purchase goods receipt through customer delivery, quality control checks are conducted throughout the production process to keep your quality control at its highest level across the business.
Complete Stock Visibility
Aiming to reduce waste while streamlining inventory, SAP's solution offers new depths of stock control. With its advanced forecasting, SAP Business One for Food and Beverage helps you predict future requirements and hold less stock, resulting in a more dynamic inventory. Shelf life, inspection dates, and batch characteristics are all maintained in a central platform.
Clear Traceability Through Business Processes
SAP Business One provides instant visibility of your whole food process – from field to fork. Your staff can easily map traceability transactions and improve control on shelf life, enabling you to meet the BRC's ingredient and product traceability audit requirements.
Reduced Downtime in Production
SAP Business One's food manufacturing solution increases the productivity of your entire production process. This user-friendly system provides powerful scheduling capabilities, improves order management, optimizes production, minimizes downtime, and – most importantly – maximizes and grows your revenue!
Learn More About SAP Food and Beverage Solution
The key to keeping pace with advancing technology is adopting a solution designed for food and beverage manufacturers to be more transparent and achieve greater efficiency and visibility into their supply chain.
If you want to consolidate your business's backend into an integrated solution, we invite you to read the latest eBook from Vision33. You'll learn more about food and beverage manufacturer trends and how you can better align business management technology to meet them head-on. Read Food Business Tech Readiness Sets Stage for Meeting Future Trends to see how one of Vision33's food and beverage customers overcame the challenges.