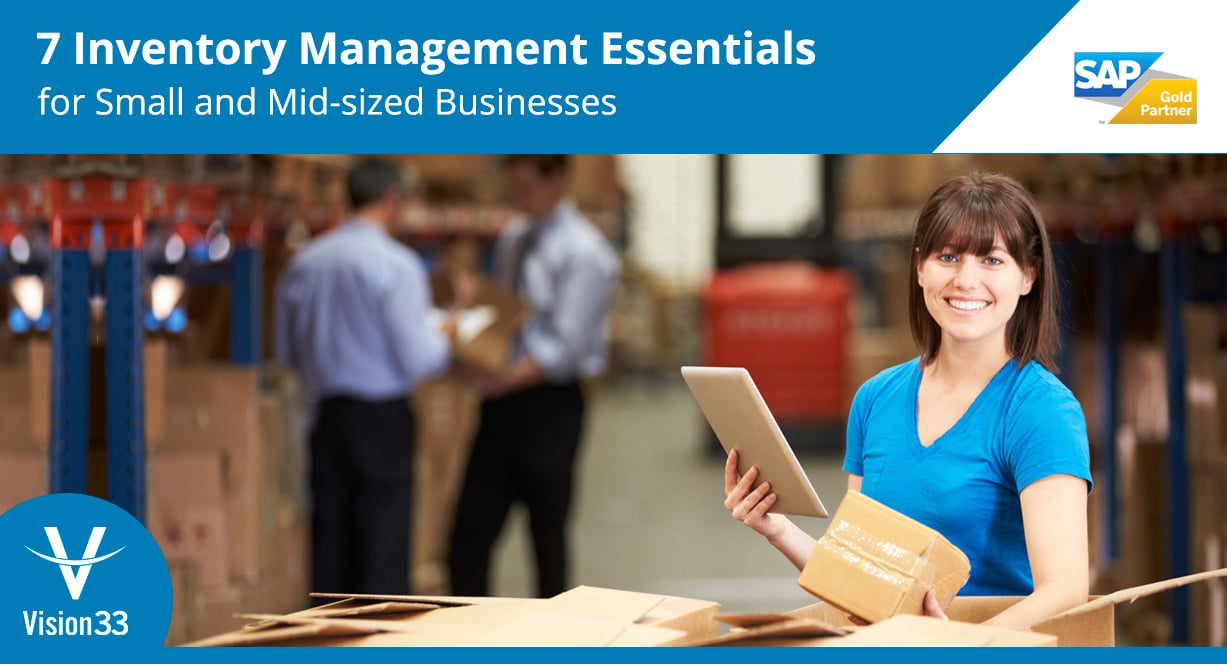 Inventory represents one of the largest expenses for many small and midsize enterprises (SMEs). Balancing accurate inventory management with cost-effective production is crucial for delivering on promise and keeping customer satisfaction high.
An accurate inventory management system can help you improve on-time delivery and reduce shortages without maintaining surplus inventory. More and more companies are transitioning to an integrated software system to manage inventory accurately across multiple warehouses and locations. At minimum, the solution should provide a number of inventory valuation models and support consignment and drop shipping. It should facilitate core production planning, including material requirements planning and production orders management, and provide multiple types of bills of materials (BOMs)
It is critical to have real-time access to accurate information on inventory and production orders from your desktop or mobile device, whether you are in the office, at the warehouse, or at a remote location.
SAP Business One includes a comprehensive set of these inventory management features and more. It offers the latest in in-memory computing technology and is flexibly priced so you only pay for what you need.
Optimized inventory and production processes
Manage detailed warehouse data, optimize stock locations, track and record stock movements, and execute production orders. You can plan material and resource requirements for multilevel production processes and maintain an optimum level of inventory.
Sophisticated inventory tracking and costing
SAP Business One provides comprehensive support for inventory tracking and valuation. It supports multiple unit types, so you can purchase and sell your inventory in different units – such as buying in cases and selling in individual bottles. Makes it easier to set up warehouses in zones, managing inventory by its bin location in each warehouse.
Comprehensive available-to-promise functionality
You can perform instant availability checks and track item stock levels with real-time visibility of the inventory you have "available to promise." The software provides you with quantity details, adjusted by what is already committed to other customers, incoming purchases, and production orders. And before you put your plans in action, you can simulate the impact of any planned adjustment.
Efficient management of stock movements
The application can integrate individual item prices or price lists, updating inventory valuation at the same time. It also fully integrates inventory and accounting transactions. As a result, when stock levels are adjusted, inventory accounts are immediately credited or debited, and applicable inventory variances are accounted for as soon as a stock movement is posted.
BOMs and production orders
Supports all your basic requirements for production activities by enabling you to manage BOMs, production orders, and material requirements accurately and efficiently. Plan and release production orders based on your material requirements planning.
Material requirements planning
Through the material requirements planning (MRP) functionality in SAP Business One, you can maintain an optimum production plan for multilevel production processes. This support replaces informal, ad hoc production scheduling with a structured process using data from various sources to create an accurate picture of your production and supply chain.
Production and warehouse reports
SAP Business One gives you powerful reporting functions that enable data-intensive analyses to be run in seconds. Ad hoc reporting features let employees run through what-if scenarios leveraging the familiar Microsoft Excel interface, no longer needing the assistance of IT or a consultant.
SAP Business One helps you streamline your inventory and production management processes to optimize operational efficiency and productivity. With software that can be deployed on-premise or in the cloud, you can manage detailed warehouse data, track and record stock movements, and execute production orders accurately and efficiently.
Vision33 is solely focused on implementing SAP Business One. It is the trusted enterprise resource management (ERP) solution designed and appropriately priced to help growing businesses streamline their business operations. This powerful solution provides companies with a complete, 360° view of their inventory. It is a flexible solution that will scale as your company grows, including multi-warehouse support features that can even assist your organization with global expansion.
For an in-depth look at SAP Business One and to see its inventory management capabilities in action, join a live demo of SAP Business One. The demos are held Fridays at 10am PST.



For a complimentary inventory management consultation, please contact us at contact@vision33.com.