Award-winning SAP gold channel partner and leading SAP software re seller, Vision33 moves up to rank No. 812 on the 2012 Inc. 500|5000.
Vision33 Moves Up To Rank No. 812 on the 2012 Inc. 500|5000 With Three-Year Sales Growth of 421%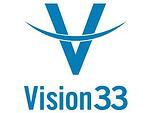 IRVINE, August 24, 2012 – Inc. magazine recently ranked Vision33, Inc. No. 812 on its sixth annual Inc. 500|5000, an exclusive ranking of the nation's fastest-growing private companies. Moving significantly up from Vision33's previous years' listing of No. 1896, the list provides the most comprehensive ranking of the most important segment of the economy—America's independent entrepreneurs. In addition, Vision33 also moved from No. 215 to the No. 105 position for fastest growing companies within the IT Services industry.
As an award-winning SAP gold channel partner, Vision33 specializes in business management software solutions for the small to midsized enterprise (SME) market. As an SME itself, Vision33 attributes its continued growth to SAP – the scalable platform that has helped put the company on the map. As both a reseller and customer of SAP® Business One itself, Vision33 has experienced exponential growth as a result of an exclusive focus on SAP solutions designed for growing businesses.
"We are honored to once again be recognized in this year's Inc. 500/5000," said Alex Rooney, Vice President, Vision33. "With this year's monumental leap in ranking, the Vision33 team reaffirms its commitment to enable growing businesses to streamline their operations and make more informed business decisions."
With some of the most experienced and knowledgeable Managers and Consultants in the industry, Vision33 has grown to twelve (12) offices nationwide. This has enabled Vision33 to provide world-class expertise at a local level to businesses who want a trusted partner to guide them through the enterprise resource planning (ERP) implementation process. The company has a focused growth mandate with continued geographic expansion planned throughout North America, further demonstrated through Vision33's recent expansion to the Midwestern region in Toledo, Ohio.
"Delivering on the promise of technology to enable the growth of small to midsized businesses, Vision33 brings the transformative technology of SAP small business solutions and exceptional customer service to each project," continued Mr. Rooney. "The Vision33 team is dedicated to the continued support of our large customer base across the U.S. and share this award with them. We are always motivated by the success of our own customers, and are excited to see some of them appear themselves on the Inc. 500/5000 this year".
Vision33 has been consistently honored for its notable growth and dedication, earning the title of SAP® Business One Partner of the Year in the US, Accounting Today's Top VAR 100 List and recognized as a finalist for the SME Global Volume Partner of the Year – SAP Pinnacle Awards.
Complete results of the Inc. 5000, including company profiles and an interactive database that can be sorted by industry, region, and other criteria, can be found at www.inc.com/5000/list/2012. Vision33's profile can be viewed at: www.inc.com/inc5000/profile/vision33.
MEDIA CONTACT: Sarah Coish +1 (949) 420-3000, sarah.coish@vision33.com
About Vision33
Vision33 Inc. (www.vision33.com) is a leading business management software solutions provider, focused on reselling and supporting the SAP® Business One application and the SAP® Business ByDesign solution. It provides software and consulting services to enable small businesses with limited resources and technology infrastructure to gain immediate benefits in better managing their businesses.
As an award-winning SAP gold channel partner, Vision33's proficiency with SAP® Business One is demonstrated through its dedicated team of experts who specialize in the efficient implementation and customization of the application to help ensure it meets clients' needs. With 13 offices located in Irvine, San Francisco, and Los Angeles, California; Portland, Oregon; Denver, Colorado; Seattle, Washington; Salt Lake City, Utah; Fort Lauderdale, Florida; Austin, Dallas, and Houston, Texas; Buffalo, New York; Dallas, Texas; San Francisco, California; and Toledo, Ohio, Vision33 is one of the largest SAP channel partners for SAP Business One in North America.
Inc. 500|5000
The 2012 Inc. 500 is ranked according to percentage revenue growth when comparing 2008 to 2011. To qualify, companies must have been founded and generating revenue by March 31, 2008. Additionally, they had to be U.S.-based, privately held, for profit, and independent—not subsidiaries or divisions of other companies—as of December 31, 2011.
About Inc. Magazine
Founded in 1979 and acquired in 2005 by Mansueto Ventures LLC, Inc. (www.inc.com) is the only major business magazine dedicated exclusively to owners and managers of growing private companies that delivers real solutions for today's innovative company builders. With a total paid circulation of 710,106, Inc.provides hands-on tools and market-tested strategies for managing people, finances, sales, marketing, and technology. Visit us online at www.inc.com.
###
SAP, SAP Business One, SAP Business ByDesign and all SAP logos are trademarks or registered trademarks of SAP AG in Germany and in several other countries all over the world. All other product and service names mentioned are the trademarks of their respective companies.