Find out what are the top 5 reasons Large enterprises choose SAP Business One to integrate their subsidiary operations.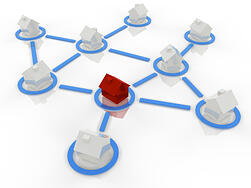 Large enterprises that expand operations to penetrate new markets and drive revenue face unique business management software requirements. The solution must meet corporate needs for standardization and control and at the same time enable autonomy and responsiveness throughout its subsidiaries, divisions, suppliers, and partners. While Vision33 has helped hundreds of businesses streamline their processes and overcome growth challenges with SAP Business One, what many large enterprises do not realize is that the solution can also be deployed to quickly integrate subsidiary operations – providing the best of both worlds: corporate standardizations and control and local responsiveness.
Take for instance Hasbro Inc. and its successful brand portfolio including household names like the best selling board game in the world, Monopoly, sold in 103 countries, and produced in 37 languages. Since 2007, Hasbro's rapid growth has resulted in the opening of new offices in Brazil, Russia, Czech Republic, Romania, China, Peru, Korea, and Columbia. To support its expansion, the company adopted a multi-tier software strategy, including enterprise level SAP software at its corporate headquarters in Pawtucket, Rhode Island and deployed SAP Business One at each of its global offices to provide a quick deployment solution. This enables Hasbro to capture revenue in emerging markets until they grow large enough to necessitate a move to SAP ECC.
Deploying SAP Business One to Support Subsidiary Operations of large enterprises like Hasbro provides a number of key advantages to consider that enable you to increase visibility and transform decision making, while cost effectively managing your global IT investment:
1. Ability to and standardize operations and data:
By centralizing and integrating core business functions on a common SAP software infrastructure, you can eliminate disparate processes and multiple disjointed databases.
2. Fast payback on investment
Since the software is priced for the SME market, it supports a large enterprise multi-tier software strategy as a cost effective way to manage global IT. Setting new countries or regions up on the larger SAP ECC system can take a significant amount of time and money, delaying expansions. SAP Business One supports the quick responsiveness needed by large enterprises in meeting their growth mandate. Simple to use, quick to implement and tight integration with SAP ECC made possible through the B1iSN (SAP Business One Integration for SAP NetWeaver), businesses get the benefits without the pains and unnecessary overhead.
3. Connectivity with the business network
Through the B1iSN integration piece with SAP ECC and a host of certified add-on solutions that SAP Business One has, the application has the flexibility to connect with other applications across your business network – simplifying the integration of outside software systems that enable processes unique to your operations, such as eCommerce, customer orders etc.
4. Better business insight
Provides clarity of your subsidiaries financial position with real-time access to data from the enterprise that you can analyze with reporting features of the application. Managers are able to accurately track revenues, costs and cash follow so they can assess business performance and make decisions in real-time.
5. Support for a multi-tier software strategy
By providing embedded customer relationships management functionality, SAP Business One helps you more easily manage contacts and strengthen relationships with new clients in global markets. With a comprehensive view of your entire customer base, you can make decisions to improve services and sales with standardized access from across your entire organization.
With SAP Business One, large enterprises can quickly and affordably integrate subsidiaries' operations with those at corporate headquarters for consistency and visibility, while maintaining the freedom needed to be agile and responsive to new international market opportunities.