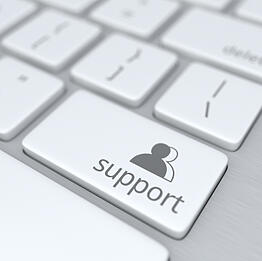 The heart of any good customer service program, at least as it relates to software support is the Help Desk. When a person experiences great customer service, they know it, they value it, and they tend to share it. A business that takes extra steps to make the customer experience special creates a connection with its customer that lasts. In fact Customer service that goes above and beyond sticks in a customer's mind and sets a company apart from others. As Roger Staubach (hall of fame quarterback for the Dallas Cowboys Once quipped), "There are no traffic jams along the extra mile."
Going the extra mile is what Vision33 TOTAL Care's Help Desk strives for each day.
One of our fundamental tenants goes like this: "No matter what the issue, we will always try to help. Even if the issue is not normally the responsibility of TOTAL Care, we will still try to help. If we can fix it, repair it, clarify it, or equip our customer to handle it themselves, we will always be there as a partner for our customers."
As Vision33 has continued to grow and expand our North American footprint, we determined that our critical mass and the sheer number of customers afforded us the opportunity to offer a level of service from TOTAL Care that almost no one in our industry is able to achieve. We wanted every service call to be free for our TOTAL Care customers. Today, that's the way it works, no one receives a bill from Vision33 TOTAL Care.
To meet the needs of our growing customer base, Vision33 TOTAL Care continues to grow its team of SAP Business One and industry experts. With the addition of each new member, Vision33 TOTAL Care acquires more and more expertise with skill sets in technology, accounting, and operations – the team is made up of the very best people in their respective field. In addition, every region has an Account Executive responsible to visit the customers within their region making sure we remain close and provide adequate touch points with our customers. Together this combined team of support professionals will continue to successfully address our customer base service requirements and ensure our customers are getting the most from SAP Business One as they continue to focus on growing their business.
Of course there is always room for improvement as Vision33 is constantly striving to do more for our customers. As we continue to work on perfecting our responses and fine tune our communications, we are gratified that our customers continue to rely on us for our ability to deliver value to their business, and leverage the investment that they have made in their business solution. As we head into 2014, Vision33 is excited to unveil new enhancements to our customers that reflect our customers' changing needs and feedback.
To facilitate the communication process with Vision33, we have implemented a brand new methodology for creating and acknowledging service calls with the best part being that it is automated. When you send an email to support, our system automatically creates a new service call and routes it to the priority desk. Once we set the priority for the service call, it is automatically routed to the support representative who will be able to address the call, and the customer is automatically notified that a ticket number has been assigned.
Since its inception, the new methodology has improved our high level of interaction. As a result customers are increasingly relying on email communication to connect with the Vision33 TOTAL Care team because of the high level of automation and convenience it provides.
To build on this growing trend, our automations have undergone two upgrades earlier this year, with refinements and additional features having been added with the goal of serving our customers better. For example, one of the latest enhancements empowers customers by better managing the status of a ticket if a solution did not completely fulfill their expectation.
Thanks to this new automation and workflow system, we are able to accurately report on our work and measure our performance. With many more initiatives yet to come, Vision33 will continue to offer the best customer service available to any SAP Business One customer anytime and anyplace.