Vision33 award recipients were recognized at this year's Biz.One Conference was held October 28-30 in Minneapolis, Indianapolis. Read the press release.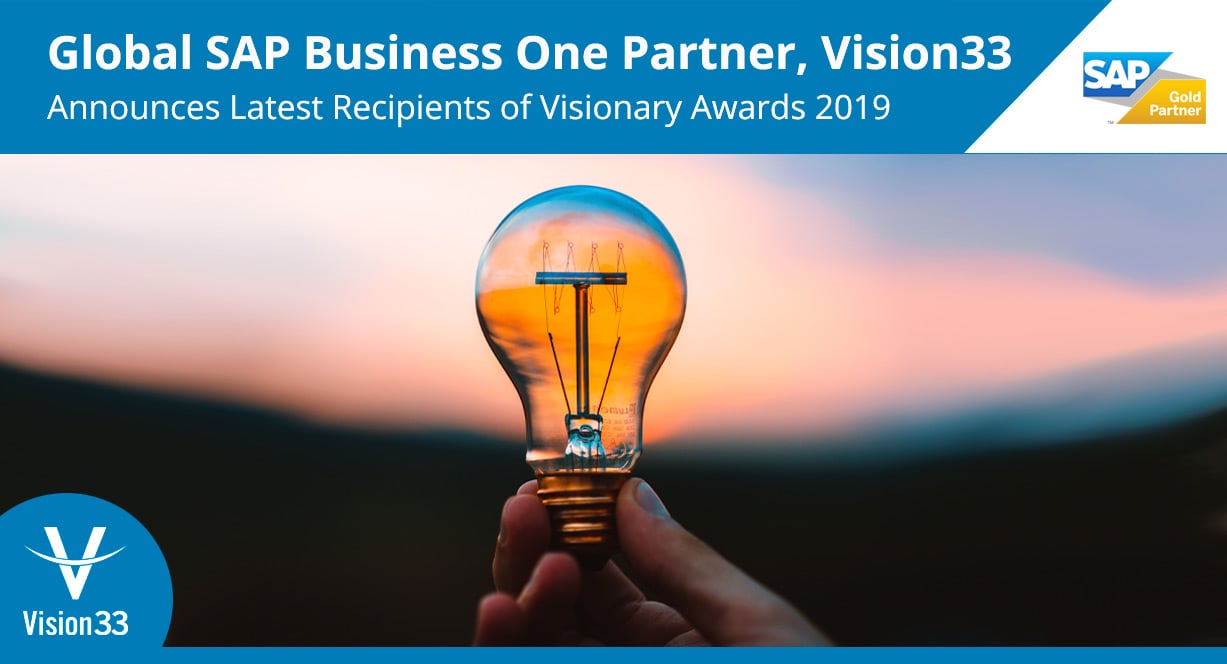 Global IT professional services consultancy, Vision33, presents valued customers with awards for exemplary use of software to achieve goals of growth and success.
IRVINE, CA – November 19th, 2019 – Vision33, global IT professional services consultancy, recently announced the recipients of the Visionary Awards 2019 and its Global Evangelist Award 2019. Each year, Vision33 presents the awards to its customers that demonstrate innovative ways to leverage SAP Business One to grow their business. SAP Business One is an enterprise resource planning (ERP) solution from the world leader in financial systems, SAP, that provides small to midsized enterprises an affordable way to manage their entire business.
"The Visionary Awards enable Vision33 to highlight the accomplishments of our valued customers that are leveraging enterprise technology in a way that inspires other industry peers," says Dan Kraus, vice president, marketing and sales, Vision33. "Vision33 believes in the promise of technology to deliver transformative enterprise solutions regardless of their unique challenges, goals for growth, or market segment. It's why we're impassioned to come to work each day, to guide businesses to align technology with their ambitious goals for growth."
Selected from over 1000 customers worldwide, this year's Visionary Award recipients highlight fast-growing companies committed to delivering the best experience possible to their customers from North America and Europe. Each recipient knows that technology is a crucial ingredient to enable them to do so.
"We know our customers by name, but today is about providing our acknowledgment among their peers for their outstanding success and exemplary use of SAP Business One to stand apart from their competition," explains Kraus. "Enterprise technology, when properly implemented in concert with a dedicated and skillful professional services company, yields the kind of results where the benefit is an order of magnitude greater than the initial investment in technology."
Vision33 Visionary award recipients were recognized at this year's Biz.One Conference, held October 28-30 in Indianapolis, Indiana, during a private reception. Formerly the ASUG SAP Business One Conference, Biz.One is an annual conference for the SAP Business One community to develop, train, and hear from senior SAP executives about the future roadmap for SAP Business One.
This year the complete list of Vision33's Visionary Award recipients includes:
Fit Foods Ltd (www.fitfoods.ca) Fit Foods formulates and manufactures sports nutrition and healthy lifestyle products in Vancouver, British Columbia. The extensive line of protein powders, meal replacements, weight gainers, and healthy lifestyle products has earned Fit Foods international recognition. Fit Foods brands are distributed worldwide in more than 70 countries from the manufacturing plant in Vancouver and distribution warehouses in Vancouver and Toronto. Fit Foods is a strong believer in technology and looks at technology solutions as a competitive and strategic cornerstone for the company's growth.
Connectrac (www.connectrac.com) Connectrac offers low-profile floor mounted wireway systems that allow power and data cabling to be delivered anywhere in a space. Highly configurable, Connectrac solutions can be used with multi-circuit powered workstations, classrooms, libraries, sit/stand desks, conference tables, and in many other space configurations and can be moved and changed as needed. Based in Dallas, Texas, and founded in 2005, Connectrac sells its products through electrical distributors, AV channels, contract furniture dealers, and others throughout the world and is the go-to solution for top corporations, government agencies, schools, and universities.
Congdon Associates (cadcodist.com) CADCo was founded in 1984, as a local rep business, and has since expanded to a full distribution and service business for outdoor power equipment. We distribute a complete line of lawn maintenance equipment, as well as Ice Control products for commercial and residential use. CADCo is the product distribution partner you can rely on. IT carries top of the line products from quality equipment manufacturers including Ferris, Big Dog, Fradan Power, SnowEx, TurfEx, Ground Logic, Befco, and Spyker Spreaders. CADCo is your partner source for equipment. CADCo has a fully stocked parts warehouse and provides a wide range of services for our customers, including technical support, training, demos, and sales seminars. CADCo is not only your source for equipment but your source for the knowledge to help make your business a success.
Firstech, LLC. (firstechllc.com) Firstech's mission is to enhance the safety of every car owner's driving experience. This mission is the inspiration for our solutions, along with the hands-on training that we perform with retailers across North America. Firstech's integration with SAP is a key instrument for keeping our customers connected with this mission, keeping all parties informed about our customers' needs and how we are fulfilling them with our solutions and service.
Mikisew Group of Companies (mikisewgroup.com), Mikisew Group of Companies is owned directly by the Mikisew Cree First Nation. The Mikisew Group of Companies is comprised of three main operating entities (wholly owned) with a peak workforce of approximately 1000 individuals and 9 limited partnerships and joint ventures (majority-owned) servicing the Alberta oil sands in various industries including site services, fleet maintenance, transportation services, emergency medical response and fire response, camp and catering services, construction services, structural steel, electrical and instrumentation services, aerodrome handling and facilities maintenance.
Evolution Power Tools (evolutionpowertools.com) Evolution Power Tools, established in 1992 in Sheffield, England, designs and distributes a range of power saws for DIY, trade, and industrial users. Their products are sold around the globe by leading multi-channel retailers including, The Home Depot, Screwfix, and Leroy Merlin, together with a network of thousands of independent dealers. Headquartered in the UK with offices in USA, France, and China, Evolution pioneered a unique cutting technology enabling their range of multipurpose saws to cut through materials ranging from wood to steel - all with a single tungsten carbide-tipped blade.
Tolteca Foodservice (www.toltecafoods.com) Tolteca Foodservice is a wholesale distributor of products ranging from non-perishable to refrigerated and frozen goods. Founded in Atlanta in September 1995, Tolteca Foodservice has been successfully serving customers in the southeast of the nation, namely Georgia, Tennessee, Alabama, Mississippi, North and South Carolina. Tolteca Foodservice currently distributes goods from its 50,000-square foot warehouse in Norcross, GA. Tolteca Foodservice maintains direct and personal contact with its more than 600 customers. These dedicated customers rely on Tolteca Foodservice for quality products and excellent service. Tolteca Foodservice is a leader in the Mexican and Mexican-American foodservice industry in the southeast. Tolteca Foodservice is growing by offering its customers over 2,000 products and expanding its area of service.
Lime Crime, Inc. (www.limecrime.com) Lime Crime is a digital-first make-up and hair care line with cult status. Based in Los Angeles, this product line started the reddish grunge rage and is known for its creation of colorful trends and innovations that have taken the Beauty Industry by storm. As a Digital First Brand, Lime Crime used this digital-first model in building out their ERP system.
In addition to the Visionary Awards, this year, Vision33 also presented its Global Evangelist Award 2019 award. The award recognizes a customer for consistent promotion of the benefits of SAP Business One and Vision33 to constituents in the business community. This year's award winner was HTRI.
HTRI (www.htri.net) Incorporated as a research consortium in 1962, HTRI is a leading source of process heat transfer technology, research, software, and services. Its world headquarters are located on 27 acres in Navasota, TX, USA, where it conducts research and proprietary testing at its multimillion-dollar testing facility. Nearly 850 companies and 600 of its subsidiaries license HTRI technology to design, operate, and maintain heat exchangers, fired heaters, and other equipment. Analysis of data from its industrially scaled rigs is augmented by the use of computational fluid dynamics (CFD) and quantitative flow visualization, including high-speed video and particle image velocimetry (PIV). HTRI's customers include the world's leading processing companies, engineering contractors, and equipment manufacturers. HTRI Xchanger Suite® software is considered the most advanced available for design, rating, and simulation of heat exchangers. Development of new products and services continues, while extending its capabilities through various partnerships and alliances.
About Vision33
Vision33 (www.vision33.com) is a global IT professional services consultancy that solves customer business challenges through the promise of technology and the value it delivers. They partner with organizations in both the public and private sectors to understand their vision and help them reach it with the right blend of strategy, consulting, and technology. Vision33's global team of results-driven resources provides world-class experience through office locations in North America and Europe.
MEDIA CONTACT:
Sarah Coish,
Director of Marketing
Vision33
Sarah.Coish@vision33.com
(709) 722-7213 Ext: 205
###
SAP, SAP Business One, and other SAP products and services mentioned herein as well as their respective logos are trademarks or registered trademarks of SAP SE (or an SAP affiliate company) in Germany and other countries.
See www.sap.com/corporate-en/legal/copyright/index.epx for additional trademark information and notices. All other product and service names mentioned are the trademarks of their respective companies.