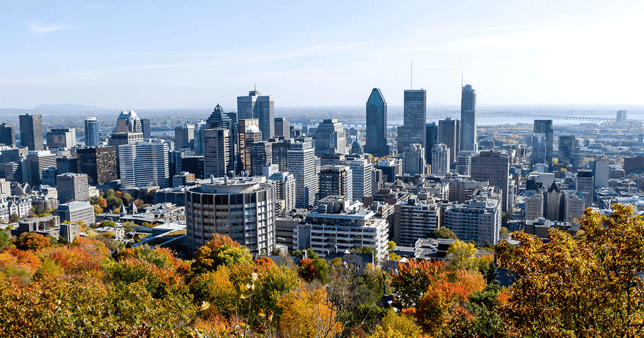 Vision33, the largest global partner for SAP Business One, an ERP solution from world leader in financial systems, SAP, extends implementation and support services to French-speaking small to midsized enterprises (SMEs) in Quebec.

Montreal, QC – March 27, 2018 – Vision33, the largest global SAP Business One partner, today announced the opening of a new regional office in Montreal, Quebec. Led by newly appointed general manager, Yves Neron, this new sales offices marks Vision33's entry into Quebec. Vision33 is fully committed to supporting customers in the region, with a team of native French speaking IT professionals that are fluent in both French and English. The new office is centrally located in the heart of Montreal, at 1250 René-Lévesque, connecting it to the heart of the city's commerce and Montreal's Underground City.

Vision33's expanded presence in the Quebec market follows its successful expansion throughout Western and Central Canada with offices in Vancouver, British Columbia, Edmonton and Calgary, Alberta, and Mississauga, Ontario. Vision33 offers Quebec businesses the ability to leverage the knowledge and expertise of a global brand, through a local office, world-class SAP Business One consultants, and the comprehensive customer care program, Vision33 TOTAL Care.

"Quebec was a natural growth area for Vision33 following Vision33's successful expansion across western Canada," says Ryan Steil, Vice President, Vision33. "Small business is big business in Canada; more and more we see SMEs realize their potential for profitability, growth, and success when empowered by the SAP Business One solution. With Vision33 as their dedicated ERP partner, businesses in Quebec have access to a technology ally that can enable them to leverage the full potential of the solution."

Vision33's newly appointed bilingual general manager for the Quebec region, Yves Neron, brings to the Quebec region decades of experience with the transformative SAP Business One solution to help businesses overcome challenges facing SMEs amid rapid growth. To ensure local level service from world-class resources, Vision33 has also assigned a team of local, experienced and bilingual IT professionals to service the growing Quebec market.

"Vision33 brings small to midsized enterprises and large enterprise subsidiaries throughout Quebec the technology that will enable them to overcome challenges including outgrowing spreadsheets and small business accounting software packages," comments Yves Neron, General Manager, Vision33 Quebec region. "We're excited to partner with small businesses throughout Quebec who can benefit from Vision33's ERP solutions whether they're a retailer, manufacturer, or wholesale distributor."

For more information about ERP solutions and SAP Business One visit: www.vision33.com.

About Vision33

Vision33 Inc. (www.vision33.com), is a leading global reseller of SAP Business One and is focused on providing the SAP Business One solution for growing businesses and subsidiaries of large enterprises. With offices located worldwide, Vision33 delivers value by bringing the right balance of software, world-class consulting and support services to help customers better manage and grow their business.

Vision33 is a member of the Group zed family of companies. With roots dating to 1992, Group zed (www.gzed.com) is a privately owned and operated corporation, which provides its family of industry-leading companies with the strategic vision and tools to deliver on the promise of technology to customers, setting them apart from other industry peers.

Media Contact

Yves Neron
General Manager, Vision33 Quebec Region
yves.neron@vision33.com
Tel: 438.800.1330 ext. 645

Montreal, Quebec
1250 René Lévesque Boulevard West, Suite 2200
Montreal, QC H3B 4W8

###

SAP, SAP Business One and other SAP products and services mentioned herein as well as their respective logos are trademarks or registered trademarks of SAP SE (or an SAP affiliate company) in Germany and other countries. See www.sap.com/corporate-en/legal/copyright/index.epx for additional trademark information and notices. All other product and service names mentioned are the trademarks of their respective companies.