Knowing how SMEs afford world-class cloud ERP solutions requires understanding what cloud and SaaS mean. Guest Cindy Jutras explained the differences.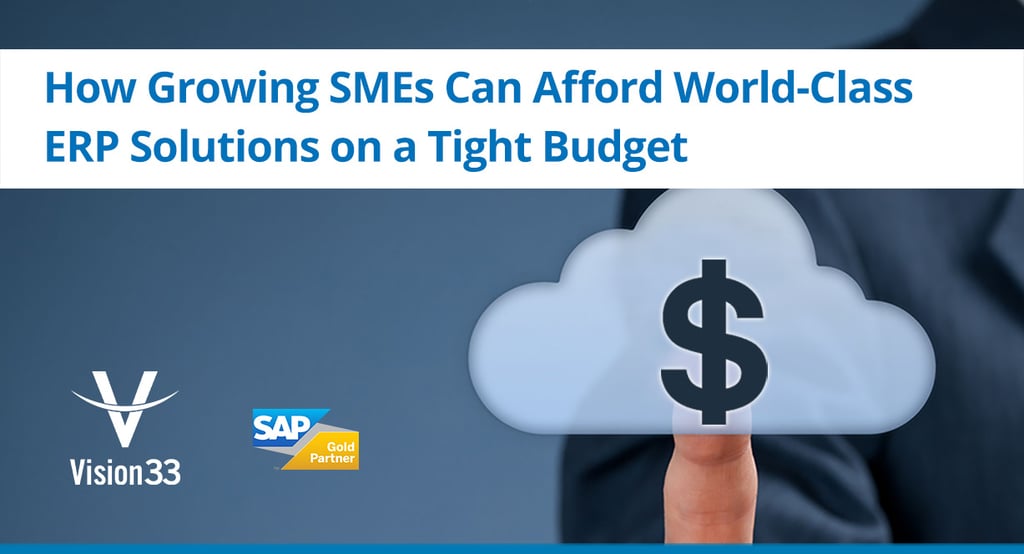 Vision33 understands the challenges of small to midsized enterprise (SMEs) budgets. Companies strapped for cash and income capital find it difficult to invest resources into anything other than their business. In startup mode, businesses primarily invest in the operational foundation that will directly build the business. Less of a concern in the beginning, is that back office and front office support.
However, in 2018, business technologies have democratized access to business management software such as enterprises resource planning (ERP) solutions. SMEs now have an opportunity to leverage business management functionality, once accessible only to business with large enterprise budgets. With access to transformative business technology including Cloud ERP and SaaS models for ERP solutions, SMEs can attain the best of both worlds, access to feature-rich SME ERP solutions with a lower total cost of ownership.
Understanding how SMEs can afford world class ERP solutions requires first understanding what the cloud and SaaS mean, since there are similarities. In a recent webchat hosted by Vision33, guest speaker Cindy Jutras, ERP researcher and president of Mint Jutras explained the differences.
Clearing Up the Cloud ERP
Many SMEs use the terms 'cloud' and 'SaaS' interchangeably. While there are similarities, there are also key differences. However, it is an important distinction to make for an SME looking to achieving the benefit of an ERP solution on an SME budget. Jutras explains that the cloud refers to access to computing software and storage of the data over a network, the Internet. Business may purchase a license for business software, or they may have installed it on their computers or a third party's computer. But their access is through the Internet and therefore through the cloud – whether that cloud is a private server or public server such as Amazon Web Services (AWS).
What About SaaS?
SaaS, on the other hand, is exactly what is implied by the acronym, software as-a-service. The software is delivered only as a service. It's not delivered on a CD (compact disc for those that remember them) or any other kind of media. It's not loaded onto the hard-drive of an SME's computers or the computers of a third party. It's generally paid for with a subscription, and it doesn't reside on your computers at all. Given that, Jutras says that it is safe to assume that all SaaS is cloud computing, but not all cloud computing is SaaS.
Supporting the Next Stage of Business Growth on a Budget
Jutras provided statistics from between 2011 and 2012 which demonstrated a huge shift in the sentiment of SMEs towards the cloud. In the past, on-premise implementation of ERP accounted for the majority of ERP implementation. However, overtime SMEs began to learn of the benefits of the cloud and realized if their objective is to make an impact in their business, the benefit of not having to manage hardware with a business management system installed on their local servers and PC began saving them in the long run. Now, small business budgets could go much farther with the cloud deployment over the traditional on-premise ERP deployment.
What are the Benefits of Cloud ERP
There are many benefits to ERP deployment on the cloud including:
Reduced IT needs with no on-premise servers or data centers added
Scalability to grow along with your business
A secure and durable technology platform that eliminates data loss and downtime
Better pricing structure - pay only for what you need
Access to business data when and where you need it
Optimizing IT staff productivity
No long-term commitments or costly upfront capital expenditures for the hardware required
Without the need for IT dependence, downtime or data loss, end hardware refresh cycles, leveraging the cloud means that SMEs can transition to the next stage of business growth, overcoming the limiting factor of SME budgets. Watch Vision33's recent interview with Cindy Jutras to learn more about how the cloud benefits SMEs that have outgrown their current business management solution.