One of the real values of SAP Business One is its perpetual inventory system. The perpetual inventory system immediately updates every transaction processed, no matter what area of the business the transaction originates from including sales, purchasing, production, receiving, shipping or general inventory management.
One of the most telling reports in SAP Business One is the Inventory Audit Report. This report shows the entire history of every transaction and allows you to drill to the exact document that impacted the item balance in any way.
This report is useful for when you want to make comparisons between the accounting view and the logistic view as it explains the value changes in inventory accounts. Although this report does not recalculate item costs, the report does display the information from the database.
To access the inventory report, choose Inventory > Inventory Reports > Inventory Audit Report.
And the following window will appear to generate the inventory audit report.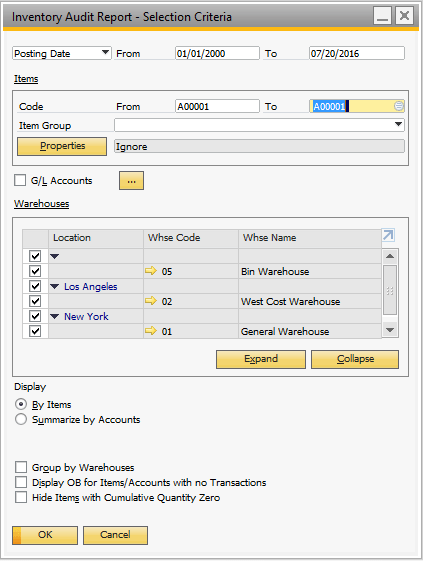 Here are the selection criteria fields when you want to generate an Inventory Audit Report and their definition:
Date Type list:
You can select one of the following options:
Date From…To….
Enter the posting dates or system dates that you want to include in the Inventory Audit Report
Properties
Choose and then select the required from the Properties window.
Display
Select one of the following:

By Items – view and audit the results by items
Summarize by Accounts – view the information summarized by accounts
Group by Warehouse
Select to group the items by warehouse
Display OB for Items/ Accounts with no Transactions
Select this checkbox to display the opening balances for items or accounts that have no transactions posted in SAP Business One.
If an item has no transactions within the selected date range but has open transactions from previous periods, the total of these transactions is presented as an open balance for this item. As a result, the report total displays the item valuation from the end date of the defined date range - that is, it contains both the opening balance figures and the transactions that are within the defined date range.
Once the fields are populated, the Inventory Audit Report will display the relevant data accordingly.
Tip: When you print the report, you can also print the selection criteria on a separate page.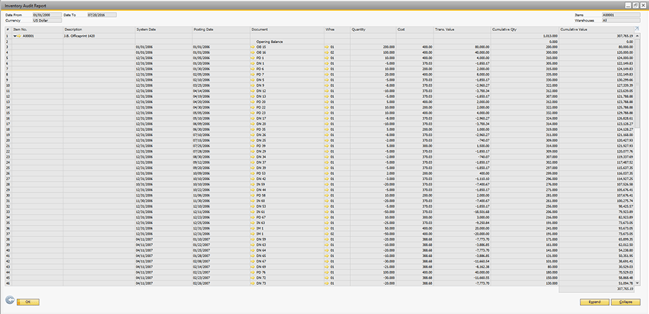 At Vision33, we provide tutorials, training and tips and tricks documents for both business owners and their key employee users so that our customers get the most value from their SAP Business One investment.
Whether you are an existing SAP Business One customer or a growing business that is considering SAP Business One as your business and inventory management system, Vision33 has the world's largest and most experienced team of SAP Business One consultants located around the globe.
We can help you leverage the best of technology to meet your business vision and goals. Contact a local Vision33 consultant today at contact@vision33.com.