Read this how-to guide to learn how you can consolidate vendor or customer information in SAP Business One.
When compared to most other ERP systems, there are a few core functionalities that set SAP Business One apart from the competition. One of the areas that SAP Business One excels in is its comprehensive supply chain and vendor management functionality.
SAP Business One has everything you need to fully optimize your supply chain process. Features include:
production planning and scheduling
production management
product costing
purchasing
EDI
MRP
In this article, we are going to show you step-by-step how to consolidate customer and vendor information into SAP Business One so you can optimize the delivery of goods and invoices for various customers and vendors. This is very handy for when you send invoices to multiple branches and when the payment is received at the head office. This vendor consolidation tool also works for when you need to send goods to multiple branches after invoicing the head office.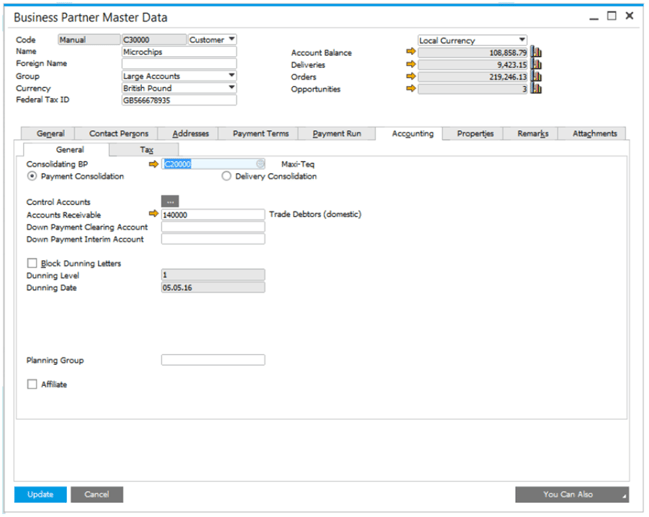 To do this, when you're in the "Business Partner Master Data" view, choose "Consolidating BP". From here, you can select the consolidation types you want to link the business partner to:
Select "Payment Consolidation" to display the transactions of the consolidated business partners when creating payment for the consolidating business partner.
Select "Delivery Consolidation" to display the deliveries/goods receipts or POs of the consolidated business partners when creating an invoice for the consolidating business partner.
This aspect of SAP Business One can help businesses automate and optimize their supply chain processes while improving the information exchange between suppliers and vendors.


Whether you are an existing SAP Business One customer or a growing business that is considering SAP Business One as your business and inventory management system, Vision33 has the world's largest and most experienced team of SAP Business One consultants located around the globe.

We can help you leverage the best of technology to meet your business vision and goals. In addition, we help growing businesses get the most value from their SAP Business One investment by providing ongoing training, tips, and tutorials for both business owners and their key employee users. Contact a local Vision33 consultant today for additional information.