Coupons, in various formats, can encourage shoppers into your store and improve customer experience when managed efficiently.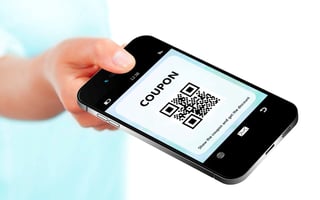 Coupons are a great way of encouraging shoppers into your store and improving the customer experience. They're also great for running promotions. There are a few different options for coupon formats and how they are managed in-store. The two most popular types are QR codes and Bar codes.
QR Codes Make the Customer Experience Simpler
QR codes are the modern coupons. Typically, an app can be configured to generate a random voucher code for every user and users may also be able to print out coupon vouchers, making redemption quick and easy. So long as your checkout has a QR scanner, you can redeem coupons in-store in a matter of seconds.
Once the code is scanned, it is automatically redeemed. If the coupon has been used already, a shopper won't be able to redeem it again. You will be able to see the time the coupon was redeemed, making sure your customers only use it once.
Another way to prevent accidental redemption of coupons is to create a redemption PIN, which ensures customers don't mistakenly scan their own code and render it "used" before they have actually redeemed it.
Bar Codes
Many check-out counters have yet to include QR code readers. So many retailers opt for creating barcodes or a Universal Product Code (UPC) that directly integrates with their point of sale systems to redeem coupons.
When bar codes are used, all the data structures follow global GS1 specifications for pricing and products. These are based on international standards.
The downside to bar codes is that there isn't a way to limit users to one use per bar code since all the numbers will be the same. You can include text on the coupon informing them of any restrictions, such as "one coupon per customer per visit." This can avoid any misunderstandings and make for a happier customer experience.
Does Your Store Accept Coupons?
If you've been reluctant to offer your customers coupons because you're unsure of how to manage those vouchers, talk to Vision33 about integrating your software with coupon management systems. Call at (949) 420-3300.