Save your sales staff time by having the freedom to check inventory right in the palm of their hand with a mobile point of sale system.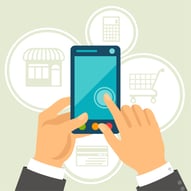 Ordinarily, inventory management has been processed by hand. While some retailers continue to use this sales method, many larger corporations have made the transition to using a mobile point of sale solution.
Using a mobile POS gives you the opportunity to run your business from the sales floor, connect with customers, ring up items on the spot, and manage your inventory more efficiently.
The Main Benefits of Mobile POS
One of the biggest benefits of using mobile POS is the ability to hold your entire inventory in your hand. Managing your stock has never been easier.
By mobilizing the inventory, you can quickly find an item in your database just by entering a description or item number or even scanning a barcode.
This kind of mobility means you can take advantage of faster processing and receiving of your merchandise.
The Benefits of Mobile Point of Sale Extend to the Sales Team
The benefits of inventory management via mobile POS extend to your sales team too.
Putting stock information directly in your team's hands can help improve customer service. Your sales staff can review product prices including descriptions, prices, categories, subcategories, and units in stock—right on the store floor!
If your store is out of stock, your sales associate can check the quantities you have on hand, those that are currently being shipped to your retail locations, or those on order to track down the items for your customers.
Connecting Mobile POS Devices and Inventory Management Software
Linking your mobile point of sale devices with your inventory management software can greatly assist with notifying customers of the availability of merchandise.
Being informed when items go out of stock, or their availability in store, can help customers make easier decisions when they are shopping online.
What's more, connecting the two systems can help your staff make better merchandising decisions since they can check inventory from an iOS device wherever they are in the store.
Investing in a Mobile POS Can Help You Efficiently Manage Your Inventory
Not only will you be able to better manage your inventory, you'll save a great deal of time and money, which will take your business to the next level.
Mobile point of sale lets you sell your products wherever your customers are – in the store, at tradeshows, or wherever else you need to be.
For more information about Mobile POS and inventory management, download the SAP Business One for Retail brochure.