Pop-up shops have grown in popularity. Mobile POS has helped to make these stores effortlessly convenient for retailers and customers alike.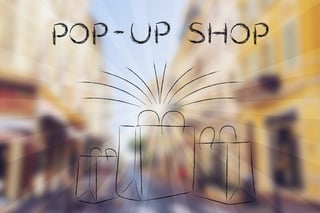 Whether you hear pop-up shop, flash retailing or temporary retail, it's all the same thing. Pop-up shops are dominating retail and have us all rethinking traditional stores. If it wasn't for mobile POS systems, these shops wouldn't be half as successful as they are.
What Is a Pop-Up Shop?
Pop-up shops have been around since as early as the 1990's in larger cities like London, New York and Tokyo. They are temporary retail spaces that sell merchandise of just about any kind – even Walmart's had pop-up shops.
Whether they're selling food, gadgets, art or fashion, these short-term stores are exciting, engaging and accessible to all. Just take a look at the benefits:
Connect with customers – pop-up retail lets retailers personally get to know customers and build lasting relationships.
Sell more – thanks to mobile POS, about 95 percent of purchases are still completed offline, making pop-up stores highly convenient.
Build awareness – customers love the hype that pop-up stores generate. Retailers can build impactful brand awareness without being online.
It's more cost-effective – launching a mobile store is a lot cheaper than a traditional shop.
The Role of Mobile POS
Mobile point of sale devices are essential for enabling a more personal and rounded customer service. Thanks to these devices, staff no longer need to leave customers to go and look for stock in a store room or call other branches to check stock inventory. At a pop-up shop, sales staff can check their stock levels on the device, right by the customer's side, making the entire shopping experience quick and convenient.
The Advantages of Mobile Point of Sale
Take a look at just some of the advantages mobile POS brings to pop-up shops:
It's a great queue buster
It enables a far more personal retail experience for customers
Mobile point of sale software and devices work anywhere, giving retailers control of stock levels while still being able to process loyalty cards and recognize customers just as if they were in the main store.
The software is highly scalable so it can meet demand and be deployed efficiently.
The systems are flexible and can be fixed securely at points of sale or released and used as mobile POS when needed.
Want to Know More?
Are you planning on launching a pop-up shop? Talk to Vision33 about your point of sale solutions today.