Prepare your agency for digital transformation with the Saltbox integration platform.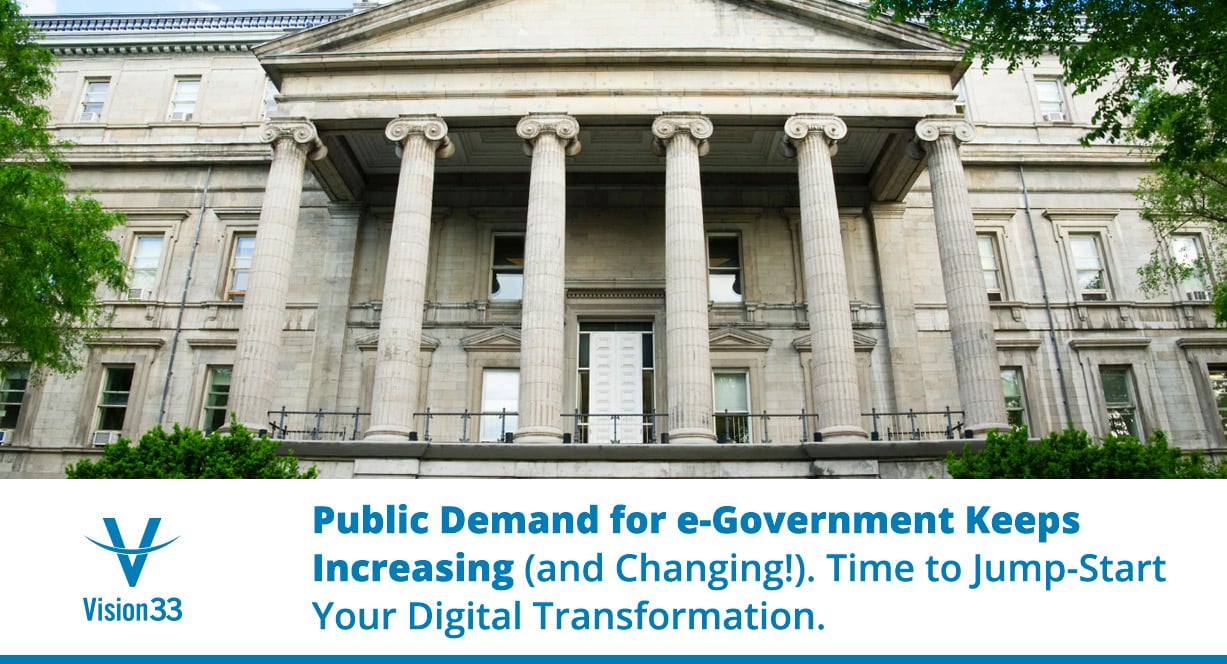 The amazing advancement and adoption of technology happening around us is transforming citizens' and businesses' expectations of government.
People expect easy access to information and services, and they want rapid responses to their questions and complaints. That is, they want their government to be more like their bank or online retailer.
Most government agencies want to meet these expectations, but there are many competing priorities, and juggling citizens' demands, employees' needs, and decision-makers' directives can slow down progress.
Luckily, there's a tool to help you drive a digital transformation in your agency without overhauling existing systems or hiring more IT experts.
The Forces of Digital Change
BCG's fantastic article, A Blueprint for the Government of the Future, outlines fundamental changes governments must make to better meet today's complex challenges.
It describes the forces of change that are making these changes inevitable:
Rising consumer expectations – Anytime, anywhere access, one-stop-shopping, easy-to-use systems, and personalized experiences.

Rapid technology advancements and exponential change – From the article: "AI, which encompasses machine learning, robotics, computer vision, and natural language processing, is poised to transform society in seismic ways."

Increasing complexity – From the article: "The problems at hand—and the potential solutions—are more complex than ever before."
These truly are "forces" because they'll force governments to change or lose their citizens' trust and engagement.
So You Want a Digital (Government) Transformation
If you're reading this, you're likely ready for change. You know the future is bright, and you're preparing your agency for the transformation.
Unfortunately, there are many barriers to the change you're seeking. A report from Deloitte, "The journey to government's digital transformation," explains that the top barrier is often too many competing priorities, including demands from the public, department heads, and decision-makers.
Government IT departments are expected to do increasingly more, including:
Put permit applications online for 24/7 access

Allow people to pay parking tickets online

Connect the finance ERP to the agency-wide electronic document management system (EDMS)

Directly route complaints from service desks to the appropriate departments

Implement an online booking service for public facilities
Most agencies have an IT strategy, even if it's just a list of systems that need the most attention. Sometimes, there's a roadmap of upgrades or additions, and in the best cases, there's an overall vision, perhaps of 'moving to the cloud' or 'undergoing a digital transformation.'
But even if you have a list of technological to-dos, deciding which projects get your attention is difficult. The first challenge in a digital transformation is usually "Where do we start?"
Prioritizing Your Agency's IT Projects
For governments, digital transformation means getting processes and services digitized and online for public access.
It requires your employees to buy in, get excited, and change how they work. One way to excite people is to gain momentum, which means breaking your priority paralysis.
There's a software tool to help you jump-start that momentum: an integration platform as a service, or iPaaS.
Integrations are programs that connect your software solutions so they communicate and work together; if you're involved with your agency's tech department, you've dealt with them before.
An iPaaS is helpful because it houses and manages all of your integrations. This HubSpot article describes iPaaS as "fully dedicated to finding the best way to connect disparate software. They are basically the glue that keeps your entire software stack together."
An iPaaS:
Enables fast development of integrations (and the faster you integrate, the faster you can start checking boxes on your to-do list)

Makes creating integrations cheap, saving money

Is a one-stop-shop that monitors your connections and ensures they're running properly

Extends the life of your existing IT investments by making them more useful

Allows you to connect multiple systems for powerful new functionality
Need an online application form to input data into your recreation department's booking application? Check.
Want to enable citizens to pay parking tickets via your payment processor? Check.
Want inspection reports generated in your permitting software to be automatically sent to your EDMS? Check.
That's how an iPaaS jump-starts momentum: instead of months-long integration projects that require your entire tech team and a procurement process, you can make your stakeholders happy and move on to more significant projects – like transforming your government for the 21st century.
Start With Saltbox
But does this answer the question of where to start? Yes, because many of your competing priorities involve integrations, which having an iPaaS solves. And because an iPaaS is so flexible, you can start several projects simultaneously.
Saltbox is a unique iPaaS that excels at making this possible.
The Saltbox Platform is Vision33's born-in-the-cloud iPaaS solution for enterprise integration, workflow, and collaboration between government business applications.
Saltbox is your one and only integration platform that hosts data and applications, builds and runs application connectors, and deploys rules that govern the movement and mapping of data among connected applications.
Saltbox not only enables your team to build and manage as many complex integrations as you need, its user interface is so intuitive that even the least tech-savvy employees can do it. This no- and low-code approach to building connectors and integrations empowers people to build solutions for the issues they understand best. All while freeing up your specialized tech resources to work on other projects.
Intrigued? If you'd like to learn more about how Saltbox can be a catalyst for your agency's digital transformation, click the link below to watch a recent Vision33 presentation titled "Accelerate Your Government Agency's Digital Transformation."