Each year, Vision33 presents awards to fast-growth customers that best demonstrate innovation in leveraging SAP Business One. Read the full press release.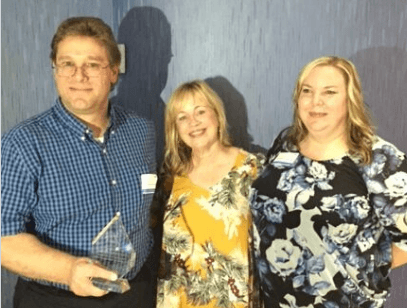 Leading global partner for SAP Business One honors its customers for exemplary use of solution.
Irvine, CA — December 2nd, 2016 — Vision33, the #1 provider of SAP Business One® worldwide, recently announced the latest recipients of its Visionary Awards. Each year, Vision33 presents the award to fast-growth customers that best demonstrate innovation in leveraging the enterprise resource planning (ERP) solution, SAP Business One.
Selected by Vision33 from over 800 customers across the globe, this year's recipients were awarded based on their exemplary use of SAP Business One to obtain business insight into their operations.
This year's recipients include: Fall Creek Farm and Nursery, Metropak, H&S Building Supplies, Driftwood Brewing Company, Baby Gourmet Foods, Kenmore Label and Tag, Audeze, David Ledbetter Golf and Supertouch.
"Vision33's core values serve as our compass to be the global leader in the SAP Business One partner space, be accountable to our customers, and differentiate us from our competitors," explained Alex Rooney, Vice President of Vision33's U.S. Operations. "The Visionary Awards exemplify not only the tireless efforts from our customers to achieve their business goals, but also how Vision33 works hand-in-hand with organizations around the world to deliver measurable business impact and results."
The awards were presented by Vision33 to the recipients at the 2016 ASUG SAP Business One Summit in Miami, Florida.
This year's Visionary awards were presented to:
Audeze (www.audeze.com) - Audeze is a luxury audio device manufacturer headquartered in Costa Mesa, California. Audeze delivers the most accurate sound reproduction available on the market today and is well known for providing high quality headphones to customers in over 75 countries.
Baby Gourmet Foods (www.babygourmet.com) – Founded over 10 years ago by sisters Jen and Jill, Baby Gourmet is Canada's leading brand of deliciously organic baby meals and snacks that babies love and parents can feel good about feeding.
David Leadbetter Golf (www.davidleadbetter.com) – David Leadbetter Golf is a leading golf instruction and golf product design company started by renowned golf coach David Leadbetter in the 1980s. The company operates a licensing model and currently employs 20 direct staff and another 60 certified instructors operating 29 golf academies in 14 countries.
Driftwood Brewing Company (www.driftwoodbeer.com) – Based in Victoria, B.C, Driftwood Brewing Company is considered a leading brewery producing high quality beer since 2008. Distinct and local, Driftwood Brewery aspires to create a unique profile in every beer they make. In addition, Driftwood Brewing Company has upheld a commitment to never cut corners on quality, character or style. Driftwood Brewing Company is proud of the reputation they have established, and recognize it's in no small part due to their amazing team and partners in the craft beer community.
Fall Creek Farm and Nursery (www.fallcreeknursery.com) - Fall Creek Farm and Nursery, a blueberry genetics and nursery company, was founded in Oregon (USA) in 1978. Fall Creek serves the global fruit industry by delivering blueberry genetics, plants, horticultural support and market intelligence. With wholly-owned nurseries and R&D centers in the U.S., Mexico, Peru and Spain, and partner licensees worldwide, Fall Creek's professional team of experts is uniquely qualified to serve the global industry's best growers.
H&S Building Supplies Ltd. (www.hsbuild.com) – H&S Building Supplies Ltd. is one of Ontario's premier maintenance supply wholesalers. H&S Building Supplies specializes in the multi-unit residential space; providing quality products, competitive prices, on-time delivery, and product knowledge second to none.
Kenmore Label and Tag (www.kenmorelabel.com) - Founded in 1985, Kenmore Label and Tag is a full service, one-source manufacturer and supplier of labels, tags, forms, thermal printers, ribbons and printer cartridges. Customers rely on Kenmore Label and Tag for its ability to satisfy a wide range of needs as well as added services such as quick turns; vendor managed inventory and online ordering for multiple products.
Metropak (www.metropak.com) – Metropak manufactures printed and plastic bags of many styles and sizes and has been recognized for its innovation, customer service, product quality and as one of the industry's best work places. Metropak is the highest rated bag manufacturer in the industry with over eight accolades including Promotional Products Assoc. International - Golden Achievement Award.
Supertouch (www.supertouch.co.uk) - Supertouch® is one of the most respected names within the UK Protective Workwear and Disposables Industry. Supertouch prides themselves on great products, competitive pricing and outstanding customer service.
About Vision33
The largest global SAP Business One partner, Vision33's sole focus is on the SAP Business One solution for growing businesses – and has been since the company became an SAP Business One partner in 2004. Vision33 helps you to challenge your business processes and find efficiencies to attain your business goals and vision for growth and success. The company has the largest and most experienced team of dedicated SAP Business One implementation and support Consultants worldwide.
Through its global offices, Vision33 provides software and consulting services to enable each client to gain immediate benefits in better managing and growing their organization.
Vision33 has been consistently honored for its notable growth and dedication, earning consistent multi-year titles and awards such as the 2016 SAP® Pinnacle Award: Customers' Choice – Sell; the SAP Partner Excellence Award: Top Channel Partner – SAP Business One; SAP Business One Partner of the Year; and numerous industry publications.
Vision33 is a member of the Group zed family of companies. With roots dating to 1992, Group zed (www.gzed.com) is a privately owned and operated corporation, which provides its family of industry leading companies with the strategic vision and tools to deliver on the promise of technology to customers, setting them apart from other industry peers.
CONTACT:
Sarah Coish
Marketing Director, Vision33
sarah.coish@gzed.com
###
SAP, SAP Business One and other SAP products and services mentioned herein as well as their respective logos are trademarks or registered trademarks of SAP SE (or an SAP affiliate company) in Germany and other countries. See http://www.sap.com/corporate-en/legal/copyright/index.epx for additional trademark information and notices. All other product and service names mentioned are the trademarks of their respective companies.